Businesses cannot survive without marketing. It is not easy for brands to capture and hold consumers' attention if they want to stand out from the competition in today's world. Marketing promotes your website, your product, and your brand. Due to this reason, effective marketing is an integral part of every successful business. Marketing is about understanding customer needs and target audience, achieving recognition, and boosting sales. 
Small and medium-sized businesses often face a wide range of problems related to finding new customers, increasing visibility, choosing the right social media platforms, keeping up with trends, and producing quality content. The other problem is a lack of budget for a full-fledged marketing department. However, it may be challenging to market your company on your own. The solution to the problem will be to hire a marketing consultant.
A marketing consultant has the particular skills and experience needed for your company. Hiring the marketing consultant allows for saving money, developing the marketing strategy, and achieving your business objectives. If your company is just starting or you are preparing for the product launch, employing a marketing consultant will be an excellent way to accomplish the goals.
Who is a marketing consultant?
Marketing consultant is an external advisor with vast expertise in marketing who provides a wide range of services, such as defining marketing strategy, conducting market research and marketing analytics, identifying the most appropriate message and the channels to reach the target audience. Marketing consultants study the company's operations and profile to identify its commercial opportunities and understand the marketing needs.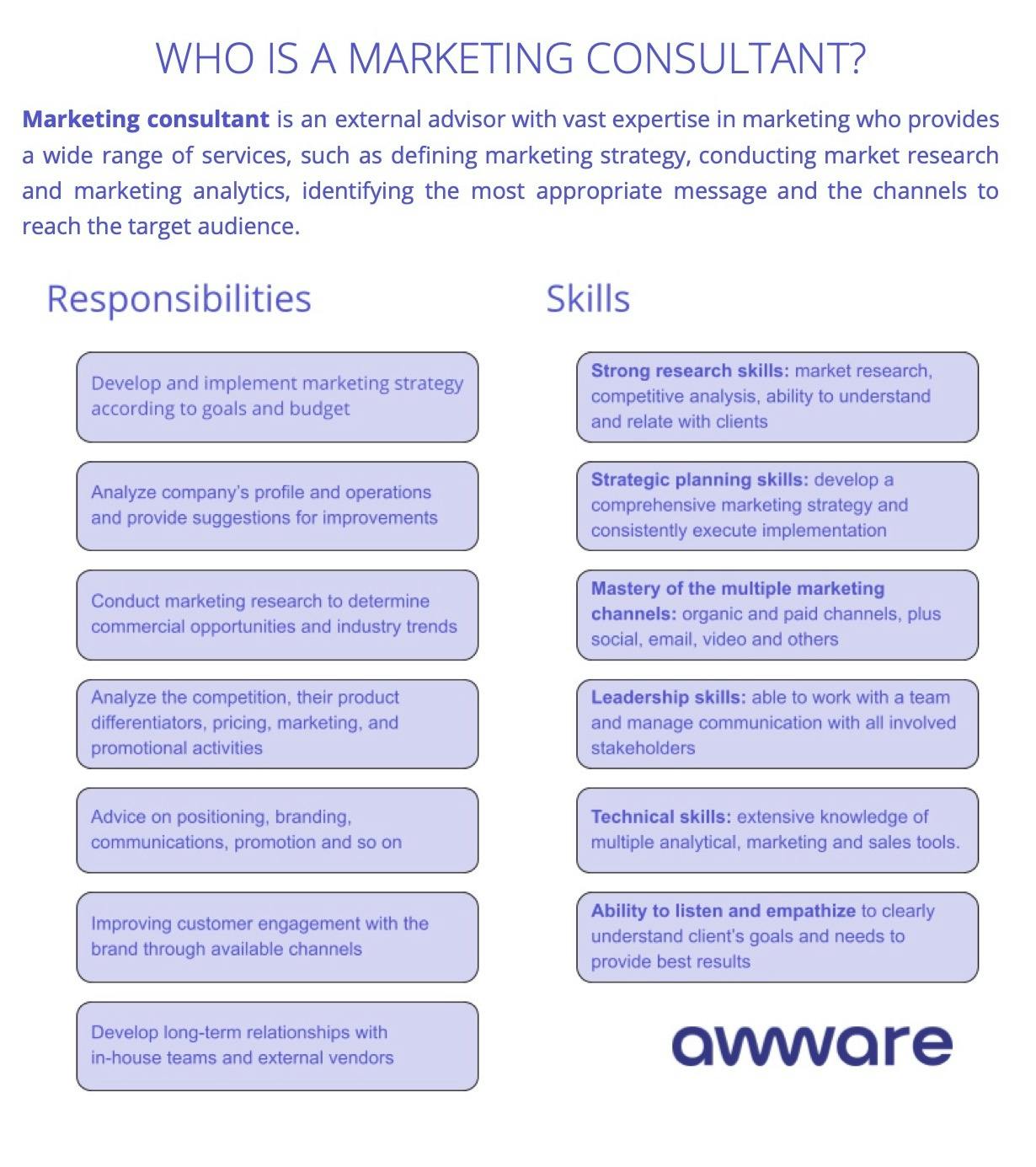 A marketing consultant's job is to advise companies on reaching customers in the best way possible. The consultant can develop an overall go-to-market strategy, estimate the marketing efforts, offer advice on possible improvements, implement marketing campaigns and track the progress with analytical tools. Some of the responsibilities of a marketing consultant can cover developing a brand identity and increasing a loyal customer base. 
Typically, companies hire marketing consultants for a limited time to help with a particular project. Marketing advisors can work for an agency or as freelancers. Their responsibilities depend on the project and vary for each customer.
Marketing consultant role and responsibilities
Marketing advisor main responsibilities and duties typically include:
Developing and implementing marketing strategy in accordance with the goals and the budget. A marketing consultant is responsible for creating marketing strategies or implementing existing strategies focused on achieving growth for the company's core products and services. The specialist executes marketing strategy, measures results, and makes sure the company achieves its objectives. 
Analyzing company's profile and operations and providing suggestions on enhancements. Consultant studies the company to understand its marketing needs, evaluate existing marketing, including advertising, social media, and consumer reward programs, to determine their effectiveness in reaching the target audience and driving sales.
Conducting marketing research to determine commercial opportunities and industry trends. A marketing consultant should be able to define the target market and position the company's products or services in the best way to convince customers to make a purchase.
Analyzing the competitors, their marketing, and promotional activities.  The competitive analysis often includes research on competitors' sales tactics, products, results, pricing, benefits, content strategy, strengths, and weaknesses. The analysis of competitors will help determine your competitive position in the marketplace.
Advising on positioning, branding, communications, and other issues. These specialists help shape the company's brand identity or clarify and even redefine the target audience.
Improving customer engagement with the brand through social media. Specialized marketing consultants can focus their efforts on creating and managing social media campaigns, email campaigns, and online advertising using SEO. We discuss different types of marketing consultants later in this article.
Developing long-term relationships with in-house teams and external vendors. The consultant keeps the marketing department and company stakeholders updated about ongoing activities. The benefit of such long-term engagement for internal stakeholders may be that the consultant can help increase transparency into the marketing department's operations and effectiveness. At the same time, the person stays outside of the organization, serving as an advisor to oversee and provide an independent assessment of the works.
Marketing consultant skills and background
A marketing consultant's background typically includes a Bachelor's Degree in Marketing, Business Administration, Finance, Law, Communications, or related field, several years of experience as a corporate marketer, and expertise in various areas, such as social media, lead generation, SEO, PPC, and others. The marketing consultant will be communicating with the internal team and the existing marketing department, so working experience in the role of marketing leader in one or several businesses will be a huge advantage.
Depending on the type of consultant you'd be looking for, the role would involve either a general knowledge of the different marketing strategies and their implementation or expertise in some specific marketing niche, such as digital marketing or social media marketing. In addition, a marketing consultant often has experience in copywriting and communication, public relations, branding, print or TV advertising, and marketing automation experience in Marketo, Eloqua, Pardot, HubSpot, or other software. 
The marketing consultant is required to possess the following skills and competencies to serve the role effectively:
Strong research skills. The professional needs to conduct market research, run competitive analysis, brand analysis, and customer persona analysis. The specialist should be able to plan and implement the research and apply the results to leverage the brand's success.
Strategic planning skills. Successful implementation of the marketing strategy depends on the ability to organize marketing activities, manage the process and develop success KPIs.
Mastering the most essential channels. The consultant should master organic and paid marketing channels. Organic channels include various forms of content marketing activities, which help you drive customer audience through search engines, social media, or earned media placements. Paid channels require you to pay for them to receive the needed visibility, such as paid social (Instagram, Facebook, Twitter, LinkedIn) and PPC advertising in search engines. Moreover, there are several additional channels, such as video marketing, email marketing, and influencer marketing, which can be both organic and paid depending on the approach you choose.
Leadership skills. The candidate needs to work in a team and maintain communication at all levels — with stakeholders, internal departments, and colleagues.
Technical skills. The ability to provide digital marketing consultation involves the experience in working with the platforms including social media, such as Facebook, Instagram or Linkedin, search engine ads, such as Google, and multiple analytical tools such as Google Analytics, Google Seach Console, Ahrefs, Semrush and many more. The consultant skill set should also include expertise in CRMs, CMSs, and marketing automation clouds.
Ability to listen and empathize. These skills are often overlooked. However, the ability to hear helps understand the client's current situation, challenges, and goals better. It is essential to empathize with the clients to provide the right insights.
Types of marketing consultants
There are different types of marketing consultants who specialize in various areas of marketing. We will consider the most common specializations in detail.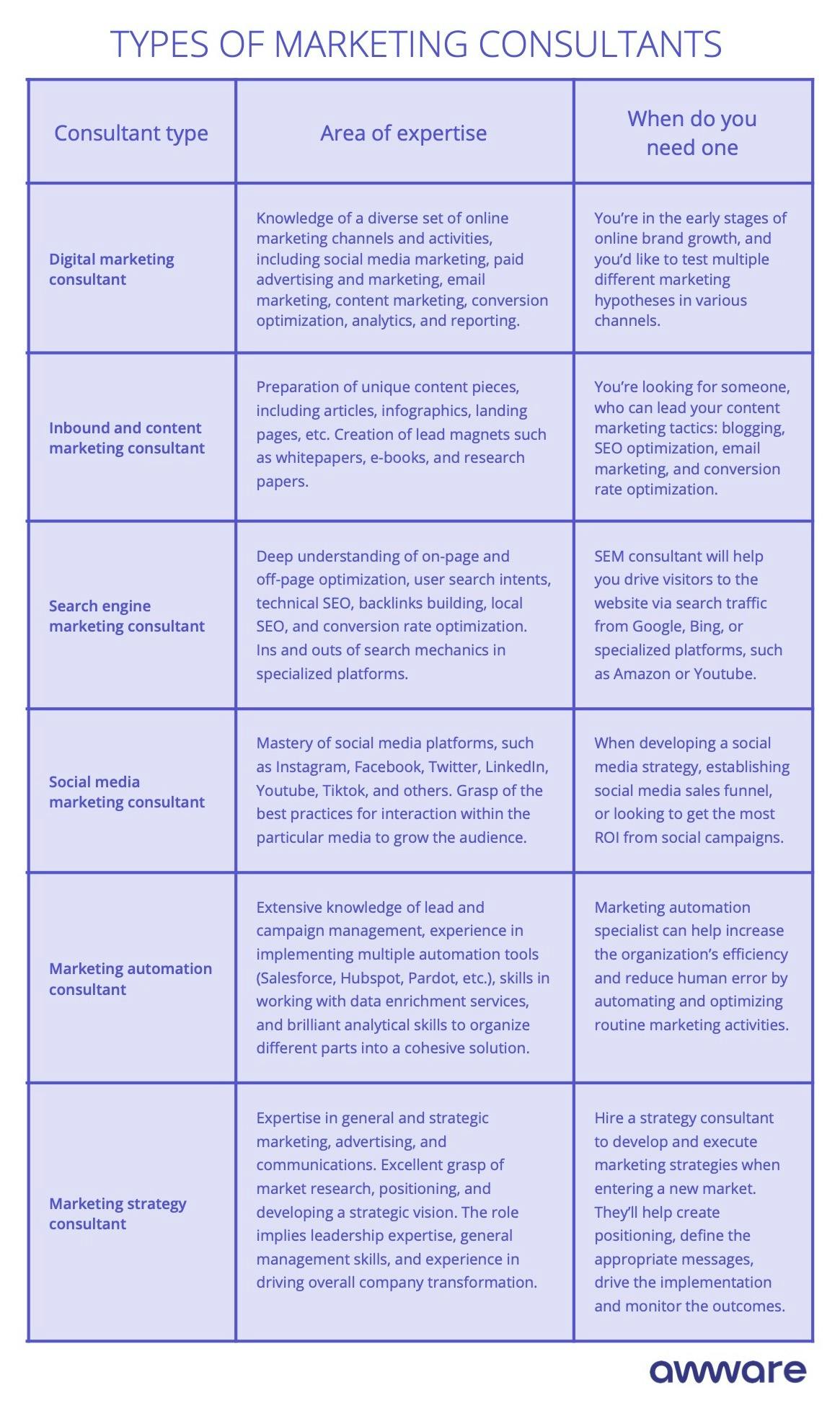 Digital/online marketing consultant
A digital marketing consultant's job is to promote or market the company's products or services through online marketing channels. Online marketing consultant designs the digital marketing strategy and monitors its implementation to increase traffic, brand awareness, and online sales.
Digital marketing consultant responsibilities include analyzing customer engagement and monitoring advertising campaigns. Besides, they are responsible for defining the most suitable models for startups, assisting in launching new applications and websites, calculating return on ad spend, and identifying the new ways to increase customer engagement.
The online marketing consultant should be equipped with a set of skills, including social media marketing, paid advertising and marketing, email marketing, content marketing, conversion optimization, business management skills, and analytics and reporting, among others.
Inbound and content marketing consultant
The significant distinction of the inbound marketing consultant's work lies in getting the business found online, converting more of the website's customers, and attracting new visitors. The consultant plays a leading role in executing content marketing tactics connected with blogging, SEO optimization, email marketing, and conversion rate optimization.
Inbound marketing consultant's responsibilities include defining the target audience and creating the relevant content for the potential customers to drive them to the website and convert them into buyers. The additional tasks are assessing the company's current state, determining marketing objectives, identifying the area of geographical coverage, analyzing competitor websites, expanding the traffic sources, and measuring progress.
The content marketing consultant should be skilled in blogging. The expertise should be related to copywriting and editing blog posts, updating web content, cooperating with designers, creating premium content like whitepapers, e-books, and research papers.
Search engine marketing consultant
A search engine marketing consultant (also called search engine optimization consultant) works with website SEO to drive organic traffic growth. The specialist helps attract more visitors to your website and improve your online reputation, reach, and conversion rates.
The consultant is responsible for your website optimization and performance, technical setup, backlinking, conversion rate optimization, planning and monitoring content marketing and pay-per-click advertising campaigns.
The SEO marketing consultant utilizes a wide variety of skills that include working with Google Analytics, Google AdWords, HubSpot, HootSuite, and Facebook Advertising. The other skills include page optimization, building backlinks, working with pay-per-click advertising, local SEO, and conversion rate optimization. 
Social media marketing consultant
A social media marketing consultant is responsible for developing a high-performing social media strategy, establishing efficient social media sales funnel, getting the most ROI from social media campaigns, and bringing new potential customers to your business. Moreover, the consultant can bring a fresh perspective to your company and point your brand in the right direction due to their knowledge of new trends and best social media practices. 
The primary responsibilities of a social media marketing consultant are related to creating marketing and social media campaigns, planning the budget, and creating the content. The consultant also ensures consistency of brand in social media and marketing messages collaborating with work teams. 
The required skills for the social media marketing consultant role are understanding various social media platforms, utilizing social media reporting tools, and analyzing the results. A social media marketing consultant should possess excellent knowledge of Instagram, Facebook, Twitter, LinkedIn, Youtube, Tiktok, understanding of SEO, web traffic metrics, and social media KPIs.
Marketing automation consultant
Marketing automation consultants assist businesses in streamlining, automating, and managing marketing tasks and workflow. The consultant's work is to improve the company's performance, reduce human error and increase the organization's efficiency from automating routine tasks to developing scoring systems that help qualify sales leads.
Their key responsibilities are analyzing existing marketing channels and developing an automation strategy, improving the integration of the marketing automation platform with CRM, providing the sales team with extensive information on leads, helping close more deals, cleaning up and segmenting the marketing automation database.
The marketing automation expert usually has a command of skills that include working with e-commerce platforms, data enrichment services, lead-generation tools, and content management tools. The additional requirements for this position are experience in implementing multiple automation tools, such as Salesforce, Pardot, Hubspot, ExactTarget, Marketing Cloud, and Marketo, among others. 
Marketing strategy consultant
Marketing strategy consultants' job is to develop and execute marketing strategies, define the appropriate messages, monitor outcomes, position products, and services and identify new target markets. 
A marketing strategy consultant usually performs the following tasks: developing strategies and setting objectives, analyzing sales and marketing key performance indicators, crafting brand management strategies, defining media messages, and helping produce marketing materials.
The specialist should be skilled in general and strategic marketing, behavioral psychology, advertising, and communications. The expertise in understanding market research, positioning and developing a strategic vision for the company, its brands, and products related to particular markets is also critical for this role. The position implies leadership expertise, general management skills, and experience in driving overall company transformation.
When do you need a marketing consultant?
Hiring a marketing consultant is a necessary step for many business owners. There are various ways how your company can benefit from employing a marketing advisor. We will list some of the most common reasons below.
Assistance in business growth
A marketing consultant analyzes the business and helps to improve the company's performance and productivity. The professional develops the best approach to increase brand awareness and provide a competitive edge on the market. Marketing consultant delivers assistance at every stage starting from planning to implementation and execution of marketing strategy.
Fresh perspective
Hiring a marketing consultant brings new business opportunities. Due to specific knowledge, the third-party advisor can provide a unique perspective on the overall situation and marketing problems. The specialist can review the current marketing strategy, add some valuable components, and find ways to transform it to achieve better results.
Guidance on digital advertising
Small companies and startups are searching for the most effective ways to achieve recognition on social media and reach a wider audience. A marketing consultant has knowledge about advertising trends and techniques, so the expert can provide assistance with content creation and advertising on Youtube, Instagram, Facebook, or other social media to drive potential buyers.