Without comprehensive marketing support, sales teams would struggle to succeed. Outstanding sales performance depends on all organization's employees. The sales enablement function provides the necessary support for the sales team. It facilitates the alignment between sales and other parts of the organization, such as the marketing department, customer support, operations, etc. 
Sales enablement improves the experience sellers deliver by optimizing every point of engagement with customers. With sales enablement tools and resources, salespeople act as trusted advisors. Sales enablement helps sellers improve the quality of conversations with prospects and establish long-term relationships with existing customers. So, let's explore what specifically sales enablement is.
What is sales enablement?
Sales enablement is the practice of providing the sales team with the appropriate knowledge, content, resources, technology, and processes needed to engage more potential customers and maximize profits. Sales enablement improves the effectiveness of sales teams by equipping sellers with relevant content and software, providing valuable insights into client interactions, optimizing sales pitches with advanced analytics, training and guiding sales representatives. The purpose of sales enablement is to ensure that salespeople have the necessary skills, expertise, and information to get the most of every customer interaction.
Sales enablement is not a customer-centric function as it involves not only sales and marketing teams but also other customer-facing positions, including customer support, HR, and IT teams. The approach has emerged from sales content management with three additional components: sales training, corporate communication, and document automation. 

Marketing specialists provide salespeople with a variety of means they require to make changes in the sales process. The materials usually consist of video lectures, blog posts, product and conversation guides, and other documents aimed at helping sales professionals interact with potential customers. At the same time, the sales team may ask for additional information or content that is lacking to complete the buyer's journey. In this case, the marketers can create the required pieces and provide the salespeople with the opportunity to gain customers and close more deals. We will review the main components of the sales enablement process in greater detail below. 
Sales enablement components
The typical components of the sales enablement process include sales content management, onboarding, mentoring and training of salespeople, content automation, and organizational coherence.
Sales content management. The companies create content that resonates with the target audience for every stage of the buyer's journey. The task of the marketing team is to provide materials for the early stages of the typical buying process that include generating awareness, evoking interest, and nurturing potential customers. Then the leads deal with the sales department. Due to this reason, the alignment between sales and marketing teams is the key to success. As nowadays people prefer interactive content, marketers, and salespeople should focus on creating educational articles, social media posts, videos and podcasts, online guides, and tutorials to efficiently guide the buyer from the first interaction to the product or service purchase.
Sales onboarding and training. The sales onboarding program aims to educate new employees on the organization's values and the ways to leverage the tools provided by the company. The program allows strengthening the knowledge of the company's products and learning about specific approaches and behaviors that help sellers succeed. 
To create the onboarding program, you need to define a clear vision and mission and create concise messaging. During the training program, sales representatives will learn different scenarios and the ways to convey the message. Then develop buyer personas taking into account relevant industries and personality traits. 
The best approach for creating an easy-to-absorb training program is to put everything in one place. You can use sales enablement tools to structure the information in the form of a content hub, dashboard, or step-by-step guide. This format will allow sellers to go back and review crucial details, if necessary. Use a micro-learning method that divides the content into concise, digestible, and relevant pieces to facilitate perception. Gamification techniques will help you engage sales representatives and stimulate their ability to recall information better.
Content automation. Content automation is a great tool helping provide tailored materials for every customer interaction. The goal of content automation is to streamline content creation and maintenance using search engine optimization, plagiarism checking, target audience research, social media posting, and scheduling.
The automation platform will allow you to share content plan in advance and save a lot of time. Content scheduling tools can help you determine the best time intervals for a higher engagement rate and find the appropriate distribution channels. With automation tools, you can publish, promote and track the performance of social media posts, send emails to sellers and customers and optimize the content for various platforms. 
Organizational alignment. Sales enablement intends to make the whole organization work together. Besides salespeople, the process involves all departments, teams, and roles. It helps create a collaborative atmosphere and provides data-driven feedback. Sales enablement brings together training and coaching, information, technologies, and people. 
If you want to build organizational alignment, you must ensure that the whole team works towards the same objectives. The next step is to create a strategy that covers both sales and marketing departments. Determine and document the key priorities, roles, and actions. You can achieve the alignment by conducting regular team meetings, enabling sales representatives to work together, and engaging frontline employees. Use a specialized tool like Slack or email to centralize the interactions and gather feedback.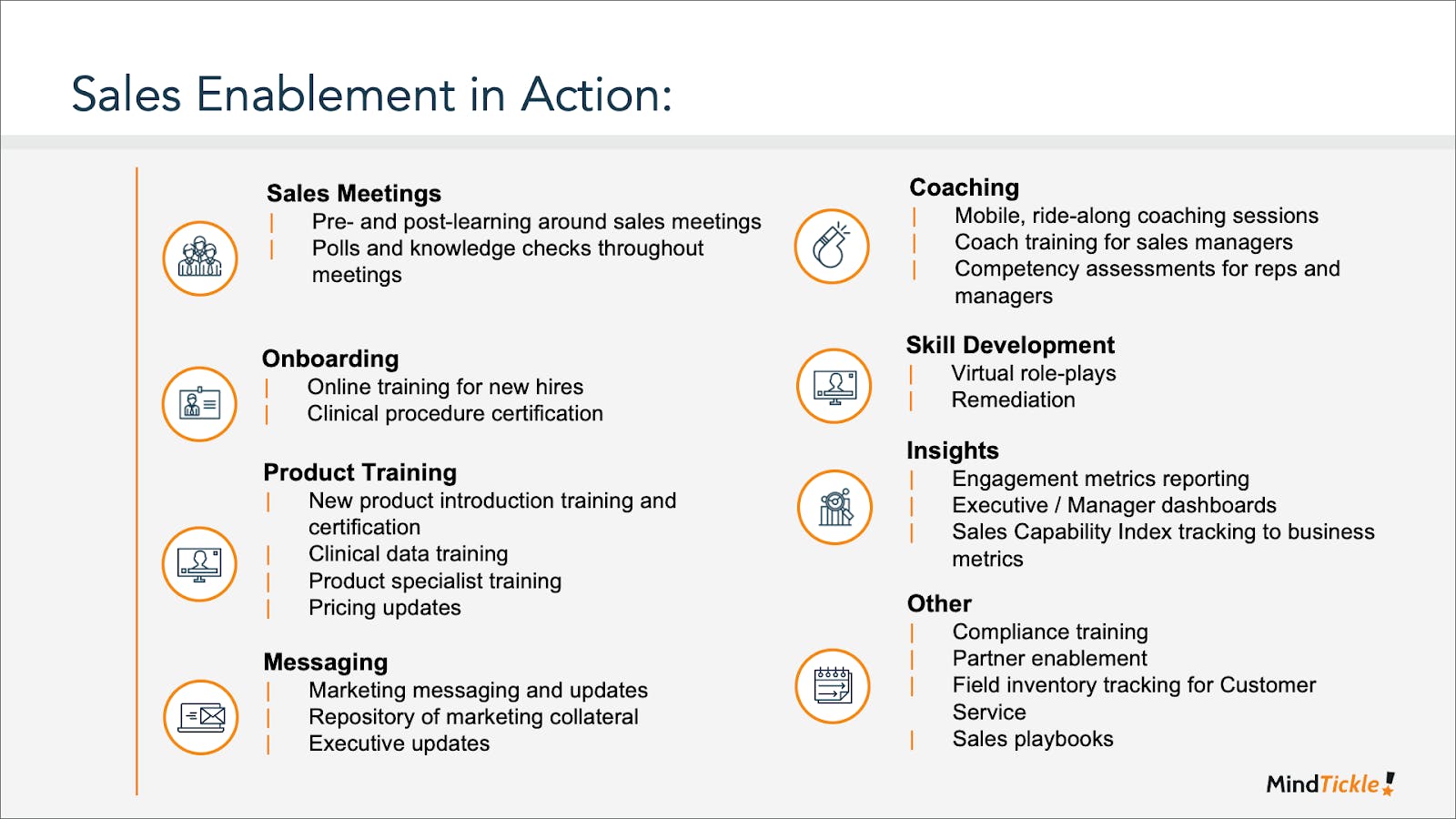 How to develop a sales enablement strategy?
Every organization will have its own variant of sales enablement strategy. Now we will describe how to launch an effective sales enablement strategy that drives results in five steps. 
Analyze the current performance
Firstly determine the most crucial metrics for your organization in achieving a product-market fit or expanding your business growth. This would help you set goals and understand whether your initiative leads to success once it is set up. Next, choose several key performance indicators you would like to focus on. Then identify your team's strengths and weaknesses. 
Create a strong sales enablement foundation by gathering information about your team, resources, audience, and priorities. Identify the target buyer personas that your sales representatives would use to increase the effectiveness of sales interactions and make them more buyer-friendly. Place more emphasis on the gaps that cause the most difficulties. Next, determine the primary business problem you would like to solve. Finally, assign the responsibilities to the members of the sales and marketing teams.
Align the sales process with the buyer's journey
The following step intends to align the SaaS sales process with every stage of the buyer's journey, including awareness, consideration, and decision (take a look at our article on the AIDA model to learn more). The supportive content for the awareness stage would typically include blog posts, social media articles, explainers, one-pagers, podcasts, webinars, and infographics. The consideration stage implies the following content formats: guides and e-books, whitepapers, datasheets, and comparisons. The materials that encourage customers to make a purchasing decision usually include industry reports, case studies, and demos.
Focus on the buyer's experience. Think of the ways buyers make decisions, the information they are searching for, the most convenient format for presenting the relevant data and addressing the common objections. Look at it from the buyer persona's point of view. Talk to your sales representatives to gain valuable insights about the buyer's needs. You can also collect direct feedback from the prospects. Then, together with a content strategist, you need to develop a strategy that answers the potential customers' questions. At last, prepare a distribution plan to promote the content across various channels.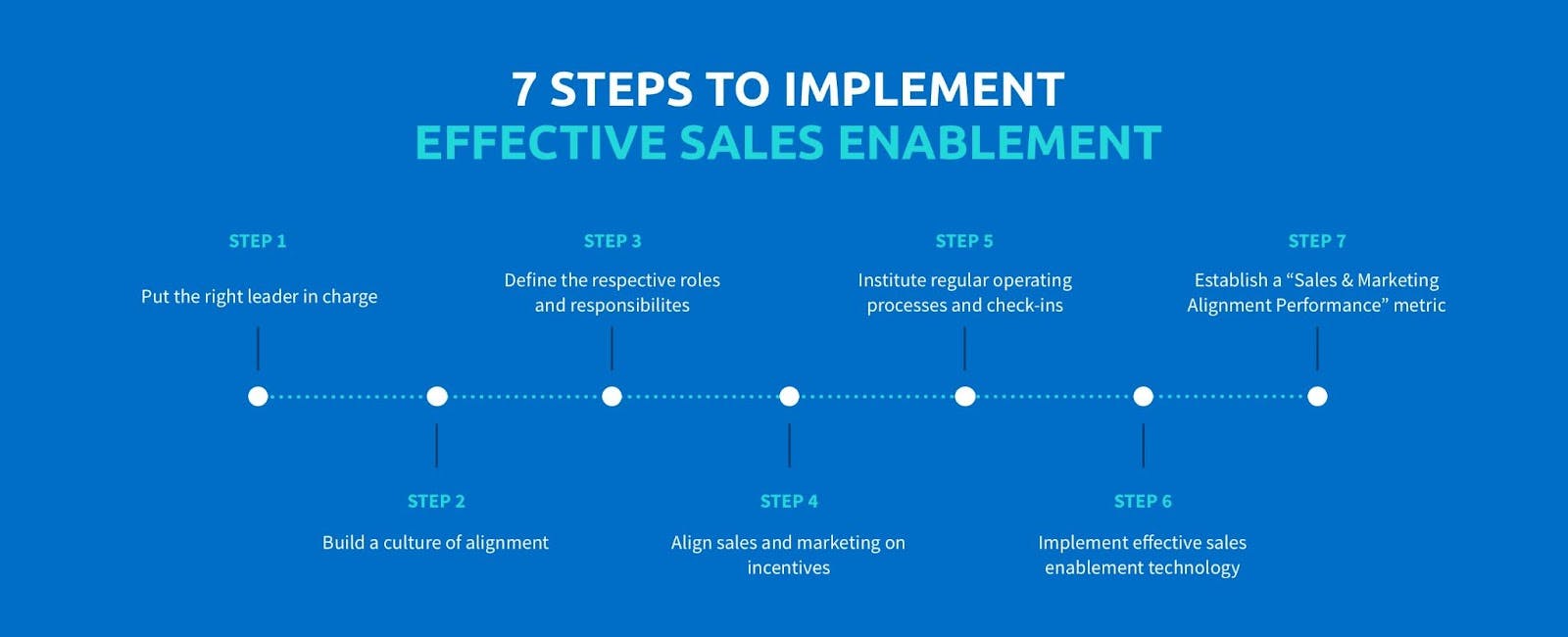 Customize sales communication tools to interact with buyers
Choose the appropriate technologies that align with the business needs. Today people prefer communication via mobile devices, so sales teams will need to stay in contact with the customers through smartphone applications and social media networks. You should note, though, that B2C and B2B strategies are different. Facebook or Instagram might be the most suitable communication tool for B2C companies that strive to improve customer engagement. B2B organizations should pay particular attention to LinkedIn. This network will be useful in building a robust professional community and increasing the number of opportunities for sales.
The technologies that allow for increased productivity of sales teams also include chatbots and scheduling tools. In addition, video conferencing services will help establish more personal relationships with the customers. Services like GoToMeeting and GoToWebinar will help host video conferences that typically lead to sales growth. 
Maintain communication between multiple teams 
It is crucial to coordinate the efforts of different teams and individuals involved in the sales enablement process to maintain a consistent product marketing strategy. While the central focus is put on the customer, you need to collect feedback from marketing and sales departments, product teams, and prospects. Marketing and product teams can learn a lot of valuable information from sales and customer success representatives. Then the marketers can use these findings to improve sales enablement content and help sales teams achieve their objectives resulting in higher revenue. 
Sales communication technology is a perfect way to maintain communication and support SaaS marketing and sales alignment. Besides, communication channels and sales hubs can contribute to collaboration between all departments. 
Track the progress
To ensure that your sales enablement strategy works well, you need to track progress and monitor the performance indicators. Various metrics reflect the productivity of the sales enablement strategy. The key performance indicators include closing rate, sales cycle length, and performance of marketing collateral. Analyze your team's activities to determine problem areas, find skill gaps and encourage sales representatives to improve results.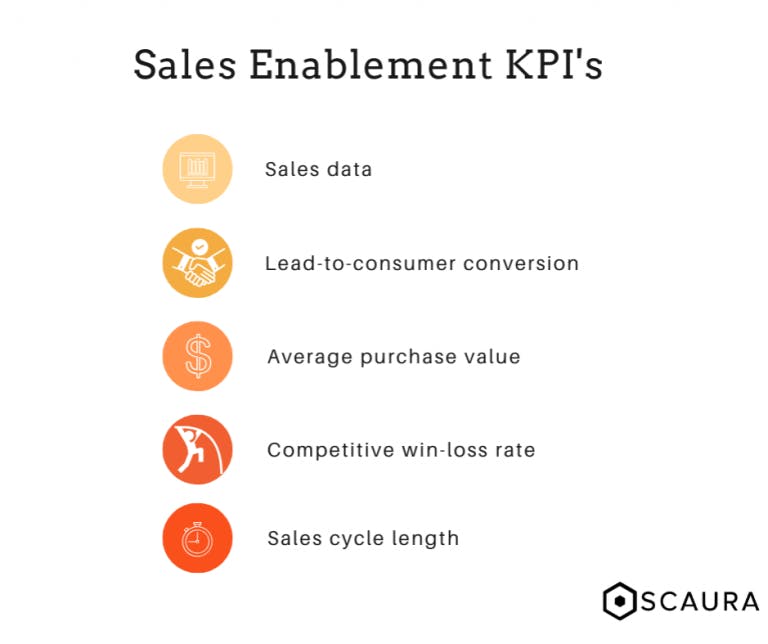 Additionally, you can collect qualitative feedback from team members to have a better understanding of current progress. For example, you can analyze time spent coaching, time spent searching for materials, the quality of training content, and sales rep retention. Finally, sales enablement leaders need to compare the results with desired outcomes of the overall customer acquisition strategy, and make amendments. 
Sales enablement team 
Once you have developed a sales enablement strategy, it is time to put it into practice. The right sales enablement team will ensure fast and smooth implementation of the plan. We will describe each role of the team below.
Sales enablement manager
The sales enablement manager is a core position in the sales enablement team. This person is responsible for developing the existing and upcoming initiatives, project deliverables, and successful implementation of sales enablement strategy. The manager is in charge of collaboration with cross-functional teams and facilitation of alignment. The specialist monitors the metrics and KPIs to evaluate the results and contribute to business success.
Sales coach
The responsibilities of the sales coach include specialized training of sales representatives to increase the productivity of their work. Sales coach helps sellers determine how to achieve their objectives, develop the necessary skills, identify and correct the behavior that does not lead to positive results. The goal of sales coaching is to help client representatives realize their full potential. The sales coach identifies the problems and provides guidance on how to solve them on a daily basis. 
Instructional designer
The instructional designer is responsible for developing engaging and interactive courses and sales enablement programs. Instructional designer creates content related to both sales techniques and product features and functions. In addition, this person develops metrics that allow the team to estimate program effectiveness and continuously search for opportunities to improve training products, systems, and processes to increase overall team effectiveness. 
Sales enablement coordinator
The sales enablement coordinator's main task is to ensure that the team stays organized and carries out their daily functions at the highest level. While a sales enablement manager is responsible for larger initiatives, a coordinator is in charge of routine activities related to successful program implementation. The sales enablement coordinator helps the team stick to deadlines and perform the required program steps.
Sales enablement analyst 
Sales enablement analyst collects, analyzes, and reports sales performance data to increase sales productivity. The specialist works with multiple cross-functional teams and communicates the performance results to sales enablement leaders to make informed business decisions. The analyst also reports the usage and interaction metrics of sales enablement platforms.
Above is the list of most common roles within the sales enablement function. But the final structure of the sales enablement team will greatly depend on the size and objectives of your organization. To determine the perfect roles for your team, you will need to take into account your company's current levels of sales and marketing processes and the specifics of your existing growth or go-to-market strategy.
There is an enormous number of sales enablement tools available on the market. They vary considerably depending on the functions, technologies, and scope of application. We will review several types of sales enablement tools that help solve problems for your organization.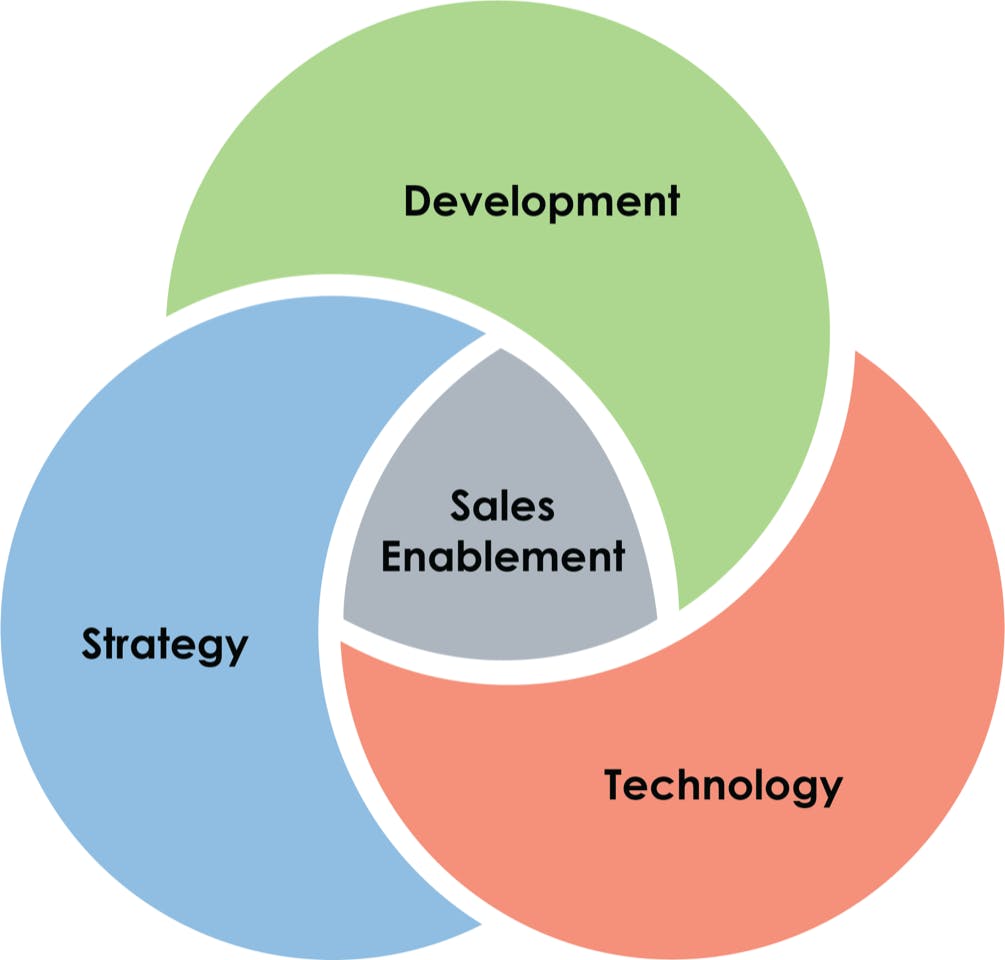 CRM software
Clearly, we want to start with CRM as the backbone of any sales process. CRM tools are designed to organize and manage customer interactions. They have a variety of functions that help collect customer data, such as sales results, conversion rate, and client engagement. With CRM, you can monitor the performance of sales enablement strategy, plan and execute marketing campaigns. Examples of CRM solutions for sales enablement include Microsoft Dynamics 365, Hubspot, and Salesforce.
Sales intelligence tools
This type of sales enablement tool will help you gain a better understanding of customer needs, improve the quality and quantity of leads and find new opportunities. Sales representatives and marketing specialists use sales intelligence tools to develop and implement new strategies. With these tools, you can identify perfect buyers and their requirements and then find ways to reach them using the information about their organization, location, and order history. ZoomInfo and LinkedIn Sales Navigator are examples of sales intelligence tools.
Video coaching 
Video coaching tools help sales enablement leaders track the sellers' performance during training. With these tools, managers can check whether the specialists have enough expertise to put the theory into practice. Some software for video coaching has AI-based computer grading and can automatically analyze sales presentations according to various parameters, including coverage of relevant subjects, emotions, speech tempo, and others. Examples of video coaching tools are Brainshark and Allego.
Your sales representatives will increase their productivity if you provide them with the necessary resources, tools, and content. As a result, you will receive growth in the number of customers, higher conversion rates, and increased revenue. Now your goal is to ensure that your sales and marketing teams have the required materials, software, and content to achieve your business objectives and improve overall pipeline performance.