When people think about marketing, the first thing that comes to mind is advertising. We usually imagine the ads on TV, or large billboards all over the cities and highways, or events and conferences where companies hold presentations to promote their products and services. However, traditional marketing no longer brings the desired result as it does not often reach the intended audience. 
People are getting tired of traditional marketing methods. Advertising to millennials is becoming more challenging as this group does not perceive old advertising techniques anymore. As a result, marketing costs are rising, and the number of advertising channels is increasing. It creates more pressure on marketers who are searching for solutions to this problem. 
Nowadays, consumers expect advertisements to be educational, entertaining, or useful. Moreover, it is not enough to create an advertising campaign. Companies need to build the community around their brands. They can achieve this by generating outstanding content and encouraging customers to share it on multiple platforms. So, the way to get rid of ad fatigue is very simple. It is called content marketing.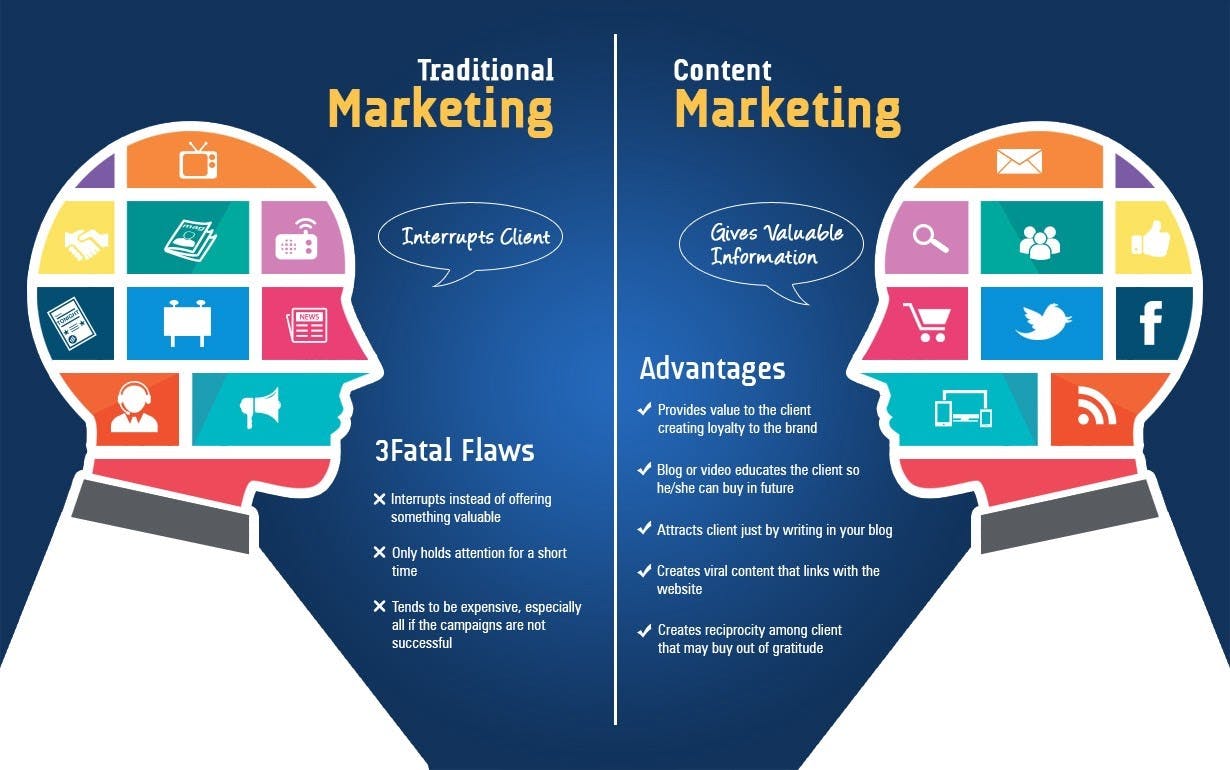 What is content marketing?
Content marketing is a strategy focused on producing and delivering valuable, relevant, and consistent content to attract, acquire and engage a specific audience. Content marketing aims to promote brand awareness, establish and nurture relationships with current and potential customers, and build brand preference and loyalty. The companies deliver the content at each stage of the sales cycle to engage consumers and increase sales. 
Content marketing requires planning, writing, sharing and publishing articles, videos, podcasts, and other types of content via various channels, including blogs, social media, websites, and applications. The strategy allows for educating leads and prospects about offered products and services, increasing website conversion rates, and demonstrating how the product solves their problems to your target audience. The key person typically responsible for creating and implementing the strategy is a content strategist, the role we describe in our dedicated article.
While content marketing has gained popularity over recent years, brands have been using the technique since the end of the 19th century. The oldest example of content marketing dates to 1895 when John Deere published "The Furrow", a print magazine designed for agricultural workers. The periodical featured print advertorials and reached millions of customers several decades later. Today "The Furrow" is still published every month, being the longest-running brand magazine in circulation.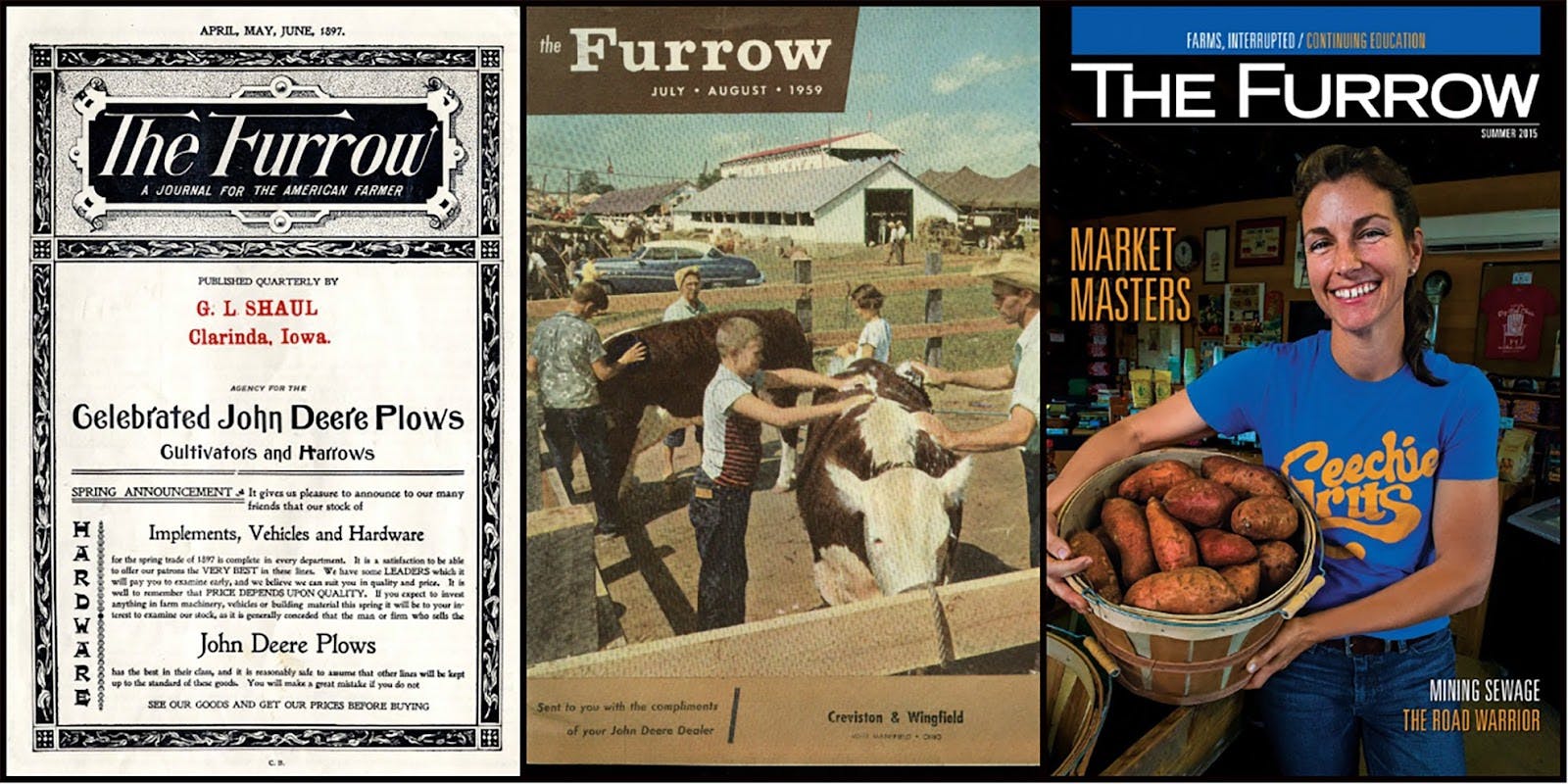 In 1904 the French tire company Michelin continued the trend and developed a free 400-page guide with advice about auto maintenance, travel and lodging facilities. It should be noted that there were fewer than 3,000 automobiles on French roads at that time. With the help of the guide, the car tire manufacturers Édouard and André Michelin wanted to increase interest in cars and car tires — and they succeeded. Furthermore, Michelin Guide is still published today. It is considered the world's most prestigious restaurant guide that utilizes a special three-star rating system and awards the best restaurants and hotels.
The Guinness Book of Records is another successful example of content marketing. The book was first issued in 1951 when Sir Hugh Beaver, the managing director of Guinness Breweries, was involved in the argument about the fastest game bird in Europe. Unfortunately, there was no way to prove that it was the golden plover, so Beaver thought of the idea of establishing the book of records. As a result, Guinness World Records book became increasingly popular and helped Guinness be the most-talked-about brand in every pub. 
In the digital age, the concept of content marketing came to prominence through the efforts of the Content Marketing Institute. The organization was founded in 2007 by Joe Pulizzi, the leading content marketing ideologist. The impetus for creating CMI was the lack of awareness about content marketing, despite an already significant number of books and blogs on marketing in the mid-2000s. Now the organization educates brands on how to attract and retain customers through multichannel communication. 
Let us move from theory to practice and consider how you can use content marketing to build relationships with your potential and existing customers, improve the brand's credibility and drive more sales. The first step is to develop a strong content strategy.
Content marketing strategy
Content strategy is a plan for achieving your business objectives by creating content that includes audio, video, and texts. Effective content strategy will engage your customers at every point of the sales funnel and maintain their interest in the brand after the purchase. In addition, with the content strategy, you will be able to manage all the content generated by your business. Further, we will overview essential basic steps for building a great content marketing strategy.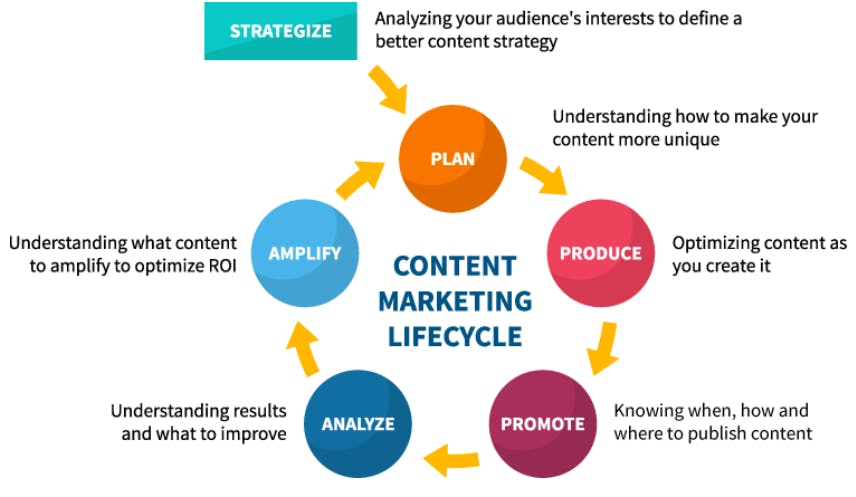 Step 1. Set the goals
When developing your content marketing strategy, it is crucial to define the objectives. The content marketing goals should be specific and measurable. They should also coincide with your company's purpose, mission, and vision. For example, the objectives may include improving revenue, increasing sales, reducing product marketing costs, growing social media engagement, or driving more traffic to your website. Document from three to five most essential goals you will focus on in the future.
Step 2. Define key performance indicators
Content marketing KPIs will allow you to monitor the success of your initiatives by providing project milestones that you can track. The relevant metrics may concern traffic, revenue, sales, SEO, and other aspects of digital or SaaS marketing. In addition, you can keep track of marketing expenses by analyzing how much you spend on different campaigns and monitoring the costs required for closing deals and acquiring leads.
For more convenience, you can divide the content into various types and create relevant metrics for each distinct type. The content types may include promotional and sales enablement content, brand awareness and customer loyalty articles, and local market communication information. If necessary, you can add several auxiliary groups, including recruiting content or publications for other company departments. 
Step 3. Identify your audience
The next step is to understand the target audience for your publications and how many customer personas you would like to target using content. Then, you need to take three actions: collect demographic information on your website visitors, social media followers, and email subscribers, get feedback from the customers and develop buyer personas. 
The demographic data required for the first stage includes age, gender, education, income, and their primary interests. You can collect this information using Google Analytics, Facebook Page Insights, Twitter Analytics, or any other analytical tools, which work for your situation. Then get qualitative feedback from the existing customers by gathering information on their wants and needs, their opinion on the content you are currently producing, and possible ways to address their pain points. Finally, once you have completed the previous stages, it is time to develop buyer personas or customer avatars that usually include information on the customers' problems, challenges, and motivating factors.
Step 4. Conduct a content audit
If you have already produced some content for social media platforms or blog, you need to carry out a content audit to understand what publications contribute to the achievement of your objectives. The process of content audit consists of three steps: logging all existing content, analyzing its effectiveness, and identifying the content gaps. 
Logging website or blog content implies listing URLs, analyzing page titles, descriptions, backlinks, content length and shares, finding duplicate pages, and building a sitemap. Next, you need to evaluate whether the content is useful for your business by assessing SEO ranking, social shares, and inbound links. The analysis of content usefulness will help you at the third stage. When identifying the content gaps, think about which pieces of content need improvement, updates, or replacement and find underperforming keywords.
Step 5. Decide on content types and channels
Think about the types of content you are going to create. There is a variety of content formats that allow generating leads and engaging customers. The most popular types include blog articles, videos, podcasts, ebooks, infographics, how-to guides, and case studies. We will describe types and examples of content marketing in greater detail in the next section. 
Then you need to identify marketing channels for content promotion and distribution. A MECE approach to choosing the most suitable channels is separating them into three groups: owned, earned, and paid. Owned channels are the platforms under your direct control that do not require much investment and include your website, social media pages, blog, and email lists. Earned channels are websites where your content is shared for free by third parties, such as journalists or customers' personal pages. Ultimately, paid channels usually include sponsored influencer content and paid ad campaigns by Facebook or Instagram. 
Step 6. Brainstorm content ideas and create a calendar
Generate content ideas and make a list of the topics. When brainstorming the topics of interest, keep in mind your target audience, search intent, stage of the sales funnel, and the problem you are solving for the customers. Then, use keyword planner and keyword research tools to build the list of keywords that you will add to the articles. 
Furthermore, you can develop the topics based on the content gaps you identified in the content audit process. With special tools like Feedly, BlogAbout, Buzzsumo, and Hubspot's Blog Ideas Generator, you can discover popular themes in your industry, monitor trends, and generate ideas. Once you have prepared the topics, put them into a content calendar with due dates using Google Calendar or scheduling tools. 
Step 7. Publish the content and measure results
Focus on publishing diverse content, including evergreen topics, trends, and articles dedicated to popular holidays. Consider how to reflect your brand's personality and maintain consistency in the content pieces you create. You can apply the skyscraper technique that implies searching for the top-performing articles in your industry and improving the publications. 
The final part of your content strategy is measuring the results. At this stage, you need to assess KPIs and analyze whether the content performance meets your goals. For this purpose, use the website audit and content analytic tools that we described earlier in step 3. By tracking your progress, you will be able to modify the content marketing strategy and constantly update the content pieces to enhance results. 
Content marketing strategy helps avoid focusing solely on the content instead of seeing the bigger picture. Plus, the content plan makes it possible to set goals and track results, making adjustments in the process of strategy implementation. 
Types and examples of content marketing
Now we will discuss seven common types of content marketing with examples that you can use to get ahead of competitors and generate leads.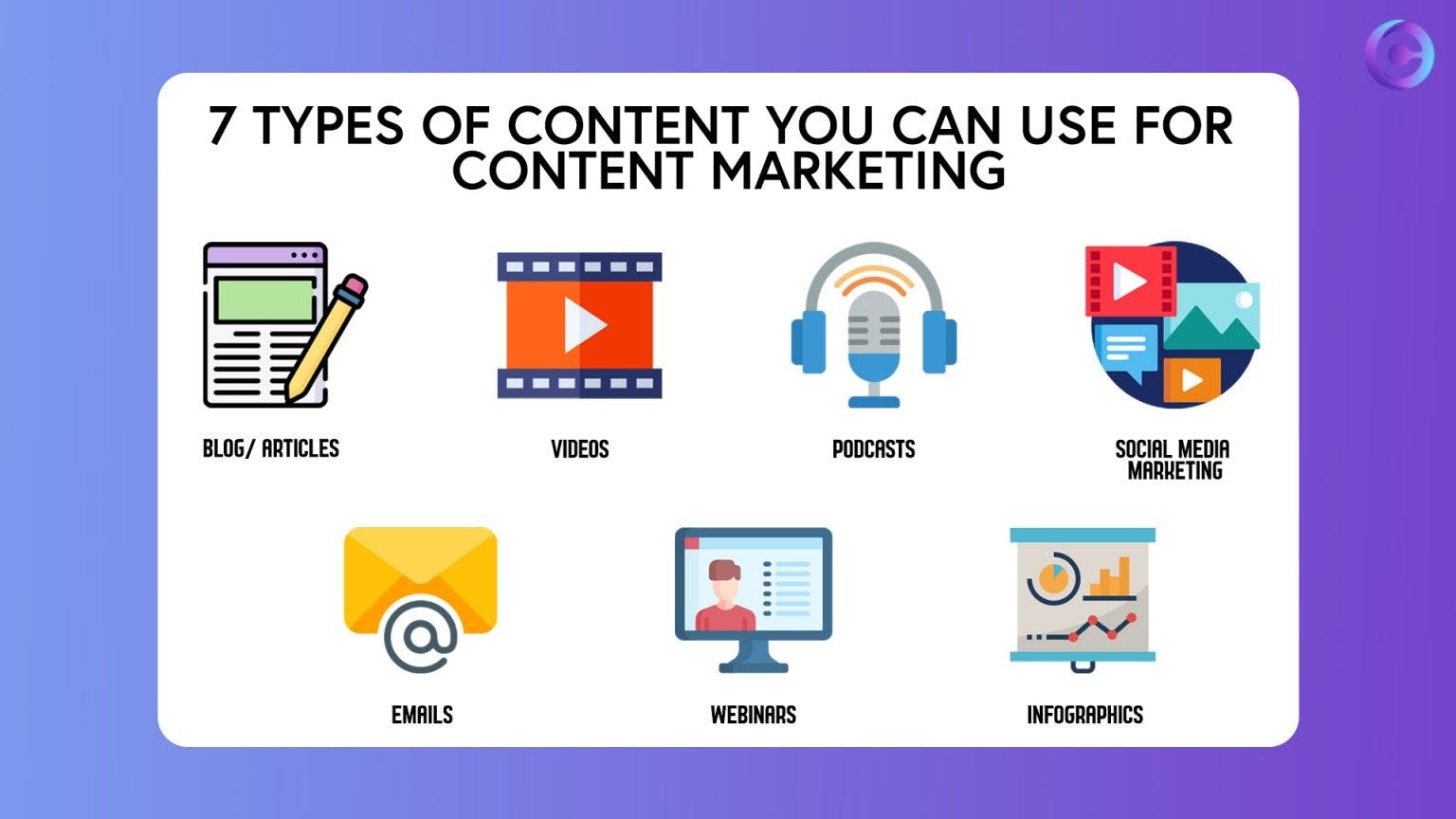 Articles
Articles and blog posts are the most prevalent content types on the web. By publishing the articles on your website, you can increase website traffic, build brand awareness or support company rebranding, inform your customers about the company's news and make product announcements. Moreover, blog posts provide excellent opportunities for keyword optimization and building inbound links. 
Buffer, the software application for managing social media accounts, utilized the articles to reach four million followers and build brand credibility. Most people know Buffer for their blog. The secret of the company's success was the right choice of the target audience. Buffer created blog articles for potential customers instead of the existing customer base who already bought their product. "It's not for potential customers, it's not for current customers, it's for people who could potentially interact with potential customers," explained Leo Widrich, one of Buffer's founders, in the interview with Mixergy. Buffer started to create articles for the people who had an audience. The main topics were psychology and lifehacks, such as "Why We Have Our Best Ideas in the Shower: The Science of Creativity". The blog content went viral reached from 250 shares per article to more than 1,000 shares.
Videos
The critical advantage of videos is a higher level of customer engagement in comparison to other formats. Videos allow brands to generate a variety of content on different topics, including product demos, behind-the-scenes videos, customer testimonials, service overviews, and others. Moreover, videos are a perfect format to present information in a concise and digestible way. 
One of the world's leading airlines, JetBlue used videos to demonstrate the brand's personality, tell customers about the company's values, and encourage people to travel. The videos reached millions of views and created positive customer perception. The most popular campaigns by JetBlue are Flight Etiquette and the Reach Across the Aisle.
Infographics
Infographics are the most-shared type of content as they let companies present statistics, processes, or other complex information in an easy-to-understand manner. This content marketing type does not require significant expenses as they are quick to create. If you want to demonstrate many facts and figures, you can turn them into eye-catching, fun, and engaging content pieces using infographics.
Shutterstock is the online marketplace providing stock photos, images, music, and editing tools. Every year the company analyzes customer searches and downloads to predict the trends that will be popular next year. Shutterstock's Creative Trends infographic is helpful for both company's customers who purchase the content and contributors who produce it.
Case studies
Case studies are the customer success stories telling about their positive experience with your company. This content marketing type is very effective for leads who want to learn more about your business. In essence, case studies help customers make more informed purchasing decisions by discovering how other people use your product in real life.
LinkedIn uses case studies to demonstrate how other companies market their business and attract job candidates. For example, LinkedIn shared screenshots of a marketing campaign by Adobe to show how the brand used the workplace website to assess its performance. This case study will be helpful for other organizations looking to explore how using LinkedIn might help them enhance their candidate pool.
How-to guides
How-to guides provide many opportunities to answer your customers' questions, teach them how to use your product, help with customer onboarding, and present your brand authority on a certain topic. Companies exist to solve problems, and how-to guides can offer practical solutions. Moreover, this content marketing format will be useful both for attracting new customers and retaining the existing audience.
Parsley Health Guides present informative visual content that helps people find answers to their questions related to health issues. The company uses this content marketing type for customer acquisition at the early stages of the conversion funnel. Parsley Health positions itself as the health expert, gives advice from professionals, and organizes valuable content in the forms of ebooks, articles, and videos.
Podcasts
The popularity of podcasts has rapidly increased over the past several years, and it continues to grow. Podcasts are an engaging and convenient type of content marketing as users can listen to them while doing everyday activities like driving or training in the gym. Thus, by using podcasts, you can reach the audience that does not enjoy reading, build a community around your brand and establish trust.
In the podcast 'Commons People', Huffington Post covers the events from the UK political life. HuffPost UK politics team comments on the biggest stories from Westminster. The  episodes usually have intriguing titles like "Could The EU Vaccine War Give Boris Johnson An Election Boost?"
Social media posts
Social media pages are great places where the brand can share its values and build a connection with the target audience. Nowadays, consumers use social media platforms to search for products and services, so the companies should be active and encourage customers to make a purchase. Brand actions motivating people to buy products on social media include offering promotions, being funny and responsive, providing educational or exclusive content. 
Social media campaign by Burger King called "Order from McDonald's" aimed at supporting restaurant chains during lockdown received more than 40 thousand likes on Instagram. The shocking post demonstrated the human side of the brand and solidarity with other restaurants. That was the reason why the publication evoked a strong response from the audience.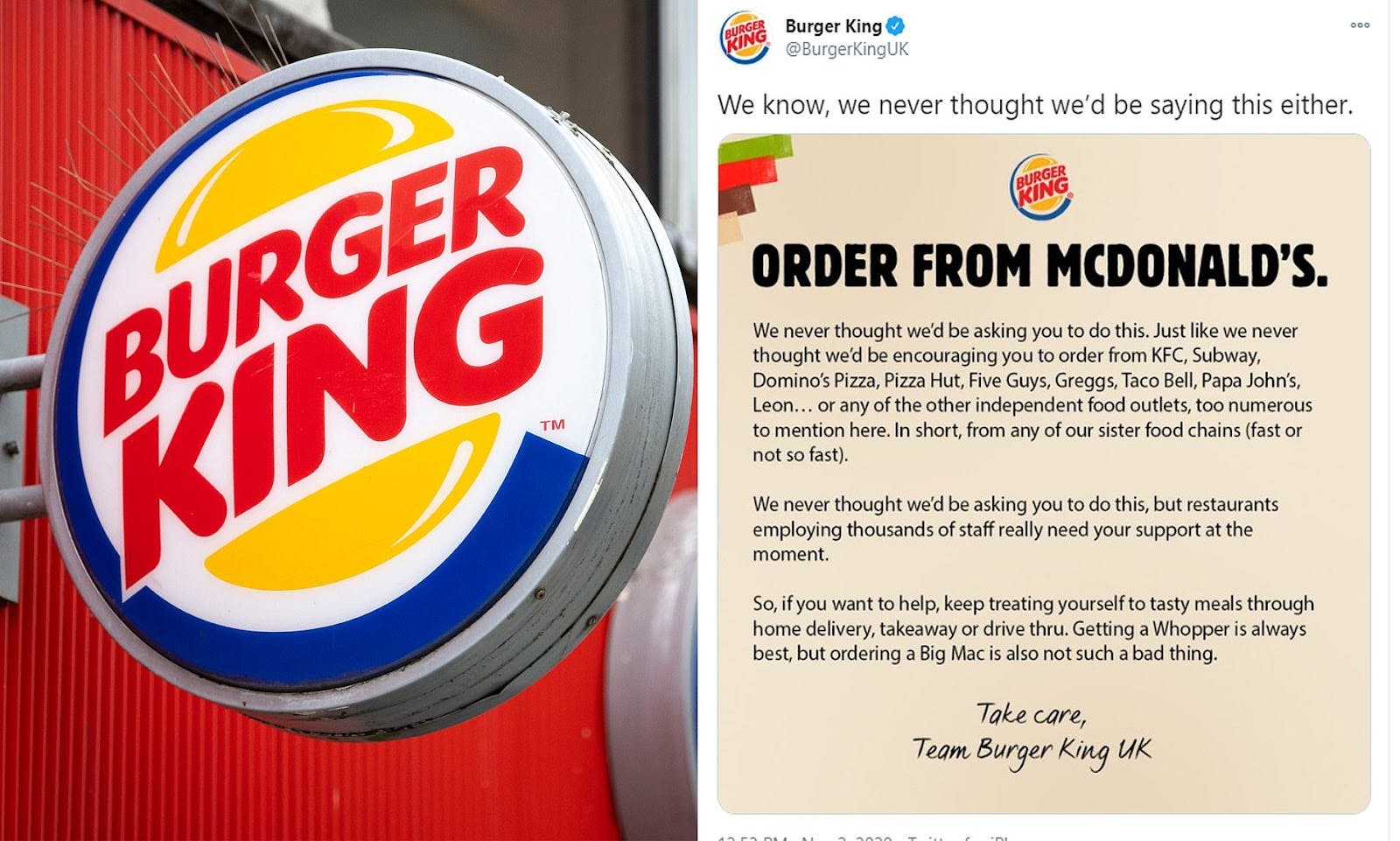 Content marketing tools
Content marketing is closely related to various processes, including copywriting, content research, search engine optimization, and content distribution. You can automate or simplify these processes by using the right content marketing tools.
Content management tools
The best content management tools should possess several crucial characteristics, such as the ability to edit the content on existing pages, run tests to see how alternative headlines and layouts affect the results and the opportunities for collaborative work. Additionally, the tools should integrate with the rest of your tech stack and be accessible to support. Some of the most popular content management solutions include HubSpot, Wix, and WordPress.
Website and content analytics tools
Website and content analytics tools evaluate the performance of your content in terms of SEO, traffic, and competition. Website analysis tools examine how the customers reach your website, their behavior on the site, search queries, customer journey, and conversion. Examples of widely used web analytics tools include Google Analytics, Spring Metrics, and Woopra. Also, content analytics software like Surfer or SEMrush will provide data on visitors' interactions with published content and its overall performance.
Search engine optimization tools
SEO tools will help you conduct the analysis of competitors' backlinks, check your website for broken links and monitor the website's presence in Google SERP. These tools will be valuable in evaluating your website's search data and traffic, finding the best keywords, and identifying the top-performing pages. Examples of such products are Ahrefs, Google Search Console, and KWFinder. 
Content promotion and distribution tools
Content promotion and distribution tools are designed to organize your online presence, advertise the content on social media and other platforms, track your campaign performance, share the content and schedule it in advance. The content distribution tools allow managing all social media accounts in one place, resharing older content, and creating automated campaigns. These tools include Buffer Publish, Hootsuite, and MailChimp.
In the modern world, content marketing is a secret weapon of any business. People appreciate valuable, informative, and engaging content. They are searching for answers to their problems, and with your content, you can provide them with the optimal solutions while turning them into loyal customers.