Building a website and forgetting about it is not enough for successful digital marketing. You need to update it, publish content, promote it. Besides, your website should be aligned with the latest technical requirements to help you achieve marketing goals. If you believe that you have made every effort to generate the best content and promote your website, but you do not see any results, a website audit will identify the areas you might have missed. 
The purpose of a website audit is to find and address essential but often overlooked issues. This way, you will be able to maximize your marketing and SEO efforts, rank higher on SERPs, and stay ahead of the competition.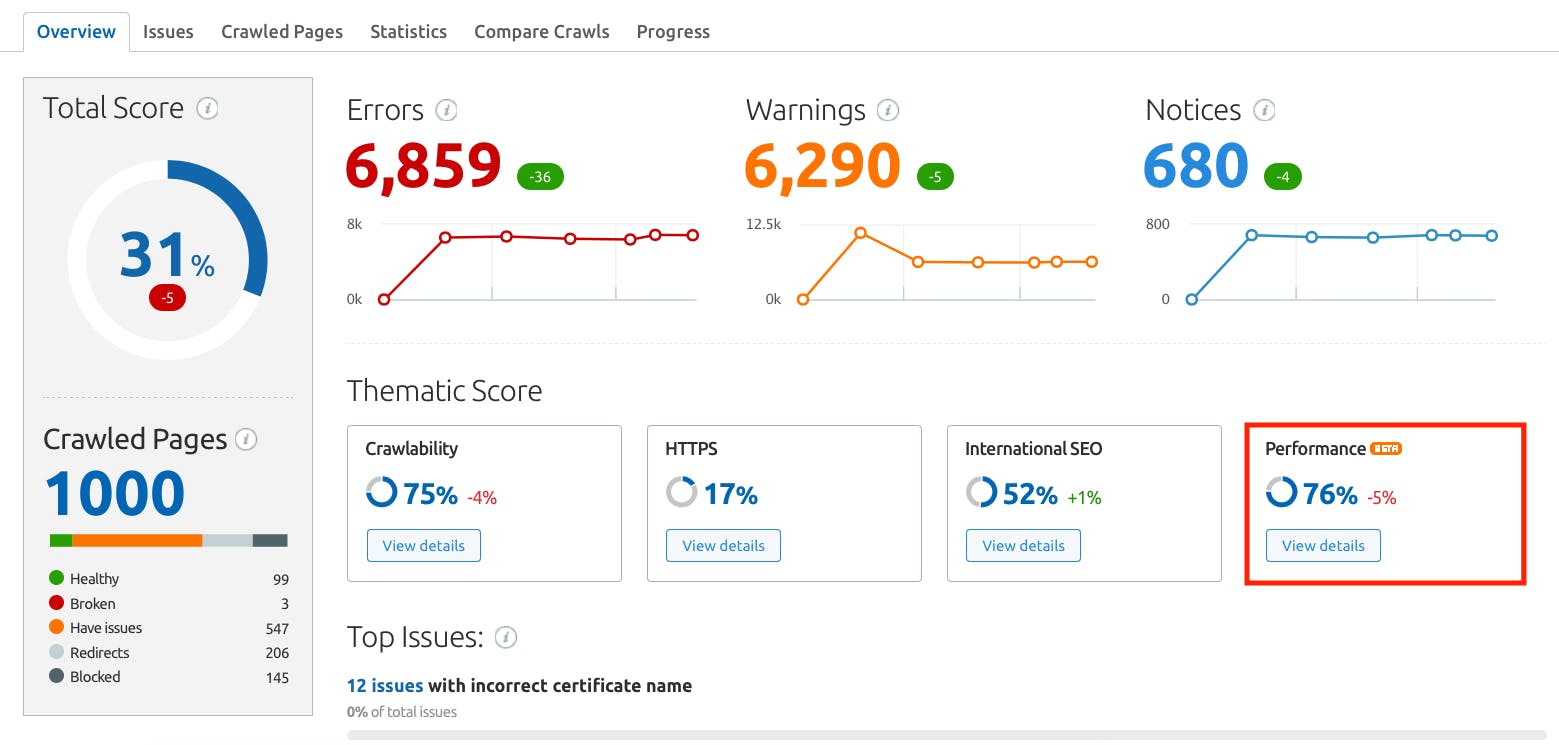 Why do you need a website audit?
The website audit aims to improve your website performance and visibility in search engines. It provides a comprehensive picture of the website, including the traffic and specific pages. By conducting a detailed analysis of your website, you can assess its effectiveness, optimize it and find areas for improvement. In essence, the website audit will help you identify technical issues, understand why your website is not generating enough traffic, boost eCommerce or SaaS sales and conversion rates. Below we will consider a few other reasons why a website audit is vital for your business.
Website performance optimization
A website audit will be useful in terms of technical performance optimization. High performance is a critical quality of any great website. It influences users' first impression of your website and accordingly the number of sales and conversions. Website performance audit provides you with an opportunity to evaluate user-friendliness and mobile responsiveness, check whether your website is easy to navigate, find and fix broken links. 
Better SEO 
By performing website analysis, you will determine missed SEO opportunities that can improve your website ranking in search engines. The most common SEO issues include incorrect keywords and keyword stuffing, duplicate or plagiarized content, not properly tagged images, missing meta descriptions, quality backlinks, and title tags. In addition, Google algorithms change every year, so instead of adapting each detail of your website to these changes, you can focus on a better user experience.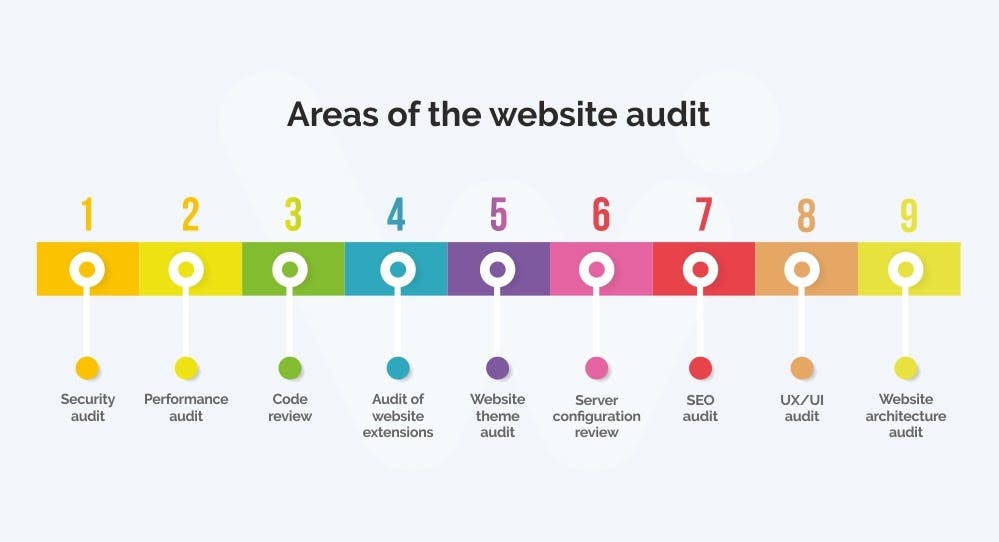 Increased conversion rates
Reasonable conversion rates are critical for any business. However, they greatly depend on website performance, content, and design. Even though SEO audit is a time-consuming procedure, it will improve your ROI through strategic planning, testing, and analysis. With the website audit, you will be able to add relevant calls-to-action, determine the weaknesses in your landing pages, make needed changes and generate leads.
Competitive analysis
When conducting a website audit, you can analyze your competitors' sites. The analysis will provide you with information concerning the competitors' organic and paid search traffic, backlinks, targeted keywords, and online presence. As a result, you can understand how your competitors attract visitors and convert them into customers, identify potential sources of revenue and change your digital strategy for the better. 
Improved customer experience
Website audit allows you to find issues that influence your SEO and traffic. The onsite and offsite problems often include broken links, slow page loading speed, spam, or unfriendly URLs. The listed points might significantly impact your website's overall traffic and conversions. A professional website audit can help you discover and fix the issues before they get out of control and improve the experience of your customers in the meantime.
Regular website audit that takes place at least three times a year will prevent possible problems and identify the potential for growth. As a result, you will be able to increase organic traffic and online visibility, adapt to emerging industry trends and changes in search algorithms, and generate more conversions.
How to conduct a website audit?
Website audit helps you identify problems from three different angles: your own perspective, customers' point of view, and your website position in search engine result pages. You will thoroughly analyze various website parameters, such as design, UX and engagement, website performance and traffic, content, technical and SEO aspects. Below we try to provide you with a mutually exclusive and collectively exhaustive approach on how to do it. So let's get started.
Marketing goals
The first step of the successful website audit is establishing marketing goals and strategy. The website type and its primary purpose will define the goals for the visitors, the project scale, and the complexity of the audit. First, you need to align your product marketing strategy and business goals, then it is essential to understand the requirements of the sales and customer service departments, and finally, you should analyze the competitive landscape. 
After setting goals, it is time to think what you would like to achieve with the increased traffic resulting from the website audit. Furthermore, you need to define key metrics to estimate the success of the analysis. The following metrics will help you evaluate the effectiveness of your digital marketing strategy: number of unique visitors, new and returning users, bounce rates, load time, keyword ranking performance, conversion rate, and user location. 
Design and user experience
Your website design and UX are the elements that directly affect your conversion results and overall impression of your business. Before conducting the UX audit, you need to determine your website's audience and understand their needs and objectives. 
The next step is to collect qualitative and quantitative data, which allows you to define the critical problems in your product and possible difficulties users experience when navigating your website, buying products, or performing other actions. You can gather the information through user interviews and on-page surveys, then develop user personas and create user flows. You also need to collect quantitative data using Google Analytics data analysis and mobile analytics.
Heat maps and user recordings will help you understand the users' top priorities. With heat maps and scroll maps, you will find the most eye-catching elements or distractions, learn how users interact with your website, how they move through site pages, and discover the reasons they leave. User recordings will provide you with an incredible amount of data concerning user location, content relevance, the number of new and returning visitors, and total time on site. The collected data allows you to understand users' behavior and find methods to improve your business performance. 
The aim of the design audit is to analyze visual elements to make sure that branding is consistent across all channels and platforms. Analyze logos, icons, typography, background patterns, and styles to ensure that all visual components follow brand guidelines. Consistency helps build trust with the target audience by conveying the same message at every touchpoint. Examine your website and landing pages, style guides, marketing campaigns and web advertisements, presentations, and webinars. Finally, check whether the wording aligns with brand standards.
Content
The main feature of the website content you should pay attention to is the relevance to your audience. Moreover, the content should be valuable, original, credible, informative, and engaging. You can create the content in multiple formats, including articles, videos, documentation, case studies, answers to FAQ, detailed product or service pages. Either way, the content should identify customers' problems and offer solutions. It should take into account their needs, difficulties, and frustrations, provide value and drive them to act.
Perform a content audit and create a content inventory. A content inventory is a list of the existing digital content that includes specific characteristics of each publication, such as name, format, author, release date, URL, and metadata. A content audit will help you evaluate the quality of each content piece and determine the gaps and publications that need to be updated or removed. 
Collect and examine the data with content analytics tools, such as Google Analytics, SEMrush Content Audit tool, ContentWRX Audit, and Content Square. Analyze the content performance according to user needs, content standards, and business goals, such as increasing awareness, driving traffic, lead generation, or lead nurturing. Then decide for each piece: whether you want to keep, update or delete it. 
Once you have analyzed the content, it is time to develop a plan to make improvements. Align the content plan with your business goals. Prioritize the actions based on your business objectives and create an action plan for each publication taking into account the purposes of each phase of the marketing funnel. Top-the-funnel content aims at facilitating brand awareness. The goal of the mid-funnel content is to provide information that helps leads evaluate your brand and educate the audience. Bottom-of-the-funnel content explains why your product offers the best solution to your customers.
On-page SEO
SEO audit will have a significant impact on your ranking on search engines. First, perform keyword analysis to check which keywords generate the most traffic and leads. Pay attention to keywords that are relevant to the central theme of the content and are often queried by your target customers. Choose a primary keyword for each page of your content and three to five keywords related to the primary one. 
Then examine principal on-page components, such as SEO titles, SEO descriptions, H1, H2, H3 titles on the page, page URLs, sitemap, and robots.txt file. Titles on the page primarily affect user experience while reading the article. They must also align with the search keywords you want to target. When used properly, SEO titles and descriptions improve the click-through rate in search results. Title tags and meta descriptions should be unique on all website pages, be of appropriate length, and include relevant keywords. Add action words, such as get, take, boost, learn, in the title tags to encourage users to click through.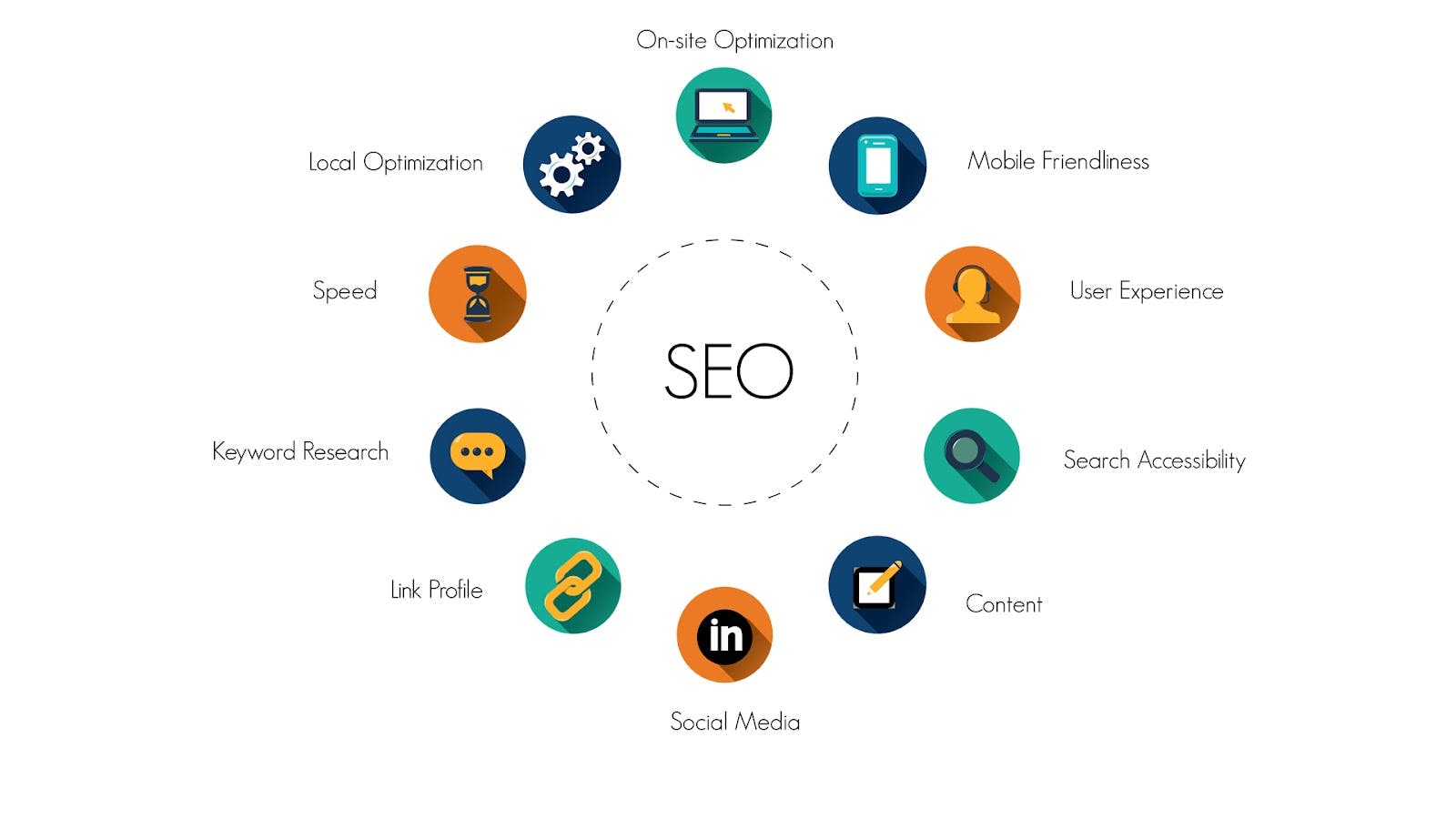 Page URLs, sitemaps, and robots.txt focus on helping search engines find and understand the content better. Use simple URL structure, descriptive and readable words that are easy to comprehend. Avoid using complex URLs with multiple parameters that refer to similar publications on your website. Otherwise, Googlebot will not be able to fully index the website content.
Robots.txt file contains instructions for bots that allow them to understand what website content should be indexed. With this file, you can prevent crawlers from accessing certain areas of your website, such as sections with duplicate content, sitemaps location, or staging environment. Take a look at this article from Google to learn more information about creating a robots.txt file.
It is essential to have pages for each product or service you plan to promote using SEO. In addition, SEO landing pages should be well-integrated into your site's link architecture. The sitemap helps Google recognize all your website's pages, so you need to have it in XML format and add it to Google Search Console.
Mobile usability
Around half of all web traffic is generated by mobile devices. Therefore, mobile-friendliness is one of the most important Google ranking factors. In 2020, Google announced mobile-first indexing, which means that the search engine will use the mobile version of the landing page for landing and indexing. So, your website's compatibility with mobile devices will directly affect its position in search results.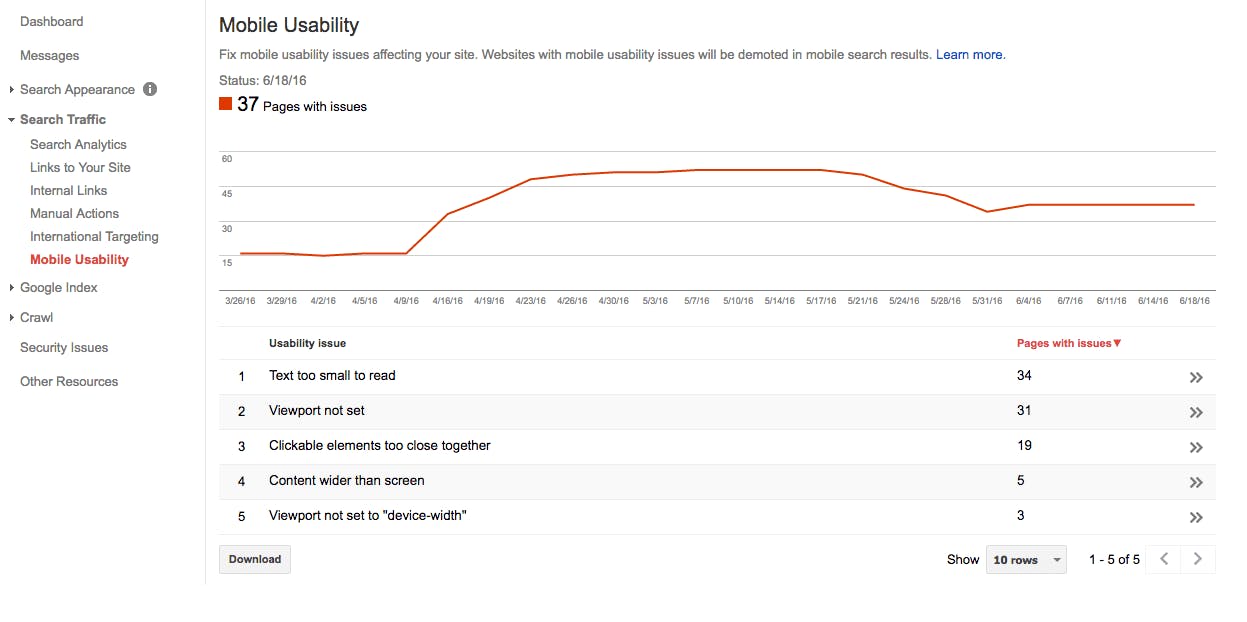 Mobile usability report in Google Search Console identifies usability issues on your web pages when displayed on mobile devices. Google determines the internal mobile usability score depending on the number of problems on the page and their severity. Mobile usability report shows the status of each page (error or valid) and the total number of pages with mobile-usability errors.
Social tags
To achieve marketing success, you need to create content that promotes brand awareness, encourages the audience, and is easy to share on different platforms. If your goal is to increase the number of views on social media, OpenGraph tags will come in handy. Facebook, Twitter, and LinkedIn use OpenGraph meta tags to improve users' experience and make sharing websites more convenient. OpenGraph protocol allows you to control what content would be displayed in your link preview and demonstrate only the most essential information. You can find more detailed info on OpenGraph webpage. 
Page speed
Page speed plays a significant role in ranking your website higher in SERPs. PageSpeed Insights by Google helps find and fix issues affecting your website loading speed. First, the tool estimates the loading performance and provides recommendations. Then it breaks down the performance into the following categories: good (scores of 90-100), needs improvement (scores of 50-89), and poor (scores of 1-49).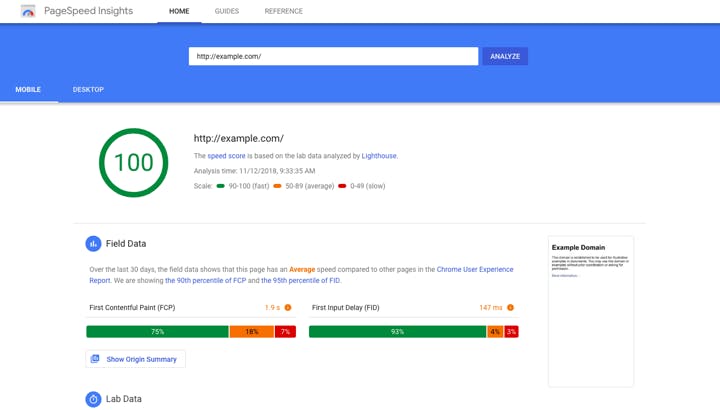 The report generated by Google PageSpeed Insights estimates the page's performance according to four metrics: first contentful paint, largest contentful paint, first input delay, and cumulative layout shift. 
First contentful paint is a user-focused metric that determines how website visitors perceive website performance. In simple words, first contentful paint (or FCP) is the amount of time needed for visitors to see any content on the web page. Fast FCP within 1.8 seconds or less keeps users engaged as they see that page load is in progress. 
Largest contentful paint measures content performance. For a user-friendly experience, the LCP should be within 2.5 seconds from the beginning of page load.
First input delay is the time the user waits before interacting with content. FID measures web page interactivity. First input delay should not exceed 100 milliseconds to provide a user-friendly experience. 
Cumulative layout shift measures visual stability. It calculates the number of minor layout shifts on a page. CLS should be less than 0.1.
Images and multimedia
The images and multimedia always engage users better than plain text, so these elements should always be present on your website pages. You can not ignore image optimization. The best way to increase page speed is to compress and resize images. When you save images, give them names that accurately explain what they contain and place the visuals on the page with relevant content. It helps improve keyword optimization.
The other way to optimize images is to use alt (or alternative) text. Alt text is a short description of the image that appears on the user's screen instead of the image when it fails to load. This text allows search engines to crawl and rank your page more effectively.
Internal links and external links
Internal and external links should serve a navigational purpose, leading users to other relevant pages and websites. Your goal is to revise the website structure. Make sure you have the internal and external links and that they function correctly and lead to relevant pages instead of redirecting users to non-existent pages. Furthermore, you need to consider crawl depth or the number of clicks required to reach the page. Page depth or its distance from the homepage influences its SEO performance. Avoid orphan pages that are not linked to any other website pages and unimportant pages with many links.
Page errors, duplicates and redirects
When conducting a technical evaluation of your website, you need to search for non-working links and remove them or replace them with live links. For this purpose, you can use Broken Link Checker by Ahrefs. You also need to make sure that the pages do not repeat themselves on several different links, so there is only one specific page for a particular product or an article on the website. Additionally, you should avoid unnecessary redirects. Those occur when the page is visited at a specific URL but is forwarded to another URL. 
Security
A secure connection is the other crucial Google ranking factor. In this case, HTTPS has several advantages over HTTP. The Transport Layer Security protocol (TLS) protects data transferred over HTTPS by providing three layers of security. It encrypts the users' data when browsing the website so that nobody can track their activities. HTTPS ensures data integrity which means that nobody can modify the exchanged data without being noticed. Authentification defends the man-in-the-middle attack, ensuring that the user interacts with the correct page.
You can simplify and automate the process of website audit by using special tools. We will review four main groups of website audit tools: website and content analytics tools, behavior analytics tools, search engine optimization tools, page speed and indexing tools. 
Website and content analytics tools
The content analytics tools track data related to interactions with published content and provide metrics concerning page views, shares, average time spent on certain pages, outbound clicks, and other helpful information. The most popular website and content analytics tools include Google Analytics, Open Web Analytics, Piwik, Clicky, SimilarWeb, and SEMrush.
Behavior analytics tools
Behavior analytics tools will provide data on numerous aspects of customer acquisition and engagement, including the most visited pages, users' actions and possible difficulties they experience with your website, sources of website traffic, the frequency of clicks, and time they spend on a page. For example, with these tools, you can learn how many users are going through the purchase process and how many people have abandoned it at a specific point. The best solutions to track users' activity include Hotjar, Crazy Egg, Session Cam, and Kissmetrics.
Search engine optimization tools
SEO tools can save you a lot of time and provide valuable insights concerning the health of your website. These tools allow you to track your website's presence in SERPs, compare your website to competitors', identify ranking opportunities, find relevant keywords and get an overview of your website and number of backlinks. The most universal SEO tools are Google Search Console, Ahrefs, KWFinder, Ubersuggest, and Screaming Frog.
Page speed and indexing tools
Page speed tools help you learn how to reduce loading time and use it as a competitive advantage. Indexing tools provide information about the indexed version of pages on Google, including indexing issues, structured data problems, and AMP errors. The top page speed and indexing tools include URL inspection tool, Google PageSpeed Insights, GT Metrix, Web Page Test.
It takes plenty of time to undertake a complete website audit (and sometimes, a specialized marketing consultant). However, you will receive tons of valuable information to make changes and improve the results of your marketing efforts. If you want to achieve success, you need to repeat the process of website audit regularly. But you will also benefit from it so much more than you can imagine.