Today the primary source of information for practically everything is the Internet. Your potential customers will rely on the facts they discover from your online presence. If you have no website or page on social media, your company does not exist. Online branding enables your business to convey the value of the product through the World Wide Web. It gives the customers an understanding of who you are, what you are selling, and why you are better than competitors. 
Let us consider some striking examples. Have you ever heard of Dollar Shave Club? This startup made its name due to a one-minute viral video that had brought the company more than 12,000 orders in the 48 hours after release. It seems fantastic how the startup that was selling twin-blade razors succeeded in competing against Gillette, the monopolist in the world of shaving equipment. 
The secret of success was the founder's background in digital branding. Michael Dubin, the CEO of Dollar Shave Club, was helping companies to make advertising videos. His startup was no exception. Dubin decided to abandon the traditional selling methods in favor of online branding, and it worked. The fateful video reached almost 5 million views in three months! As a result, a $4500 investment in the production of the video led to the $4 million revenue in the first year. 
What is digital branding?
Digital branding is a set of measures aimed at establishing the company's presence on the Internet to draw customers' attention. The goal of digital branding is to make contact between consumers and the product or service and support the business in building its product-market fit. Online branding influences the company's recognition, increases brand awareness and enhances the brand's image. However, alongside driving sales, digital branding drives the long-term loyalty of your customers.
The concept of "digital branding" includes three components:
identity — built with the help of social media platforms and content marketing;
visibility — created through digital advertising, customers' search engine results, social media, company's website, and review sites;
credibility — increased through ratings and reviews.
Digital branding vs digital marketing
Digital marketing is an umbrella term for a range of online activities aimed at promoting services and selling products on the Internet. Online marketing allows customers to interact with the business via digital channels, such as social media, websites, and blogs. The value of digital marketing lies in the opportunity to reach the desired part of the audience due to effective targeting methods like search engine optimization, online advertising, email marketing, and others. 
Digital branding is an essential aspect of the set of activities within digital marketing, here's why. Online branding is focused on developing a brand, building brand awareness, and positioning. In other words, digital branding helps companies create and strengthen their reputation online.
The phrase "Just do it" and swoosh are automatically associated with Nike. We will distinguish McDonald's logo from millions of others with the letter M. The bitten apple is always a reference to the tech giant. These are the very examples of the perfect branding strategies when the company's name, logo, and motto merge into a memorable image in the customer's mind. The consumers will quickly forget the company's products, but the powerful brand image will stay relevant for years. Once the customer needs your product or service, the brand pops in his or her memory. 
Due to digital branding techniques, the company not only tells the story but also creates a community around the brand. Your posts go viral, and you have the opportunity to interact with the customers and get their opinion about the product or service. Thus, strong digital branding is about interaction with your target audience.
Digital branding strategy
The promotion of your brand on the Internet first and foremost begins with a strategy. To create a successful digital branding strategy, you need to align it with your business goals and guidelines and build an understanding of the brand positioning. Here is the list of questions that will be helpful in this matter:  
What is the purpose of your business?
Who are your target customers?
What sets you apart from the competitors in your field?
What is the unique feature of your business?
How will you communicate with the audience?
In what ways will you engage with consumers?
Knowing who you are, what are your strong points and goals will help create a meaningful brand or successfully rebrand a business. A brand is more than a company's name and products, it is the personality of your business. Like any personality, your brand should have its unique traits, values, and ideas to share with the world. The elements we have listed below are critical for the step-by-step implementation of a digital branding strategy.
Logo
The logo is the face of your brand. That is why this symbol should represent the mission and core values of your business. The perfect logo should be memorable, minimalistic, and impressive to stay up to date for a long time. Also, you should design it with your target audience in mind. The color theory and the tone of voice of your business are the features that are very important for the logo design. You should also remember that the logo should match various formats as it will be used in websites, social media, business cards, and more.
Brand message
The successful brand message reflects what your company does and what you can say to your customers, how your business satisfies their needs. You should analyze the pain points of the consumers and offer the solution in a clear message. It is crucial to keep in mind your target audience, so you can understand the tone of voice you can use. A good practice is to research the brand messages of your competitors and successful brands in your niche. 
Website 
Without the website, your customers will not be able to find the necessary information about your business: the description of the products and services, contacts, and the hours of work. A company can lose about 70-80% of its customers if the consumers cannot find its website on Google. 
Websites with intuitive navigation and simple design are increasingly popular. People want to save time by finding the right information. So the pages should load fast and contain clear and concise texts, visuals, and videos to be easily understood by website visitors. The images and primary colors should be the same as you used for the logo to deliver a consistent brand experience to the user. 
When your website appears in search results, you get more opportunities for the customers will buy your products. The higher it ranks, the better. Search engine optimization will help you with that.
SEO
Your website is a useless tool for your business if it is not optimized for search engines. For this reason, you should develop the informational architecture, technical structure, and design of your website, taking into account the SEO principles. You can find most of them in Webmaster's Guidelines by Google.
The other features of the optimized website include:
engaging and helpful content;
responsive and user-oriented design;
easy navigation;
internal links to pages with the highest relevance for your website visitors;
metatags and keywords;
alternative text for images;
optimized CTAs for conversions.
Many ready-made website platforms or CMS solutions already provide a lot of these elements out of the box. For instance, these are Google Analytics, Google Search Console, SEOWorkers Analysis Tool, Ubersuggest, MozBar, and WooRank.
However, when looking for more extensive functionality, you might need to run a website audit, and engage a web development team and/or an SEO-focused digital agency to help you build everything up to the high standard required.
Content marketing
Content marketing is one of the most critical points in your digital branding strategy. The benefits of this digital branding element are increased sales, customer loyalty, and cost savings. Content marketing is used by leading brands like GoPro, Spotify, IKEA, and others.
People strive to get information that solves their problems. You can provide the content in many different ways using blogs, podcasting, video, ebooks, infographics, and visuals. Your content should be relevant, unique, trustworthy, and valuable for the readers. People receive a massive amount of information from companies every day, so your content should stand out, be helpful, exciting, and memorable. The surveys will help you understand the current requirements of your customers and create a content plan.
Effective content marketing strategy requires several steps. You need to determine your goals, target audience, choose the best content channels, and decide on content types. Then think of the resources and tools you need, create the content calendar. The final step is to analyze how your content is performing. If understanding the complexities of content marketing might be a little arduous, an experienced content strategist should be able to develop the vision and drive its implementation forward.
Social media 
The power of social media platforms cannot be overestimated in the modern world. The latest data for the end of 2020 show that about 4.14 billion people, 53% of the global population, are active social media users. This means that any business needs to consider adding SMM to their marketing mix and explore opportunities that will allow them to reach their target audiences via social media channels.
Some social media giants like Facebook, Instagram, and Snapchat have already become the perfect marketplaces for various brands. You need to adapt your marketing campaigns depending on the platform. For instance, with Facebook, you can show the customers behind-the-scenes content about your company. Twitter is useful to get the latest news and learn what people say about your brand. Instagram is perfect for sharing visual content, reaching mobile users, and keeping an eye on competitors.
Email marketing
Even though email marketing might seem an outdated practice, it can serve multiple goals, including boosting engagement, building loyalty and trust, developing the existing relationships with customers, announcing new products, informing about the news and latest updates.
Besides the aspects mentioned above, emails are essential for two reasons. First, they allow the company to build a loyal following without relying on social media algorithms. If you have 100,000 subscribers on Facebook, hopefully, 1% will see each of your posts. But if you have the same amount of engaged subscribers in your email list, at least 10% of them will usually open each of your emails. 
Second, you can better track interactions with each one of them. You can know what links each one clicks, what product each one buys etc. Using this data, you can uniquely personalize your communication with each client.
Personalization is one of the key features that you need to consider while creating emails. The simplest example is addressing the customer by name. Also, you need to segment your subscribers based on survey results, demographics, geographic area, etc. While designing and creating your emails, use photos, videos, and text that match your brand's visual style and tone of voice.
Online advertising 
Online advertising is a great way to promote your brand online. The most common methods of online advertising include:
Social media ads. There are various advertising options on Facebook, Instagram, Twitter, YouTube, TikTok, Pinterest, and LinkedIn. For example, Facebook allows targeting audiences based on demographics, age, and interests.
Display ads. This advertising method uses banner ads, interstitial ads, video ads, and rich media like audio, video, and other interactive clickable elements placed on third-party websites.
Mobile ads. Mobile ads can appear on display, in mobile applications, or next to search results on Google. The types of mobile advertising include videos, images, carousel ads, and canvas.
Search engine ads. This advertisement category is displayed among the search results on Google, Bing, and other less popular web search providers.
Retargeted ads. Once a customer visits a website of the online store, they can start seeing the advertisements on other pages and return to make a purchase with the help of retargeting ads. 
Product advertising on online marketplaces. One more popular method is advertising through marketplace platforms. If you are selling a product that can be purchased online, you can attract more buyers with the help of advertising on Amazon and Etsy. 
When a customer searches for something on Amazon by entering specific keywords, they will see the sponsored posts, which are Amazon ads. You can increase the visibility of your products in search results by paying for relevant keywords. The other type of advertising on Amazon is the ads displayed next to the products on separate pages. Headline search advertisements appear above the result listing.
Etsy ads are shown in search results and on the other pages. The advertisements will be displayed in Etsy search, Market pages in application and website, and Category Pages. Etsy advertising is based on a cost-per-click model when you set a daily budget — the amount of money you are ready to pay for ads. 
Influencer marketing
In the age of social networks, content marketing is gaining momentum. The audience of your brand trusts the opinions expressed by their favorite bloggers. The influencer will build the reputation of your business and deliver the brand message to your customers. You can use specialized platforms like Upfluence, Famebit, Tribe Group, and others to find the right influencers for your brand.
Five examples of great digital branding strategies
Every successful digital branding strategy is based on two main principles of attracting consumers depending on their needs. Either "help me" or "entertain me". 
Further, we will provide some brilliant real-life examples that show how the brands used the components of their digital branding strategy to boost sales, reach more customers, and build trust. 
BarkBox
BarkBox is a company that delivers treats and toys to pet owners on a monthly subscription basis. The exciting thing about BarkBox is that their social media do not contain any advertisements for the products the company is selling. The digital branding strategy is based on sharing viral videos with funny dogs. The results of this approach are incredible. BarkBox has 1.7 million subscribers on Instagram and 63.1 thousand followers on TikTok. Moreover, a significant number of these people do not even have a dog!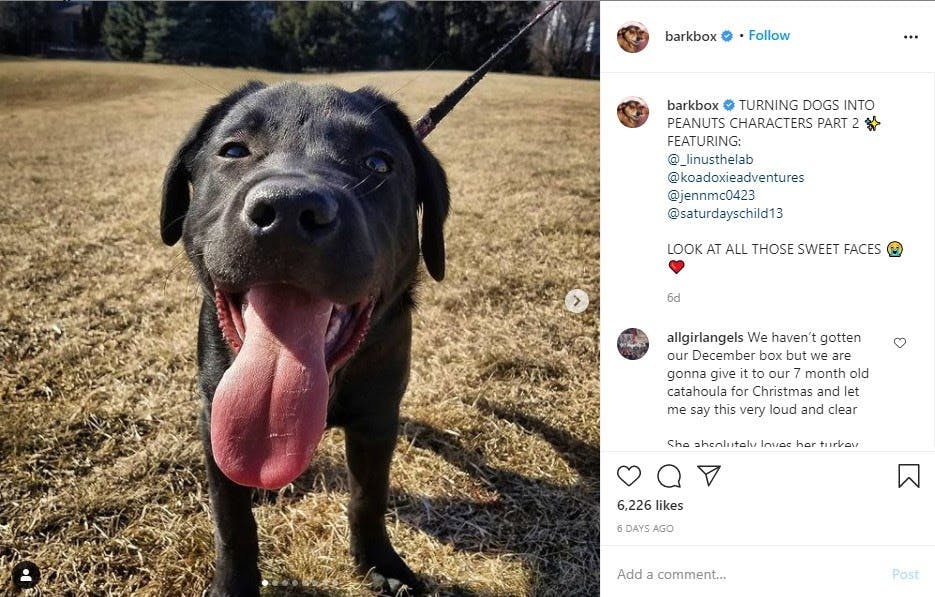 Heineken
Heineken uses storytelling to trigger strong emotions in viewers of their advertisements. One of the good examples is the #OpenYourWorld campaign. The main topics raised by video participants were feminism, global warming, and transgender inequality — the issues that are a significant concern for society today. 
Two strangers with entirely different points of view were given some tasks. They also had to answer the interview questions. The interviewees did not know about each other's attitude towards the issues to be discussed until the last minute. When the truth was revealed, they were presented with two options — leave or discuss the controversial subject over a bottle of beer.
 #OpenYourWorld campaign acquired immense popularity. The video has been viewed more than 17.7 million times. More than 138,000 people shared it on Facebook and more than 22,000 — on Twitter.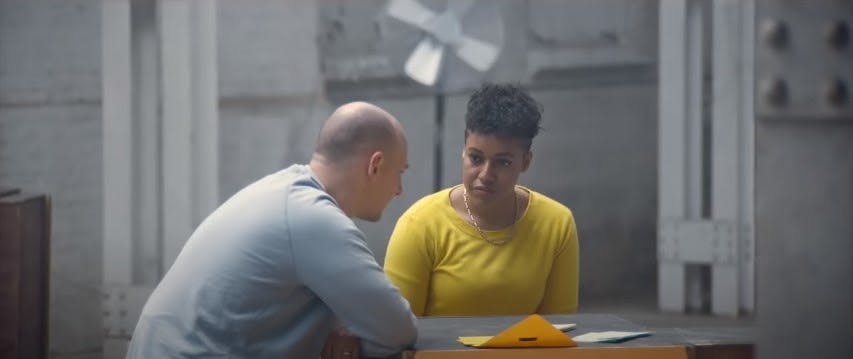 Airbnb
As the primary target audience of Airbnb is millennials, the company places particular emphasis on promotion through social media. The brand encourages subscribers to share pictures of their properties for rent. Most of the photos on their Instagram profile are user-generated. Thus, one of the features of their content is authenticity. The company tags the property owners under each picture and encourages people to share their photos. Also, Airbnb provokes discussions and interaction with the brand.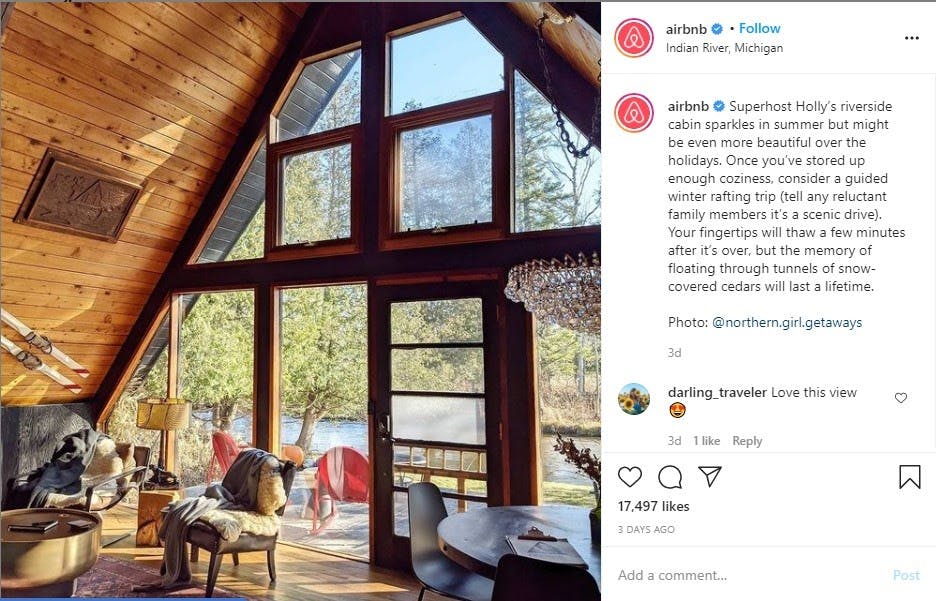 General electric
General Electric is an inspiring example of a brand with excellent content marketing and a successful social media strategy. The company has expertise in various fields — from making vacuum cleaners to jet engines, locomotives, and big data sensors. Thus, the most challenging task for the brand was to encourage people to perceive the company as "thought-leaders in advanced technology" instead of "makers of appliances".
Every day GE creates content for Facebook, Instagram, Twitter, LinkedIn, and Pinterest. Each month General Electric features a user-generated campaign on social media and involves influencers. For instance, six influencers walked around the company's manufacturing facilities and made photos within the #GEInstaWalk campaign. The results were overwhelming — 8 million views of Instagram profile and 3 million reaches per tour without any paid advertising.
The brand also experiments with emerging platforms. GE was one of the first companies that shared the content on Vine just after the launch of the platform.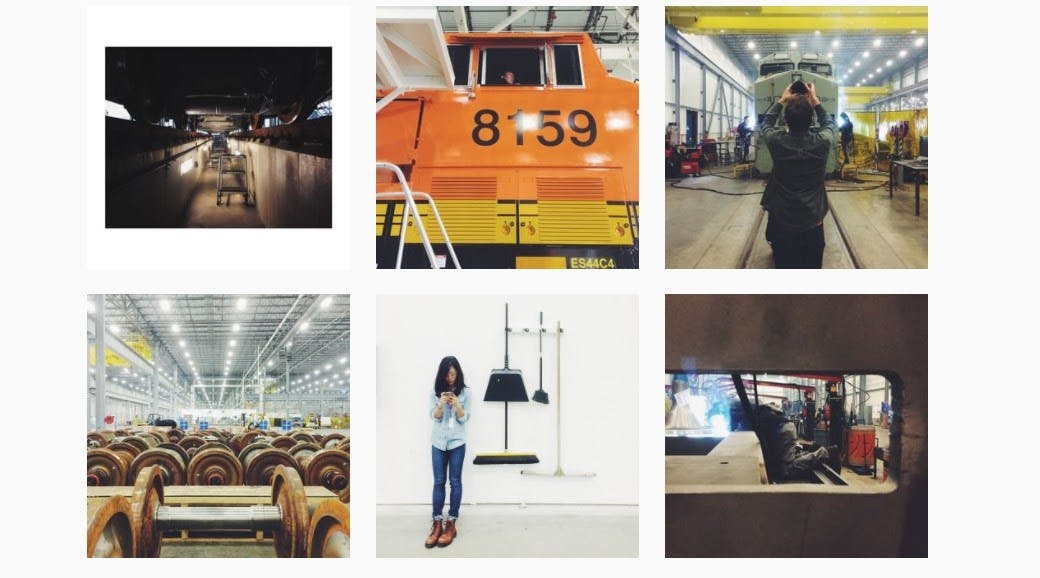 OTBT
OTBT is a brand that sells fashion footwear for women. Even though the brand is quite young, its popularity increased rapidly over the last few years. The secret is the influencer marketing that is a vital part of their digital branding strategy. 
Since the launch in the year 2017, OTBT has focused on micro-influencers with 5000 or fewer subscribers. The brand partnered with more than 400 influencers and grew the Instagram community by 33.3 thousand followers.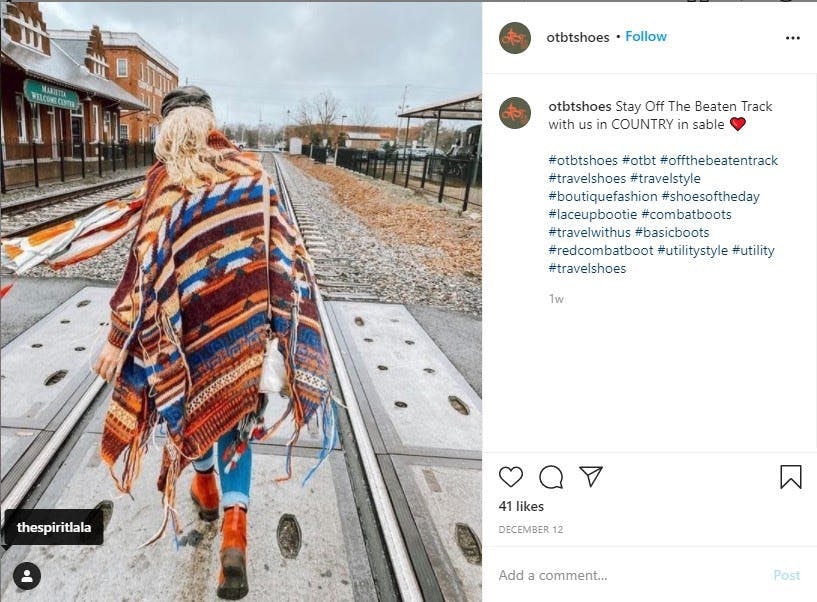 Checklist to build your online presence
Digital branding is a significant step towards developing a successful business and attracting thousands of customers from all over the world. Due to this reason, it is essential to make a robust digital strategy. It will help your company not only to create a large customer base but also to build a relationship with the consumers. Here are the key steps that you need to make within a digital branding strategy. 
1. Develop a vision and key elements of your brand. Design a meaningful and recognizable logo. Your website design and colors of the logo should not only match and look aesthetically pleasing but also convey the core idea of your brand. This philosophy should also be reflected in the verbal brand message. It should be persuasive, inspiring, motivating, encouraging customers to buy your products. The website should have easy navigation, contacts, hours of work, and other essential information. 
2. Create engaging content for your website and social presence, which showcases your strengths. Great content starts with defining your audience. The content should be original and thought-provoking, providing solutions to customers' problems. Visual content like images and videos improves communication with the reader. The engaging posts for social media may include behind-the-scenes looks, influencer content, company news, infographics, user-generated content, previews, teasers of the products, etc.
3. Promote your presence to the target audiences, make sure they see you, and engage with you. The interaction with the audience is critical. Personalized emails, targeted ads, and SEO practices are your key to success. Collaborate with the influencers via unique platforms or involve them in your loyalty program membership. 
Try different approaches to understand what works better for you. Your first attempts might fail, but it is just a sign that you need to change the strategy and try again.