The main goals of marketing and sales functions in any business are to attract customers and increase sales. But, at the same time, companies often make the mistake of trying to market their products and services to a wide range of people instead of focusing precisely on those who might be actually interested in buying. This group of prospective buyers is called leads. By efficiently engaging with leads, a company has a better chance to build a community of loyal customers than if it targets the entire market. 
Nowadays, lead generation is the critical step in the process of turning your website visitors into customers, which helps companies dramatically increase income. In today's world, marketing has undergone significant transformations. Before speaking to a salesperson, current buyers usually learn a great deal of information about a product or service. As a result of these changes, every business has had to reconsider its marketing strategies. The process of acquiring leads shifted online, and the companies that failed to adapt to the transformation faced problems in attracting new customers.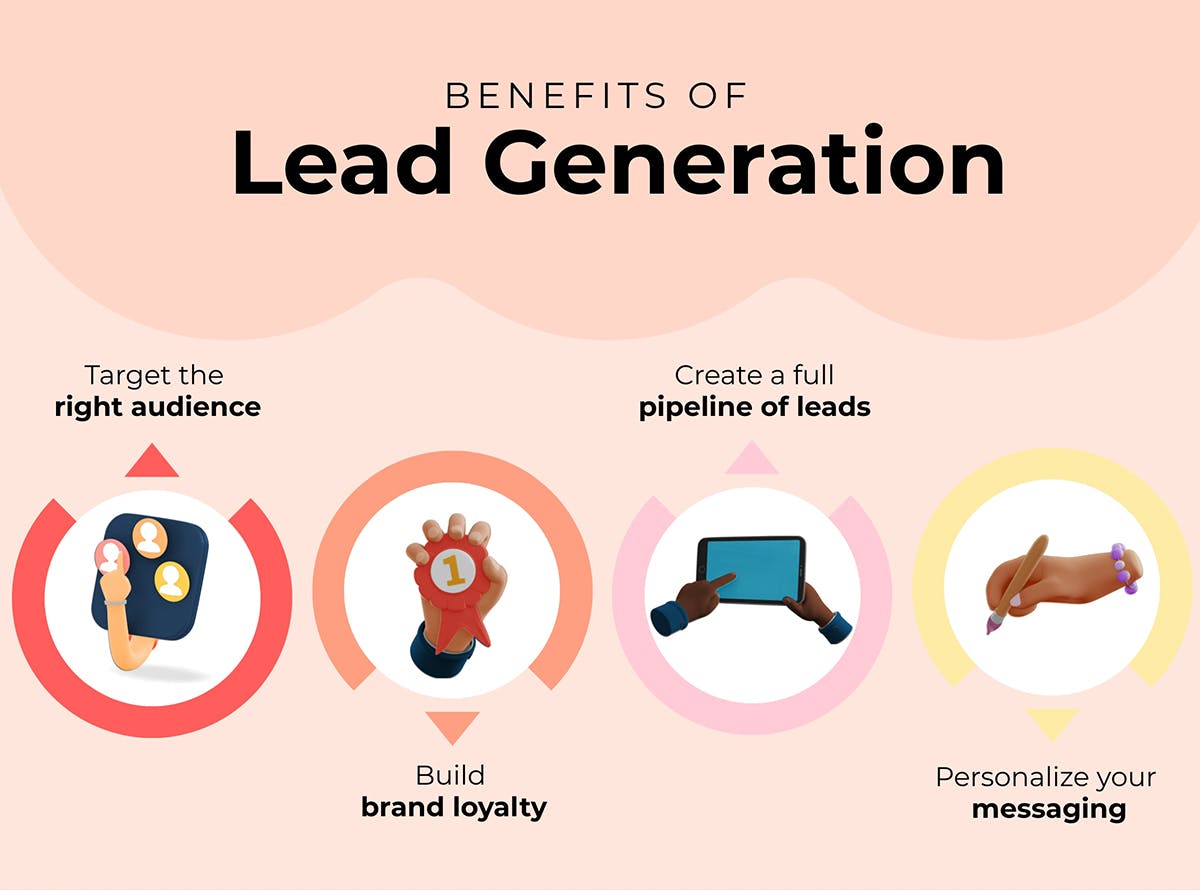 According to the research by Marketo, companies that employ a lead generation strategy made a 133% increase in revenue compared to the other organizations that have not implemented this approach. Lead generation allows for understanding customer needs and analyzing their expectations and interests. Therefore, marketing specialists can create engaging content and reach the desired audience. The process involves educating potential customers about the product or service. They can either learn about the company independently or get information from sales representatives or promotional content. Furthermore, leads can use word-of-mouth marketing to share information about the business and reach more potential clients.
So let us consider the concept of lead generation in more detail.
What is lead generation?
Lead generation is the process of singling out and engaging potential customers and stimulating their interest to convert them into paying clients. The process involves drawing the attention of leads and 'lead nurturing', which means getting in touch with customers after the initial contact. It coincides with the first stage of the sales funnel and implies building brand awareness through content marketing, social media advertising, search engine optimization, and other marketing strategies.
Lead generation often begins when a customer comes across a website or a blog while searching for a specific product or service. Then user visits a landing page, where they click the call-to-action button, image, or message. After filling in the form, a visitor receives valuable content, such as an ebook or course. Thus, the user's contact information is sent to the sales team, and at this point, a person becomes a lead. Finally, the lead moves to the following stage of the sales funnel, converts into a prospect, and later becomes a customer.
It is crucial to clearly understand the difference between lead generation and demand generation to attract more leads that will be accepted by a sales team and later turn into customers.
Lead generation vs demand generation
Demand generation is an umbrella term that describes a set of marketing initiatives that raise brand awareness among potential customers and provide product education without the intention of turning the contacts into leads. The goals of demand generation include identifying the target market, building brand credibility, and becoming a thought leader in a selected niche. Increasing brand recognition is only one aspect of demand generation. In contrast, the overall demand generation strategy aims to help the target audience recognize their pain points and understand how the product can solve them.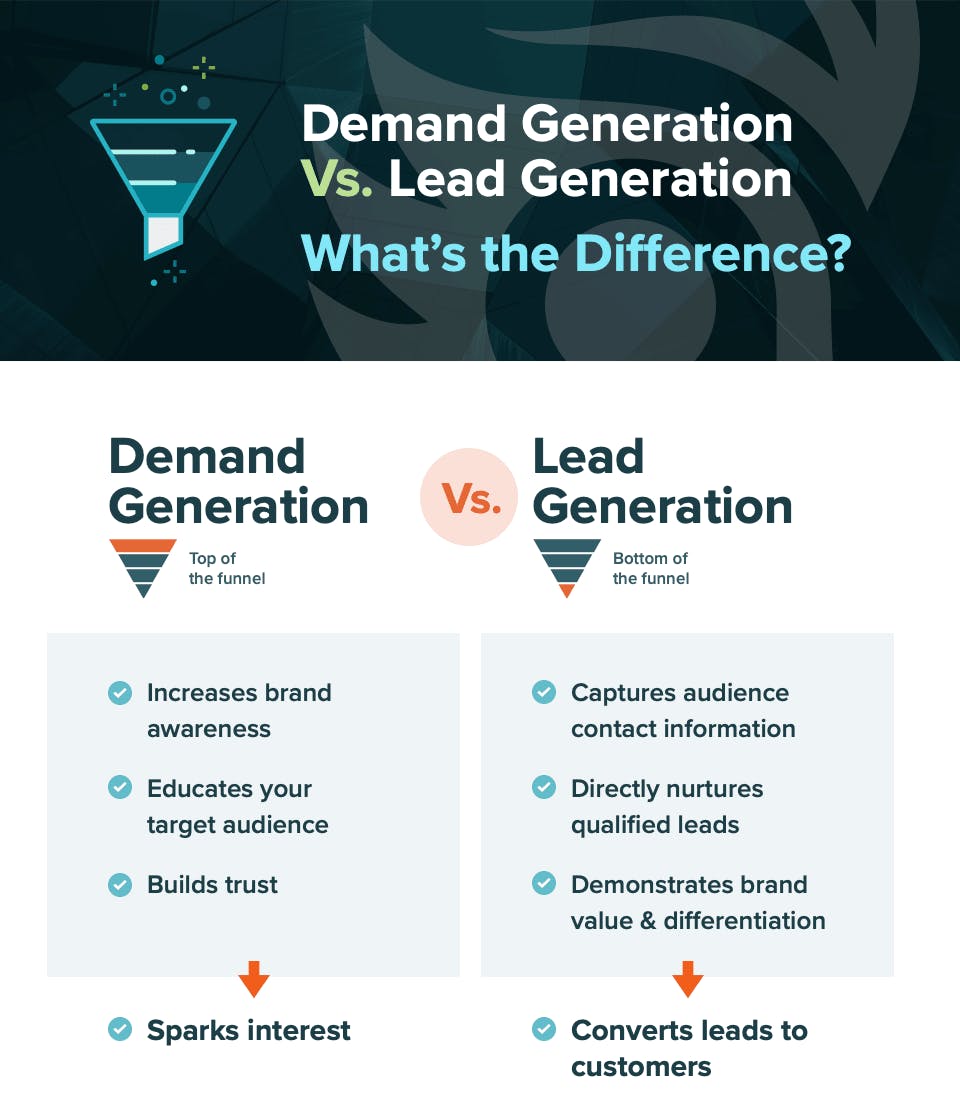 Demand generation entails distributing free content to prospects without using forms to provide contact details. Examples of the content that creates demand include free podcasts, YouTube videos, or billboards that promote a brand and capture potential customers' attention. In addition, demand generation process involves various actions, such as blogging, SEO, and PR efforts that are intended to attract prospects without asking them for anything in return.
Both lead generation and demand generation include building relationships with prospects and moving them through the sales funnel. However, demand generation prioritizes creating interest and need for the product among the audience, whereas lead generation focuses on converting prospects into leads. In essence, demand generation is the process of growing the overall audience. Lead generation deals with engaging with prospects most likely to convert.
We have discussed the concept of lead generation in general terms. The following section will describe more complex aspects of the process.
Lead generation process
Although every lead generation process is unique depending on the business, we will consider the basic steps you need to take to attract high-quality leads.
Research the target market
The first step to organizing the lead generation process for your company is to conduct audience research. You need to determine the customers' pain points and decide which ones are the most critical and urgent. Identify the website visitors' characteristics, such as demographics, geographical location, budget, requirements, values, and beliefs. Then create buyer personas based on these features. Next, think about how your product or service can benefit potential customers. If you have more information about your target audience, you can produce exciting and informative content that will drive leads.
Create useful SEO-friendly content
Once you have gathered the data about your target audience, you can start producing engaging, helpful, and shareable content that addresses their problems and offers a solution. Examples of these content pieces typically include blog posts, social media articles, infographics, videos, and case studies. Use social media platforms with an active audience to publish the content and reach your target customers. You can also attract traffic to your website through search engine marketing, search engine optimization, or display advertisements. Ensure you have provided all the relevant data about your products and services across all available channels.

Get contact details
At this stage, you want to collect prospects' contact information. Ask your potential customers to subscribe to your email newsletter by using the phrases like "sign up to learn more". The effective way to get users' information includes creating a 'lead magnet'. A lead magnet is a compensation that you offer for sharing personal information. It can be in the form of a quiz, survey, webinar, or podcast. Remember that people are more likely to respond if you ask them to provide fewer details. Thus, you can request only the prospect's name and email.
The visitors coming to your website through search engines like Google will view the landing page where you can ask them to fill out a form or engage with you through live chat or video call. A landing page is one of the critical elements of online lead generation. It is a separate web page created specifically for product marketing and advertising activities. Visitors "land" on this page after following the link in an email or advertisement on search engines, social media, or other websites. In contrast to other web pages, a landing page has a single purpose of motivating visitors to take action and create a list of prospects that can be nurtured with personalized marketing initiatives. Therefore, the landing page usually does not contain any distractions, such as many links or a lot of additional information.
Nurture the new leads
Once you have gathered users' contact details, you can provide engaging content to persuade potential customers to choose your product. One of the most cost-effective ways to nurture leads is to send emails with discounts, updates on new product releases, practical tips related to your business, or links to case studies. Every email your company sends should explain how your offer can improve prospects' life and benefit them. Include call-to-actions with suggestions to register for a webinar or ask for further information. 
Qualify the leads
The next step requires lead qualification. You need to sort leads by priority and divide them into several categories to target them through different marketing channels and with various content depending on their interests and preferences.
Lead qualification is the process of determining the potential customers who are most likely to purchase your product. The process begins with filtering out the leads generated by sales, marketing, product teams, or those who came via the web from subscriptions. Marketers usually categorize the leads into five groups:
New leads or potential customers who visited your website, entered emails or subscribed to a newsletter.
Working leads or people who already follow the company on social media or are having active conversations with a sales team.
Nurturing leads who are not interested in making a purchase but may become customers in the future.
Disqualified leads who have not expressed any interest in your offer.
Qualified leads or potential customers who have shown the intent to buy a product.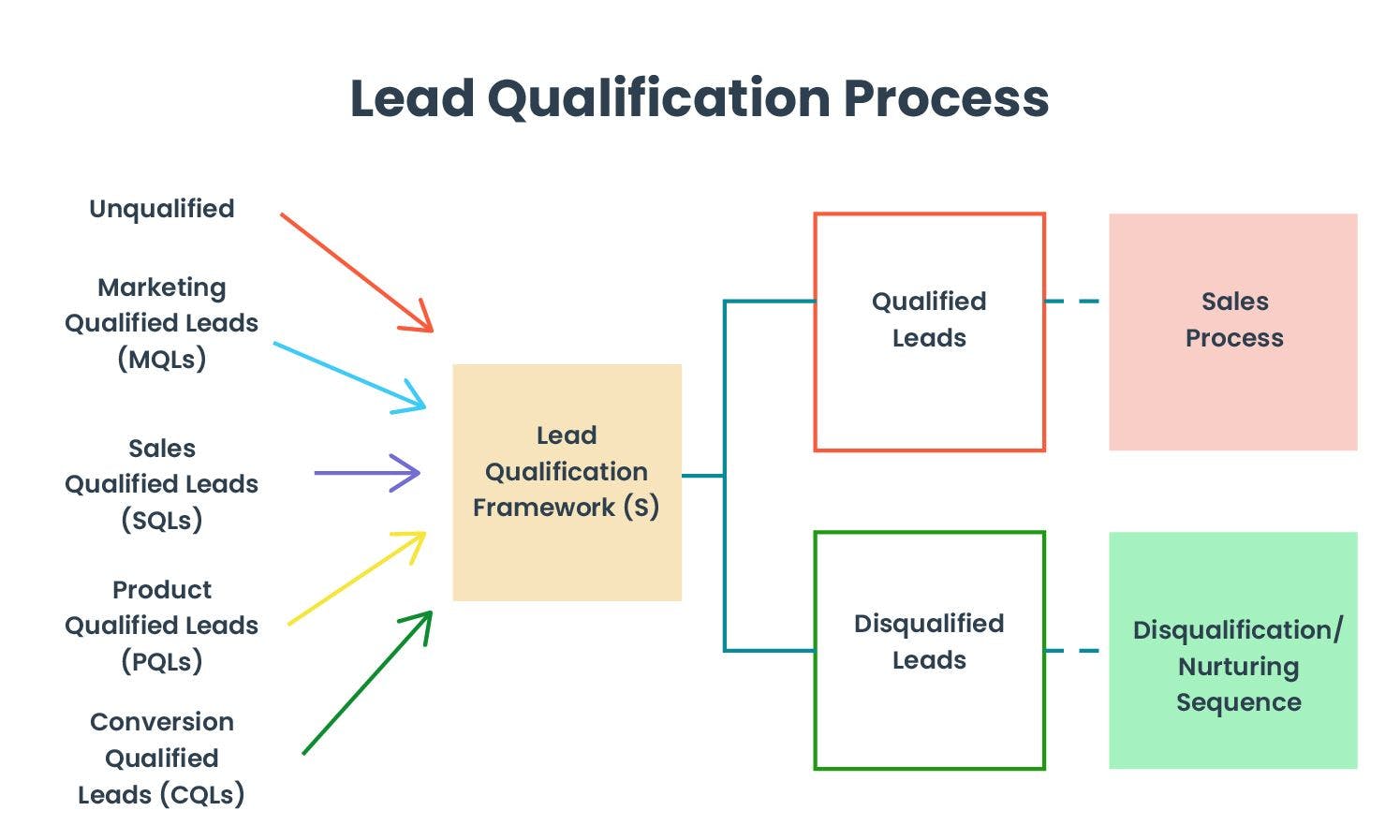 Qualified leads can be further subdivided into marketing qualified leads (MQLs), sales qualified leads (SQLs), and conversion qualified leads (CQLs). Marketing qualified leads are people who want to learn more about your products and services, and they are willing to receive marketing messages, including content offers and promotional emails. Sales qualified leads are prospects ready to speak with a sales representative and start the sales process. Finally, conversion qualified leads are potential customers who have submitted a form or clicked a call-to-action button on your website.
Give each lead a score
Then you can score each lead depending on the prospects' actions. For example, if the lead has filled out the form on your landing page (20 points), interacted with your social media pages (10 points), and opened the email (15 points), the prospect receives a total score of 45 points.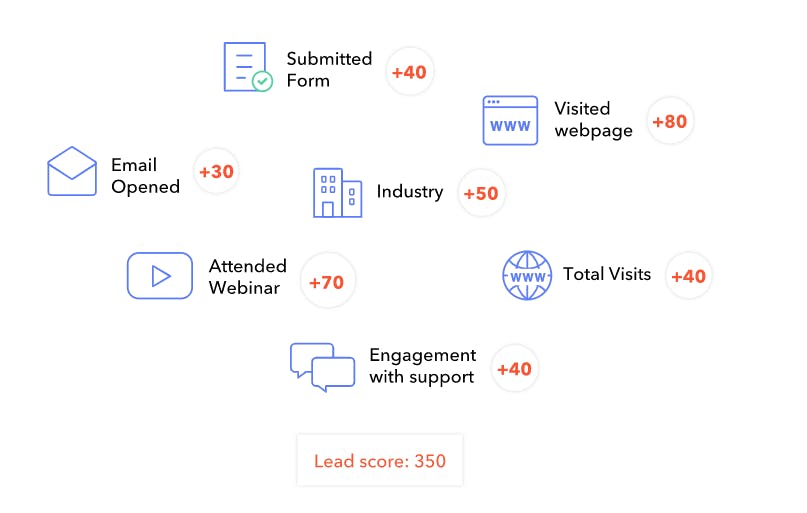 With the properly set up scoring system, leads that visit your website, open emails, download the content and sign up for free trials will receive noticeably higher scores. Thus, you can focus on the leads who have better chances of becoming customers. In addition, you can identify the aspects of your lead generation process that need improvement. For example, if potential customers lose interest after subscribing to your newsletter, you need to change the email campaigns. 
Keep customers interested in your company
The previous steps of the lead generation process required the participation of the marketing team, while at the last stage, the emphasis will shift to the sales department. In the final stage, the sales team focuses on turning the leads into loyal customers by making calls and providing personalized content, such as in-person demos and free trials. The sales department should enhance a customer's experience and maintain their interest in your business over the long term after they have purchased from you.
In conclusion, you need to review lead generation techniques to make sure they yield positive results. Constantly analyze the process to maintain customers' interest in your brand and determine whether you are moving towards business objectives.
Lead generation strategies 
Now we will discuss several inbound and outbound lead generation strategies for different platforms.
Blogging and content marketing
Creating a blog is one of the most effective and affordable ways to drive organic traffic to the website, establish your company as a thought leader in the industry and generate leads. The key to success is valuable content. The blog should educate the visitors on your products and services and help the audience solve their problems. If you require support in driving your content efforts, you can engage an experienced content strategist to help you with developing and implementing the optimal vision for your brand.
To reach your lead generation goals, create 2,000-word or longer posts, add visual elements and hyperlinks to other websites, and include call-to-action. Work with editors and collaborate with influencers. Gated content is an excellent method to get conversions. Provide links to additional materials that visitors can access after submitting their contact details. Finally, promote the blog content on social media and other websites to your target audience.
Whitepapers
A whitepaper is a report or guide that solves a reader's issue, explains a concept, and provides details or step-by-step instructions on how to address the problem. There are several typical types of whitepapers: how-to guides, research and survey analytics reports, 'best of' lists, tips from experts, and industry secrets revealed. The primary purpose of a whitepaper is to provide solutions to readers' problems, so a thorough report should be informative and educational.
The structure of the whitepaper encompasses the following elements: cover page, executive summary, problem definition and background information, solution details with case studies to support your arguments, benefits, an overview of the product's selling points, and call-to-action. Once you have created a whitepaper, you can distribute it via email, or social media channels, or include it in a blog post. Later you can turn it into a webinar or put a whitepaper on your landing page.
Email marketing
Provide useful content in exchange for potential customers' email addresses. Then create a list of prospects and send them targeted messages. Keep in mind that nobody wants to receive endless emails with sales pitches, so focus on providing value. Include helpful tips, industry-relevant content, how-to guides, and infographics. Use personalization to keep your customers engaged. For example, send congratulatory emails on birthdays and provide tailored offers. The emails should be concise and catchy. Choose plain fonts and simple templates and highlight the key points and call-to-action to draw the attention of the audience.
Emails may be sent in response to a prospect doing a specific action, so email marketing is ideal for automation. These emails can be personalized using information about the contacts, such as names and details of the actions they took. Drip feed emails are especially good at generating leads since they let you develop connections while also raising your brand awareness regularly.
LinkedIn
LinkedIn's audience consists of professional decision-makers, so you can communicate with prospective clients who may turn into loyal customers in the future. Create a LinkedIn page with expert articles, commentary from executives, and video content. It will help you position the company as a credible source and build trust. Make contacts with like-minded professionals and join groups with your customers. You can use these groups to identify industry pain points and develop targeted value propositions. Use LinkedIn ads to reach your audience with targeted content.
Furthermore, LinkedIn has a Lead Gen Forms tool that generates leads using pre-filled forms with information from LinkedIn profiles. With this tool, you can promote webinars, whitepapers, and email signups and allow users to interact with your business. You can include a Lead Gen Form in Message Ads and Sponsored Content campaigns. 
Search engine optimization
The first step to generating leads with SEO is to choose the right keywords. Conduct keyword research to identify keywords and phrases you can use to increase website visibility and attract potential customers. Pay attention to long-tail keywords, which are specific multiple-word queries. These phrases can generate leads with extremely high purchase intent.
In addition, you can improve your website ranking by increasing page speed, enhancing user experience, and adding visual elements. High-quality content is a determining factor in the success of this strategy. Take into consideration that it may take some time before you see the results of your efforts.
PPC advertising
As with the case of SEO, the choice of appropriate keywords is crucial for PPC advertising. The keywords determine the cost-per-click and where your ad appears in search results. So you need to list relevant keywords by analyzing competitors' websites and using keyword research tools.
Segment the campaigns by target industry, geographical area, features, advantages, and other information about your product or service. Create unique and engaging landing pages and include a form in the ad when using PPC on LinkedIn and Facebook. To determine whether your PPC advertising is bringing in the right audience, test them over a specific period. Pay attention to keywords, images, headlines, offers, extensions, and scheduling.
You can achieve even better results, attract potential customers and increase sales by using several lead generation strategies at once.
Let us consider widely-used types of lead generation tools, their main features, and how these solutions can benefit your business.
If you want to motivate visitors to sign up for a sales call, ebook, or demo request, you need to create a compelling landing page with a lead capture form. There are specific platforms that can simplify this process by providing pre-built templates, A/B testing, conversion analysis, and heat maps. For these purposes, try Unbounce, Leadpages, ClickFunnels, and SeedProd.
The next group of tools will be useful for collecting emails and creating an email list for content promotion or drip campaigns. These tools will help you gather emails from companies' websites, search for emails on LinkedIn and Google, find emails based on domain names, segment your target audience and learn more about your customers. These tools include Snov.io, Global Database, Sumo, ConvertPlus, and LeadQuizzes.
The last group of tools is designed to create email marketing campaigns and automated drip campaigns. With these tools, you can educate subscribers and convert them into customers in the future. Pay attention to MailChimp, ActiveCampaign, and SendinBlue.
Although it can take a lot of time and effort, lead generation is worthwhile. There are various ways to generate leads. All you need to do is search for the ones that work best for you and your company.