Over the last several years, search engine user behavior has changed drastically. Users have become better searchers and learned to narrow down their queries with additional keywords. Jim Jansen, Penn State researcher and Ph.D. in Computer Science, analyzed over 1 million web searches to identify the patterns of query reformulation. The scientist found that in 22% of cases, search queries were changed or reformulated to convey the information user was looking for more accurately. 
Searchers tend to shift their attention from broader to narrower terms and from a general topic to specific concerns. For example, Google Internal Shopping Search Data indicated that people searched by description while shopping for goods like books, candy, or greeting cards. They used more defined and exact search queries to get better search results. These findings are especially useful for marketers in developing user personas and choosing the right keywords for website optimization. The best way to get a particular group of people to your website is to leverage long tail keywords.
What are long tail keywords?
Long tail keywords are search queries consisting of three to five words that are usually more specific and descriptive than short-tail or head keywords which include one or two words. They can be phrased in the form of sentences or questions that focus on a certain problem, industry, or market. The term "long tail" refers to the position of the queries on the search demand curve. The keywords are located at the bottom of the graph as they combine both low search volume and high potential conversion rate.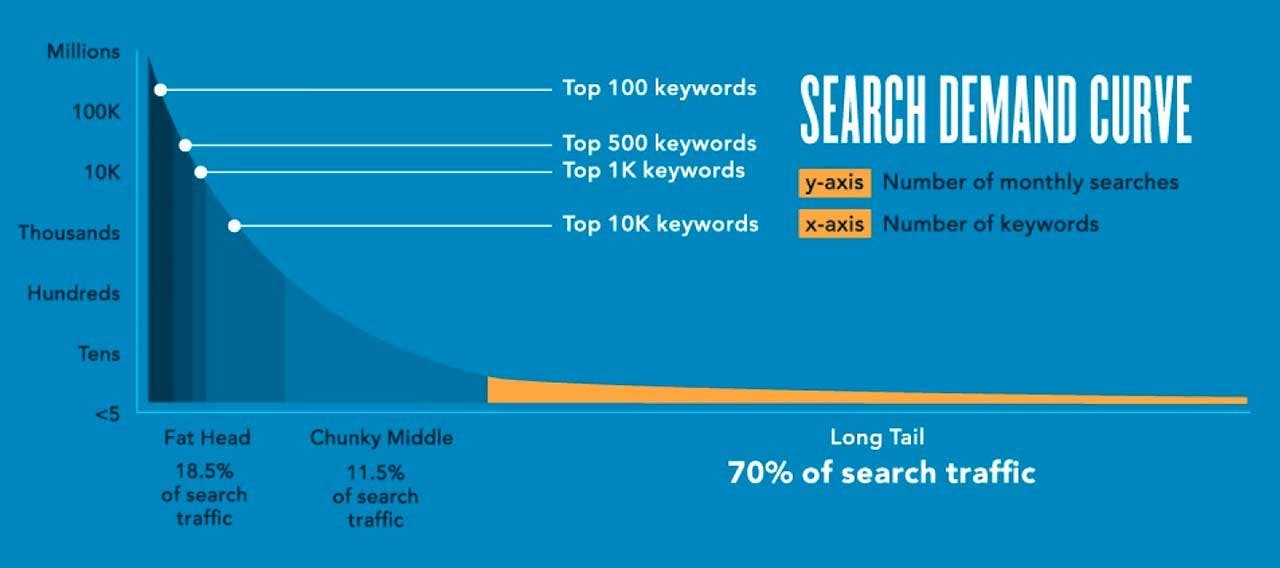 Long tail keywords often have lower competition in comparison to head terms. These phrases are less popular because of their specific nature. People phrase the queries in various ways, so they search long tail keywords only a few times per month. Thus, a long tail keyword is a phrase that has four distinct characteristics: it consists of several words, it has low search volume, low competition, and a higher conversion rate. So, these terms are targeted at the niche audience and provide great opportunities for marketers.
Why focus on long tail keywords?
There are three main reasons why long tail keywords matter for digital marketing specialists. We will list them in more detail below.
Higher conversion value. The first reason to focus on search queries with a long tail is a chance to attract leads who are more likely to make a purchase. Although phrases do not reach the same number of searches as short tail keywords, they target people who are at the end of the buying cycle. With long tail keywords, you will be able to bring visitors who are already interested in your brand to your website and turn them into customers without any additional effort. In contrast to one-word queries most often used for informational purposes, long tail keywords reach a motivated audience with a buying intent.
According to Smart Insights, long tail keywords have a higher click-through rate than generic terms by 3-6%. In addition, since search phrases are more detailed than one-word queries, they are more relevant to the audience and increase the probability of conversion.
Less competition. Many businesses are betting on general search queries with the hope of increasing traffic and sales. However, this approach has significant drawbacks. High-volume keywords often drive intense competition. Thus, ranking for them will take more effort and resources. More specific wording has fewer searches per month, but it gives you an opportunity to create content that better satisfies customer needs and provides an improved user experience.
The best solution is to use head keywords combined with long tail ones to target multiple audiences. In most cases, long tail keywords often contain head terms for which you want to rank. Therefore, you can achieve two goals simultaneously and increase your ranking for generic and more descriptive searches.
Personalized user experience. In today's world, personalization allows for reaching the relevant audience with the right message at the appropriate time. Long tail keywords can help optimize your content plan for target customers as they often include descriptive terms like gender, location, or nationality. You can use specific search queries to create content that suits the requirements of different buyer personas and presents products and services in the most favorable light. It allows you to develop a more effective and consistent content marketing strategy and take advantage of contextual marketing opportunities.
Let us move from theory to practice and explore several approaches to finding long tail keywords.
How to find long tail keywords?
Finding long tail keywords that bring users to your website and drive them through the conversion funnel requires some effort. You may have to try several different keywords to find the one that gives the desired result. Now we will describe nine ways to perform long tail keyword research.
Google "Searches related to…"
You can find relevant keywords at the bottom of Google search results called "Searches related to…" First, type in a query you want to rank for. Second, scroll down to the bottom of the page and check the list of the suggested keywords. You will get a range of terms to consider. Then you can pick one of the queries from the "Searches related to" section and insert it into Google. By repeating this action several times, you will be able to collect an extensive list of the appropriate search terms.
Google Autocomplete
Google Autocomplete is the other way to conduct practical keyword research. All you need to do is type the query into the search field. Then Google will show you a drop-down list with popular terms users often search. You can enter a keyword together with the initial letter of the other term or add extra words to get different results.
One more method to collect long tail queries from Google Autocomplete is to use keyword generators like Ubersuggest and keywordtool.io. These tools both work similarly. You just need to enter a seed term and click the "search" button to receive hundreds of keyword suggestions.
Use "what" and "how" questions
Google users often phrase the search queries as questions. When thinking of long tail questions your audience might ask, begin them with words "what", "where" and "how". These phrases reflect the consumers' concerns about your topic, so this method of searching long tail keywords will bring many valuable ideas.
Add qualifying terms to short tail queries
Use keywords together with qualifiers related to your market, product, or service. For example, if you are selling coffee, you can use "organic decaf coffee", "dark roast coffee", or "freshly roasted coffee beans delivered". Try adding the information about geographical location. For example, "coffee delivery services Boston". If you are promoting a local brand, adding "near me" to your search query will be an excellent idea. Users who specify queries by adding geographical regions are usually at the final stages of the buyer's journey, so there is a higher chance for conversion.
Answer The Public tool
Answer The Public is a keyword tool that collects autocomplete data from Google and other search engines and generates precise phrases and questions related to your term. The queries provided by the tool tend to contain more than three words, so Answer The Public is a good source of long tail terms. With the help of long tail keywords, you will be able to gain a deeper understanding of the customers' problems and create valuable content, products, and services.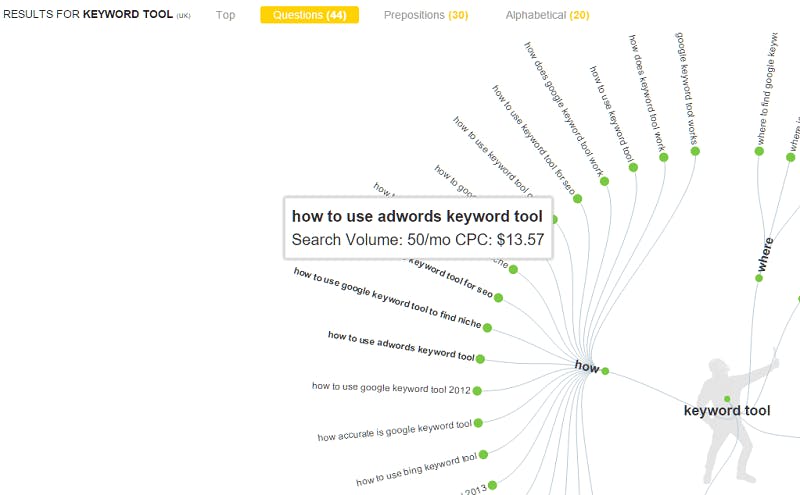 Boards, forums, and social media
To brainstorm the best keyword ideas in your niche, check forums and message boards related to your issue and consider questions users frequently ask. You can borrow the phrases from the questions and use them as long tail keywords. Look at the titles of recent threads and analyze the terms on your topic. Examine common words and phrases people use in discussions. The most suitable platforms for keyword research include Quora, Reddit, 9gag, Hive, Answers.com, and Askville by Amazon.
People also ask
This feature by Google will also help you expand the keyword list. Once you check the search results, you will see the section with the questions people ask about the term you entered. When you click on the question, the box shows other queries which you can use to get keyword ideas.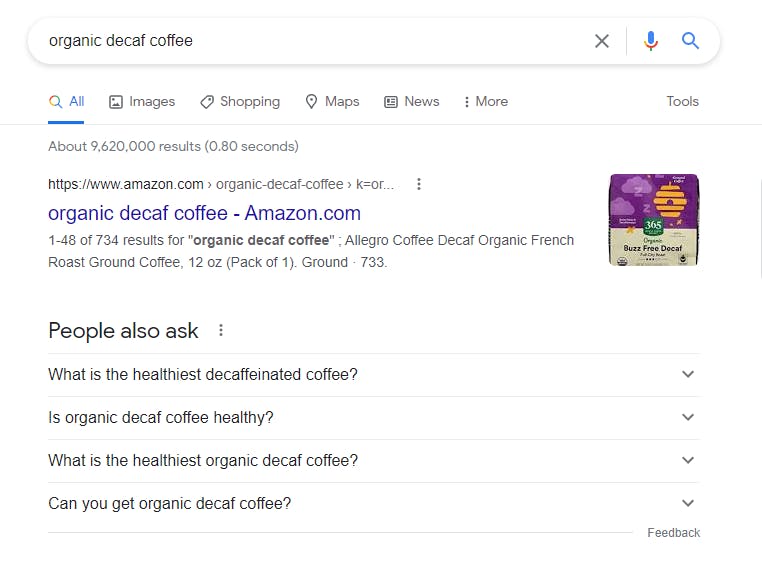 Google Trends
Google Trends is a helpful tool that allows you to find unique phrases that you will not see on the other keyword research platforms. With this tool, you can identify whether your keyword evokes interest in the audience, taking news headlines and search volume into account. Your primary objective is to find the terms that are trending up. Then you can look at the "Related Queries" section and add the new long tail phrases to the list.
Soovle
Soovle is a platform that analyzes Google, Amazon, Wikipedia, Yahoo, Ask.com, and YouTube and provides keyword suggestions. As a result, you will be able to collect unexplored terms that are extremely difficult to find using the other keyword research tools. This website also helps identify long tail terms that your competitors often overlook.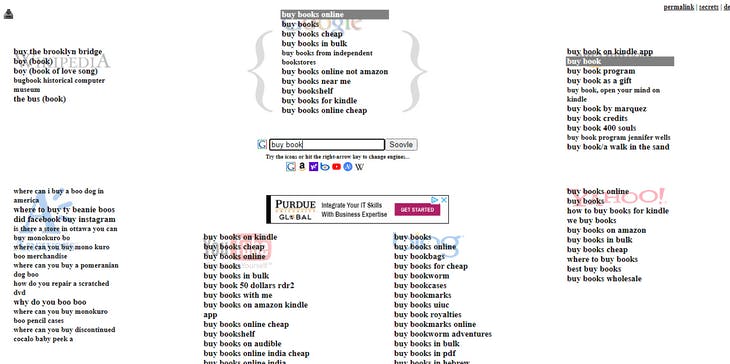 Long tail keyword examples
This section will consider how to conduct long tail keyword research and create a list of the phrases using the approaches we have discussed above. 
Let us take the example of Canva, a graphic design tool for creating presentations, posters, publications, pictures for social media, and other visual content. Let's enter "canva desktop" in the Google search bar. We will see the keyword suggestions, which we can use as long tail terms: "canva desktop wallpaper", "canva desktop app vs website", "canva desktop wallpaper maker", "canva desktop wallpaper ideas".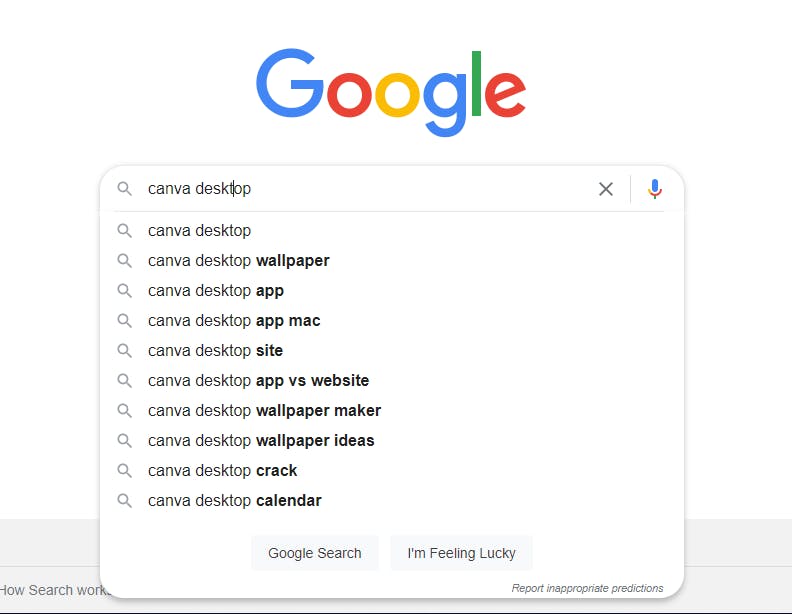 People Also Ask section displays the following results: "what is canva application", "is canva a software application", "is canva software free". We can also use the queries from the Related Searches box: "canva app for pc" and "apps connected to canva".
Then we will find long tail keywords concerning Amazon. For example, when we search by keyword "amazon" in Google Trends indicating the United States, the tool suggests the following related terms: "shipping to amazon fba rapid express freight", "amazon black friday deals", "amazon prime shopping".  Now, we can add these to our list of long tail keywords.
We can also enter another search query, "amazon shopping", and discover more phrases - "amazon shopping all items", "amazon prime shopping online books", "amazon online shopping lowest price", "amazon online shopping offers today" and "amazon shopping all departments".
Finally, let us list of the terms for Slack, a business communication platform. According to the search query "slack", Quora shows questions asked by users, which we can turn into long tail queries. As a result, the list of the keywords might include "pros and cons of slack vs hipchat", "microsoft teams vs slack", "how does slack compare to asana", "is slack better than google hangouts", "how reliable is slack", "what kind of technology does slack use" and "team communication slack or asana".
Long tail keywords have a great potential for marketers. These search queries allow you to address customer needs better and create the content that drives sales or supports sales enablement. Using long tail terms will help you optimize your website and attract a relevant audience. Once you find the keywords that work for your brand, your website ranking increases along with conversions.