To succeed, businesses should evaluate their operations to see what they do well and what areas require improvement. Understanding the features of your company will help you grow and increase profitability. In contrast, you risk falling behind if you don't keep up with the competition by consistently enhancing every element of your business. However,  auditing your organization to learn how you can improve it may seem intimidating. SWOT analysis can facilitate this process.
This framework will help you collect the necessary information and come up with ideas on how to strengthen your weaknesses, get rid of dangers, and highlight your advantages. In this article, we will describe the purpose of SWOT analysis and demonstrate how to apply it in practice.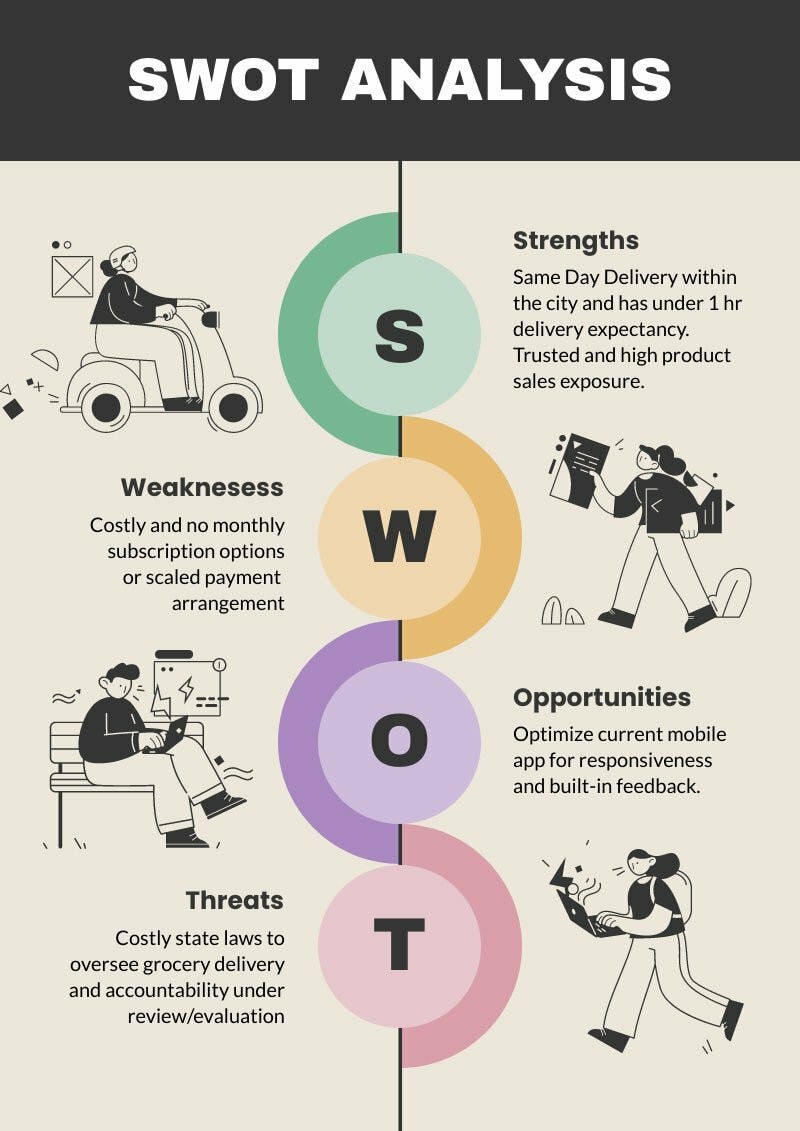 What is SWOT analysis?
SWOT analysis is a framework used to assess a company's strategic position and analyze internal and external aspects that impact its success. This technique will help your business determine competitive advantages, address issues, discover new possibilities, and minimize risks. With this framework, you can gain new insights and identify areas for improvement.
Companies use SWOT analysis to uncover internal and external factors that can influence a business decision. In the 1960s, business and management consultant Albert Humphrey developed this technique to understand the reasons for the failures of corporate planning. Since then, SWOT analysis has become one of the most valuable tools for business owners to evaluate a company's current landscape and make necessary adjustments.
You can use SWOT analysis to examine an organization, a project, or a new venture. For example, your marketing department can analyze the email marketing strategy and determine how the competition differs from your company in this regard. Moreover, the technique can be a helpful tool for market research. Using the framework, you can identify your unique selling proposition and find market gaps or new niches. In addition, with this technique, you can assess the viability and profitability of a new product, service, or market segment.
SWOT analysis comprises four components: strengths, weaknesses, opportunities, and threats. Strengths and weaknesses are internal factors that influence a company's objectives, such as manufacturing capabilities, personnel, and finance. Opportunities and threats are external factors or aspects your company cannot control, such as technological development, macroeconomics, and legislation. We will cover internal and external elements of the SWOT framework in more detail below.
Strengths
Strengths are areas where your business excels. These components may include the organization's accomplishments or resources. For example, if you assess the company's marketing strategy, these factors might contain a strong mission statement or consistent branding.
On the other hand, if you consider an organization's overall strengths, they can include great brand awareness or a solid reputation. Moreover, some potential examples of these factors are employee skills, effective processes, exclusive technology, and customer loyalty. Your strengths should set you apart from competitors and highlight what you do better than anyone else.
Weaknesses
Weaknesses are areas that the company must strengthen to stay competitive. These are fields where you need more proficiency and factors that keep you from achieving your company objectives. Knowing your vulnerabilities is crucial since they expose a company to risk.
Some weaknesses may include a weak supply chain, lack of funds, employee skill gaps, low customer satisfaction, or substantial debt. Weaknesses may prevent you from taking advantage of opportunities. However, these factors are mostly within your control, so you can improve these areas with the appropriate strategy and tools.
Opportunities
Opportunities are favorable external factors that can provide a competitive edge for a company. These elements can arise from the target market, rivalry, industry, and technology. A business can take advantage of conditions in the environment to develop and execute effective strategies.
Some examples of opportunities are improvements in governmental policies, new business models, unexplored markets, and lowered export tariffs. If you evaluate your marketing strategy, your options might include digital advertisements or new techniques you haven't used before.
Threats
Threats are factors that can negatively affect an organization. They occur when conditions in the external environment endanger the dependability and profitability of an organization's operations. When threats relate to weaknesses, they increase vulnerability. It is crucial to foresee future dangers to protect the company and promote its success.
Examples of threats include declining industry and technological advancements that may disrupt an already existing company's operations. Other aspects may be changing societal standards that make products less appealing to customers, growing production costs, or the seasonality of your business.
You can determine these factors at any point by performing a SWOT analysis. However, it is critical to conduct this study before taking any action that can impact your organization. You can use SWOT analysis to make better decisions when considering new initiatives, changing the business strategy, or establishing partnerships with other businesses. 
How to do a SWOT analysis?
We will break the SWOT analysis process into six steps with actionable recommendations. Let us take a closer look at this framework.
Step 1. Set an objective for your analysis
A SWOT analysis may be general, but it will be more practical if narrowed down to one particular objective. As you perform a study before making significant business choices, each opportunity calls for a comprehensive evaluation.
For example, the goal of a SWOT analysis would be to decide whether or not to introduce a new product. Your company will clearly understand what you want to achieve at the end of the process if the employees have an objective in mind.
Step 2. Gather your team and brainstorm ideas
While doing a SWOT analysis, you need a diversified team from various departments. The analysis should include input from every company unit to provide a thorough picture of your business. Choose team members whose responsibility will be to perform a study. In addition, you may also hire a third-party expert or group to advise you on the process.
The team charged with conducting the study should start compiling ideas related to each category of SWOT analysis. Take into account the following areas: innovation, productivity, service, quality, and technological procedures. Evaluate the company's achievements, recent risks and obstacles, customers' complaints, employee turnover rate, new industry trends, changes in regulations, and rivals.
List all the suggestions. Some problems may appear on many lists. For instance, a business or department could excel at providing outstanding customer service, but it might also have weaknesses or deficiencies in that area. The objective of this phase is to write down as many ideas as possible. You will evaluate them later.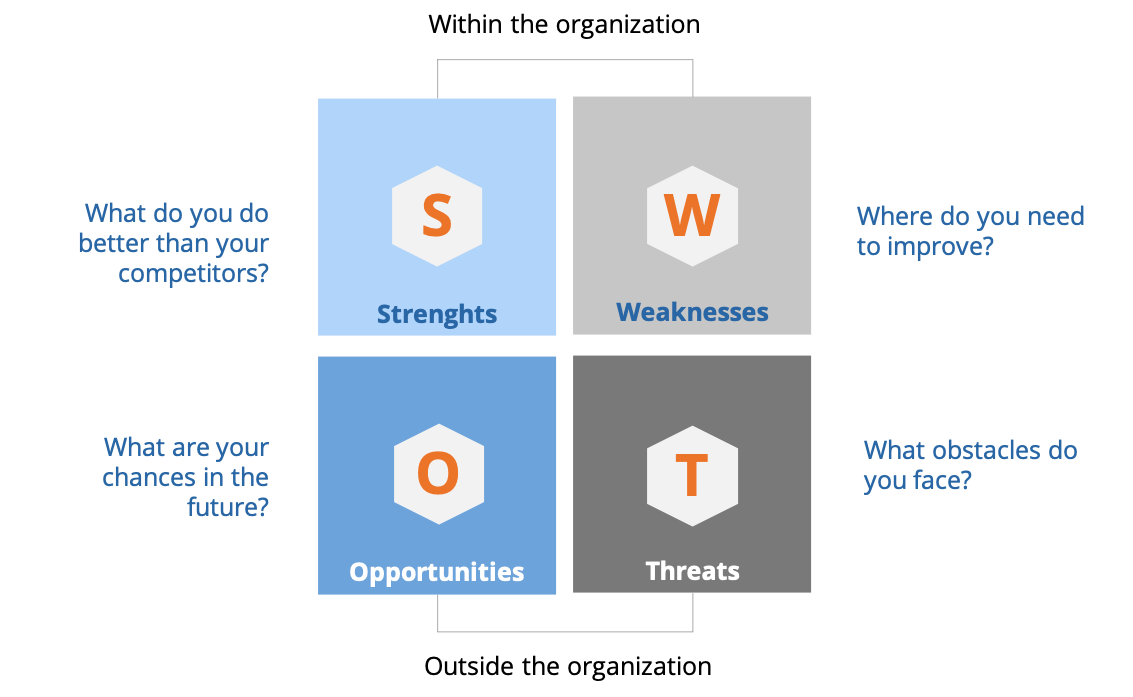 Step 3. Identify strengths, weaknesses, opportunities, and threats
When defining strengths, consider what you do well, including your most valuable asset and positive qualities. Strengths typically include product quality, innovation, productivity, and leadership. Understand your competitive advantage, resources, best products, and things that help your company reach its objectives.
Then, analyze weaknesses. Assess your business's shortcomings. To identify potential weaknesses, you can collect feedback from team members, stakeholders, and consumers. Analyzing profit margins and assessing whether teams achieve their goals are other ways to collect more objective data. In addition, examine underperforming product lines, lack of resources, and aspects of the company that interfere with your objectives, including a high staff turnover rate.
Defining your opportunities and threats can be more challenging since you do not consider them frequently. However, these elements are crucial to a company's success as internal factors. Opportunities might include emerging markets, new technology, cost reduction, or geographic expansion. Evaluate how you can benefit from existing economic or market trends and what products or services are popular with your customers. Furthermore, explore new demographics you may want to target.
Finally, analyze the threats. These factors may include the entrance of a new rival, regulations that can affect production, and a declining market. While threats and weaknesses are similar, threats often haven't significantly impacted the company yet. However, they can cause stress on your employees, so it is crucial to recognize threats and create strategies to cope with them.
Step 4. Refine and organize the ideas
Now, it is time to organize the ideas and focus on the greatest opportunities or considerable risks for your business. This stage typically requires serious discussion, so you need to involve top management to summarize and prioritize the findings.
Before developing an action plan for larger company projects, you need to review tasks that may be completed quickly rather than putting them off. Once you identify the most crucial ideas, add them to your SWOT matrix.
Step 5. Develop an action plan
At this stage, you can start turning a SWOT analysis into a strategic plan. First, brainstorm future possible steps with your team. Then, use the bulleted list of factors under each category to create a final strategy.
For example, you are going to launch a new product, and you discover that there is an opportunity to grow to new niche markets. However, weaknesses like rising material costs, the need for more employees, and unpredictable product demand may exceed opportunities and strengths. As a result, you can develop an action plan and reconsider the decision in six months when expenses decline and market demand becomes more transparent.
Step 6. Apply knowledge in practice
Make a final document that is easily accessible for team members so they can check it if necessary. You may review your SWOT analysis quarterly, monthly, or annually to ensure you meet your objectives. Use the document with your findings as a reference while making future decisions or handling other company issues.
Conducting a SWOT analysis is a great way to visualize where you are now and the future objectives you want to reach. By following these steps, you can accomplish the goals and motivate the team at the same time. 
SWOT analysis example - Amazon case study
This Amazon SWOT analysis demonstrates how the biggest online retailer utilized its advantages over rivals to dominate the industry. We will examine the company's strengths, weaknesses, opportunities, and threats and observe how these factors impact Amazon's business strategy. 
Amazon strengths
One of the company's main strengths is its strong brand reputation. Over the years, Amazon has developed a reputation as an innovative and reliable brand that offers excellent customer service and convenient delivery options. Another strength is its diverse product portfolio, which includes electronics, clothing, books, and household goods. Moreover, Amazon is a customer-oriented brand that provides fast delivery, easy returns, customer reviews, and personalized recommendations.
Amazon employs logistics and delivery methods that are incredibly effective, such as set pricing for various delivery periods. The company also uses AI and sophisticated algorithms to gather insights into user behavior and adjust pricing in response to demand. The global presence in numerous countries and a large number of third-party vendors allow the company to reach a wider audience, increase client trust, and compete with local retailers.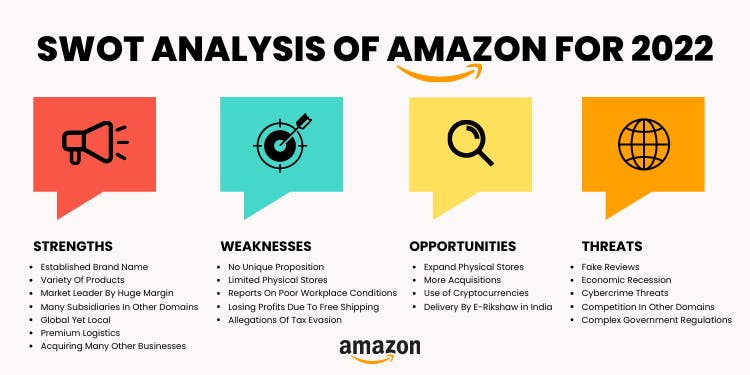 Amazon weaknesses
The main weaknesses include a business model that is simple to copy and inauthentic products. What's more, the company's dependence on outside vendors creates substantial risks. The possibility of fraud or the sale of poor-quality products on the platform is the key concern, as these factors might negatively affect Amazon's brand image.
Even though Amazon makes significant investments in its delivery infrastructure, there are still occasions when it falls short of consumer expectations, particularly during busy periods of the year and bad weather. Furthermore, Amazon's extensive consumer data collection raises questions about privacy and possible security vulnerabilities. In addition, Amazon's monopoly on the market has sparked worries about potential antitrust violations and anti-competitive behavior.
Amazon opportunities
A significant way to grow Amazon's client base is to enter new markets. For instance, Amazon can focus on markets with little to no presence, like some countries in South America or Asia. Moreover, the company can engage more third-party sellers to showcase their products on the website and grow the advertising business within the platform.
Besides this, the company can increase the number of its physical stores. Despite having fewer physical locations than other retailers, the firm has been experimenting with other models, including its Amazon Go shops.
Amazon Prime has more than 200 million active subscribers. By spending more on creative content, such as original TV episodes, films, animated series, and documentaries, the company will be able to compete with other large streaming services and draw in more customers. 
Amazon threats
The primary Amazon threats are severe competition and regulatory issues. Since the company operates in various markets, it must make sure that all national and international regulations are followed. This covers laws governing taxes, cross-border trade, labor, and employment practices. Moreover, like other technological companies, Amazon is exposed to cybersecurity threats that can cause the breach of private consumer data, including financial and personal information.
Amazon's extensive supply chain involves interactions with thousands of manufacturers. Thus, any disruption might impact delivery schedules, product availability, and customer satisfaction. It includes challenges like natural catastrophes, delays in manufacturing, traffic congestion, changes in fuel prices, as well as incorrect demand predictions. The other threat is an economic recession, which may affect consumer spending and cause a decline in the company's sales and profitability.
Amazon is an organization that dominates the online retail industry. A large consumer base, a variety of products, and a solid brand identity are some of its strengths. However, the business must also deal with several challenges, such as fierce rivalry, legal problems, and cybersecurity risks. The recommendations for Amazon might include increasing its market presence by opening physical stores, entering developing markets in different countries, and improving technological security measures to address cyber threats and fraud. 
SWOT analysis alternatives
SWOT analysis is one of the most widely used strategic planning methods, but it has several drawbacks. It demonstrates an organization's vulnerabilities and threats as a problem that may do significant harm, as opposed to other analytical techniques that portray them as issues that must be solved. For this reason, let us review the other tools for strategic planning that can help you achieve better results.
SOAR analysis. This framework is similar to SWOT analysis, but it replaces weaknesses and threats with aspirations and results. Aspirations focus on the organization's objectives, target audience, and geographic scope. The results allow monitoring of the company's performance and ensuring its objectives are met. SOAR analysis is more suitable for younger companies that are establishing their identity or brand and have yet to understand their weaknesses.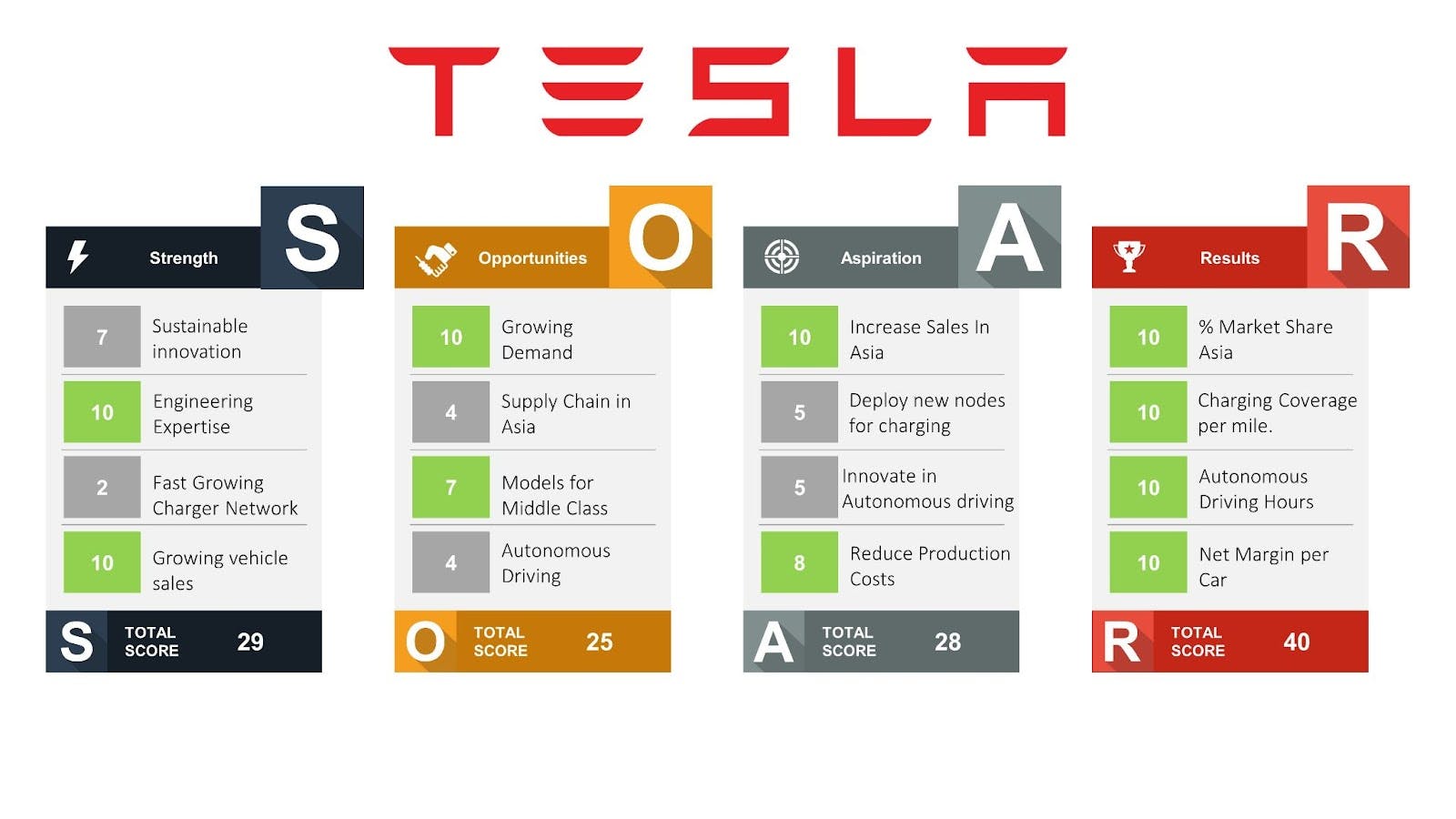 NOISE analysis. This method enables analysts to estimate the company's situation and develop a strategic improvement plan. The analysis includes needs, opportunities, improvements, strengths, and exceptions. NOISE is more solution-focused than SWOT analysis. Instead of focusing on challenges, such as weaknesses and threats, the framework highlights the resources you need to achieve the goal. The exception emphasizes what a business currently accomplishes in the other four groups.
SCORE analysis. This method comprises strengths, challenges, options, responses, and effectiveness. Similar to SWOT, the SCORE model is adaptable enough to be used for both small projects and comprehensive corporate strategies. The overlap of threats and vulnerabilities in a SWOT analysis may be discouraging. In contrast, SCORE's challenges combine the two elements to help in more constructive problem-solving.
The secret to having a profitable company is establishing and accomplishing goals. SWOT analysis is crucial for assessing objectives and potential paths to success. Work with your team to improve your strategic business planning by identifying your internal strengths and external opportunities.