According to a survey on social sharing behaviors by GlobalWebIndex and We Are Social, 63% of people prefer using 'dark' messaging applications to share content as opposed to open social media websites. The research found that Facebook Messenger was the most widely used private social application, used by 82% of people. It was also discovered that 56% of users prefer WhatsApp, 34% choose Instagram Direct, and 32% use Snapchat.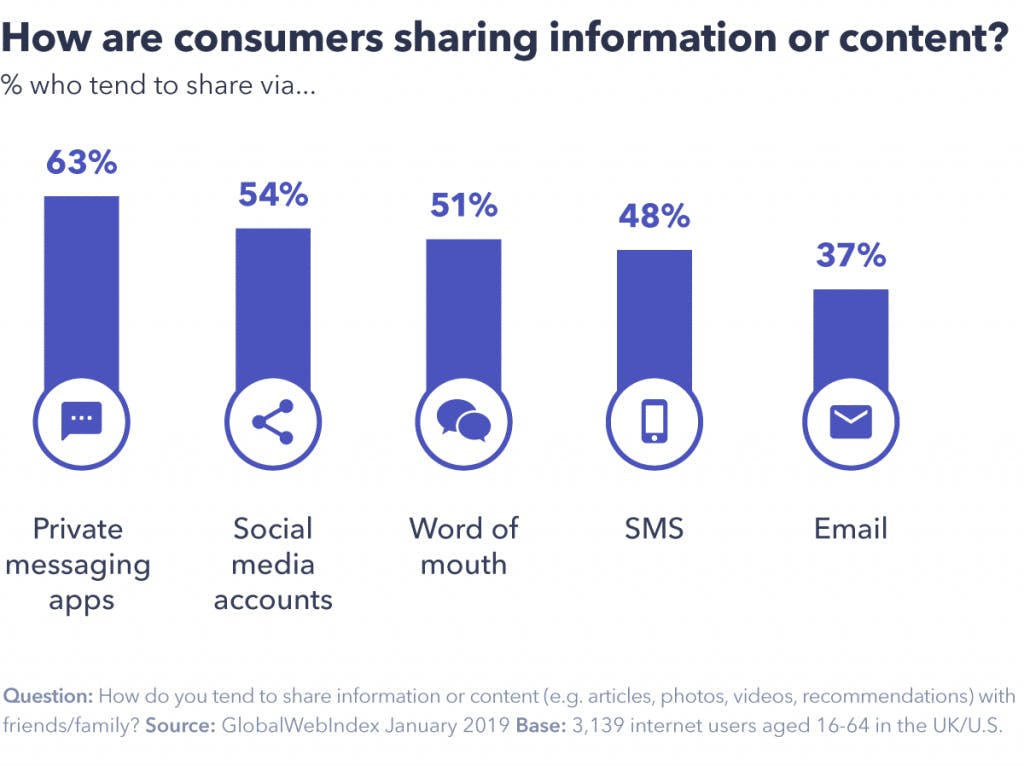 Any digital campaign's actual impact will probably be underestimated in some respect. And while this presents several difficulties for brands, particularly in terms of monitoring ROI, there is also a clear chance for marketing specialists to use these organic channels for promoting products and services.
Consequently, brands need to update their marketing strategies to take advantage of dark social. If a company manages to implement a dark social strategy, it will be able to see a complete picture of customers' true interests, reach a target market and understand where the majority of its consumers come from. This article will explain how to create a dark social strategy for your brand, provide examples and discuss how to estimate the results.
What is dark social?
Dark social refers to web traffic generated by sharing links without tracking codes, generally through private channels. This is the traffic coming from distribution channels that are difficult to track, such as user-generated content, closed, friends-only, and similar types of posts on social media.  When analyzed with most tools, this traffic cannot be distinguished from other direct traffic sources. However, digital marketers can monitor data from social media platforms using social share buttons and a limited number of analytical tools.
Many social media advertisers are unaware of the size of the dark social sharing market. However, dark social space is a more natural communication channel for consumers. Moreover, 48% of respondents who might hesitate to share the content on a public platform said they felt more comfortable 'being themselves' when using dark social channels.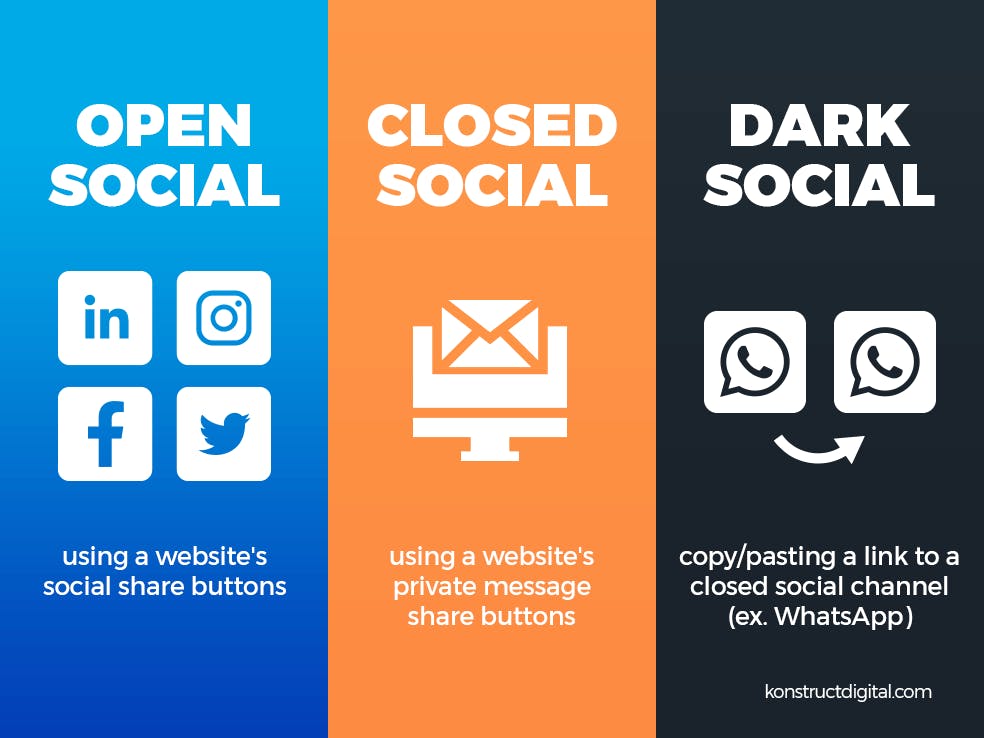 The term 'dark social' was first used in the article by Alexis Madrigal, a former associate editor of The Atlantic. The journalist was interested in accurate data on the traffic source for The Atlantic's website. He grew up when the internet was still in its infancy and knew that other platforms besides well-known ones like Facebook were used for information sharing. It made him think that a sizable percentage of online traffic did not originate from bookmarked or typed-in sources. He studied this phenomenon with the help of the online analytics company Chartbeat and then wrote an article about the concept of 'dark social'.
'Direct social' or 'dark traffic' are other words for dark social. However, the term 'dark social' coined by Alexis Madrigal is the most popular. Further, we will describe the types of dark social and provide some examples.
Types and examples of dark social
Modern customers are approaching purchases in a completely different way. People often use Slack groups, forums, podcasts, and comments on social media to find more information about the product. Let us discuss the main types of dark social and consider the examples.
Private messaging applications and SMS
Discussions and recommendations in text messages and private messaging applications, such as Facebook Messenger, WhatsApp, Instagram Direct Messenger, and Snapchat, are confidential and cannot be tracked. However, some advertisements are displayed in Messenger, and the app can retarget users based on their conversations. Nevertheless, an URL shared through Messenger cannot be linked to any website visit. For example, if somebody sends a link to a Twitter publication to his friend, the author of the post will not see that it acquired popularity. Thus, it can distort the creator's engagement statistics and demographic data.
Adidas was one of the first brands which use Facebook Messenger to unite young football players and turn them into brand advocates within the Tango Squad campaign. First, the brand gathered a group of sports content producers aged from 16 to 19 residing in 15 key cities around the globe. Then Adidas divided them into squads consisting of 100 to 250 people. Adidas administered these groups internally, and members received access to exclusive content and new products before they were revealed on the company's social media platforms. The company's goal was to increase credibility among customers since people are more likely to believe friends' suggestions in a private environment than in brand advertisements.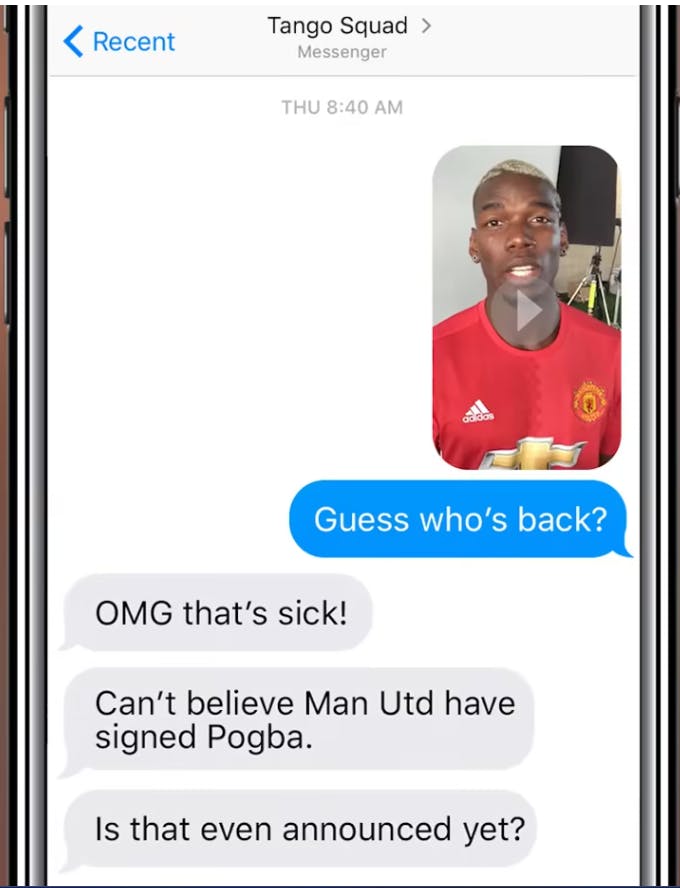 Another example of a company getting on the dark social trend is Greggs Bakery, which set up the Festive Bake Lovers Private WhatsApp group for 250 customers who wanted early access to new releases.
Social media platforms and communities
Social media users often share visual content like photos and videos that are difficult to monitor. However, many companies have discovered that producing short and shareable content, such as GIFs, encourages younger customers to engage.
Nowadays, Twitter accounts of brands serve as hubs for jokes and captivating posts designed to be shared by open or private social media channels. For example, Netflix constantly publishes memes on its Twitter account. Then users take screenshots, download or share the pictures, and later these jokes appear on their social media profiles and in private messaging apps.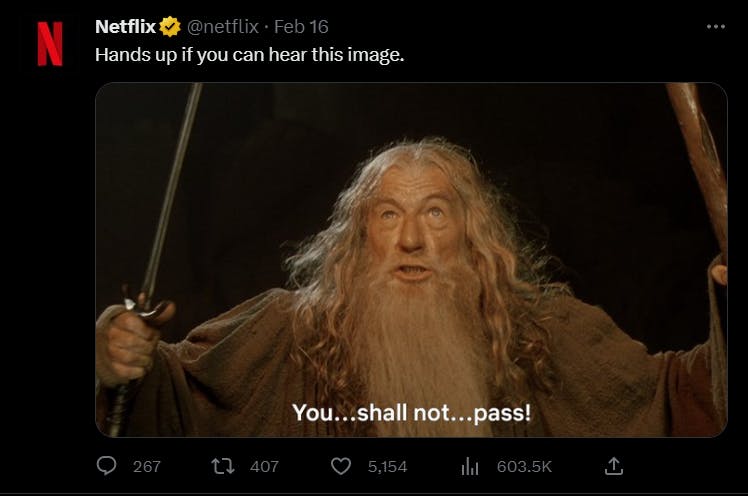 TikTok is an example of dark social as the platform enables users to send videos to friends or followers via direct messages. Although profile views may be a sign of the traffic generated by shared TikTok content, the source of the view cannot be determined. Moreover, the platform gained popularity by allowing people to download videos and share them on other social media platforms. This allowed TikTok to connect with new users and expose its content to people who might not have seen it.
Private Facebook groups and Discord chats are also a form of dark social as people can send content to specific groups of users. Private accounts on Instagram, which can only be viewed by those authorized by the account owner, are another example of dark social. In addition, Instagram allows for sharing content via Stories that are only visible to people who are added to the list. These features are excellent for companies or influencers who want to establish closer connections with their community. 
Podcasts
Google, Apple, and Spotify podcasts are also considered a form of dark social as the discussions and mentions of particular brands cannot be monitored by companies. So, for example, if a thousand people buy a product as a result of listening to the podcast, the company would not know about that because of the lack of a trackable link.
Despite this, podcast advertising proved to be a very effective way to promote a product for marketers. According to Spotify, 54% of listeners of podcasts claim they are more likely to think about purchasing from a company they hear about on a podcast. Moreover, 81% of listeners have responded to audio advertisements by taking action, such as researching a product online, interacting with a company on social media, or discussing it with friends.
The Adam & Dr. Drew Show promoted the EightSleep, the retailer of smart mattresses, in one of its podcasts. The presenter began by focusing on the significance of mental health before concluding that it is influenced by various factors. Next, Dr. Drew talked about getting enough sleep and all the other elements of mental health. Then the commentator told listeners about EightSleep, an ideal solution for individuals who care for their mental health.
Email and internal company communication channels
Most email providers do not give businesses details about referrals unless they monitor URLs and the receiver clicks on them. Service providers with strict customer private policies include Gmail, Yahoo, and Outlook. Therefore, this makes it difficult for marketers to identify the traffic source.
In addition, employee communication tools like Zoom, Slack, and Microsoft Teams are also considered dark social. Marketers from tech companies can share their knowledge and discuss new technologies, tools, and products in specialized communities, such as Online Geniuses, Demand Curve, Superpath, Growmance, and Marketers Chat.
Further, we will focus on developing a dark social strategy that creates unique content, engages consumers, analyzes interactions with them, and converts them into customers.
How to create a dark social strategy?
Nowadays, marketing faces a significant shift that completely disrupts companies' communication with their customers. People are researching, discovering, and evaluating products in places that companies cannot track. Marketers often avoid these platforms because they cannot follow them with traditional automation tools. However, these platforms can be significant business drivers, and we will explain how to achieve this.
Create unique dark social content
Many companies make similar mistakes when publishing website content, such as blog articles on social media. Unfortunately, this approach does not work with dark social. In most cases, people visit a website less than once a month to find pricing information or learn more about the product. Moreover, there is no chance this content will be passively shown to customers unfamiliar with your business, as consumers typically find the articles through search engines. In addition, you cannot gather qualitative feedback about the value of information.
To succeed with dark social content, you must develop an entirely new content marketing strategy, hire talented staff, set clear goals, and find suitable measurement tools. In contrast to website articles, dark social content is designed specifically for native consumption inside content platforms or social media networks. Such content includes LinkedIn posts, Instagram paid posts, podcasts, comment threads in Slack community or Reddit, and YouTube videos.
People visit social networks and content platforms several times a day to find news and discover new ideas and products. Furthermore, interested users automatically see the content that their friends have interacted with. There are numerous methods for effectively sharing content with others or reposting it on other dark social networks. So there is a good chance that your potential customers would come across your content. In addition, you can get feedback on the quality of your posts and learn about customers' concerns and questions. 
Build a community
Dark social channels are personalized and self-selecting groups by their very nature. This poses a problem for companies on the outside, but it gives those who can access conversations from the inside a competitive edge. Instead of visiting a random blog on Google, consumers use other platforms like LinkedIn, Tik Tok, Instagram, Podcasts, YouTube, Slack & Discord communities. Therefore, to take advantage of dark social, you need to maintain a presence in private online communities or create your own.
Many brands view the creation of a new channel as a way to broadcast information. While people might tolerate this on other platforms, you should strive to create the feeling of being a part of the community for them. You can demonstrate value by gathering a group of users, providing exclusive previews of products and services, posting useful tips and information, and offering behind-the-scenes access. To connect with your audience, discover what is relevant to your niche market.
Besides this, LinkedIn communities provide a lot of value along with the opportunity to network with other like-minded professionals. For example, in the marketing realm, there are organizations for B2B marketing, automation, social media, SEO, and more. If your ideal client works in the IT or banking sector, you can find a LinkedIn community focusing on these industries. 
Encourage conversations
Understanding that dark social is the most significant part of overall social media is crucial. According to marketing company RadiumOne, over 80% of all social shares are dark. Thus, considering these facts, consumers expect companies to engage with them in a more immediate and personal way. For example, when you become a member of a large community and notice questions or comments, you can join the discussion and offer advice.
Keep in mind that consumers are overwhelmed with sales jargon and intrusive advertising. Hence, the participants of communities should follow strict rules of engagement. For instance, they should not pitch members on the product, be helpful and friendly without being too salesy and mention the solution only when it is relevant.
The best way to access an exclusive community is to be an insider. Many senior leaders join exclusive WhatsApp groups to get guidance from professionals or share ideas with their colleagues. Access to these organizations is usually denied to vendors. Therefore, it may be advantageous to collaborate with a thought leader or influencer who satisfies the requirements of your ICP and is motivated to bring up your solution to their colleagues when appropriate. Depending on community regulations regarding privacy and confidentiality, businesses that work with evangelists or influencers can ask them to monitor the discussions in dark channels and provide a summary.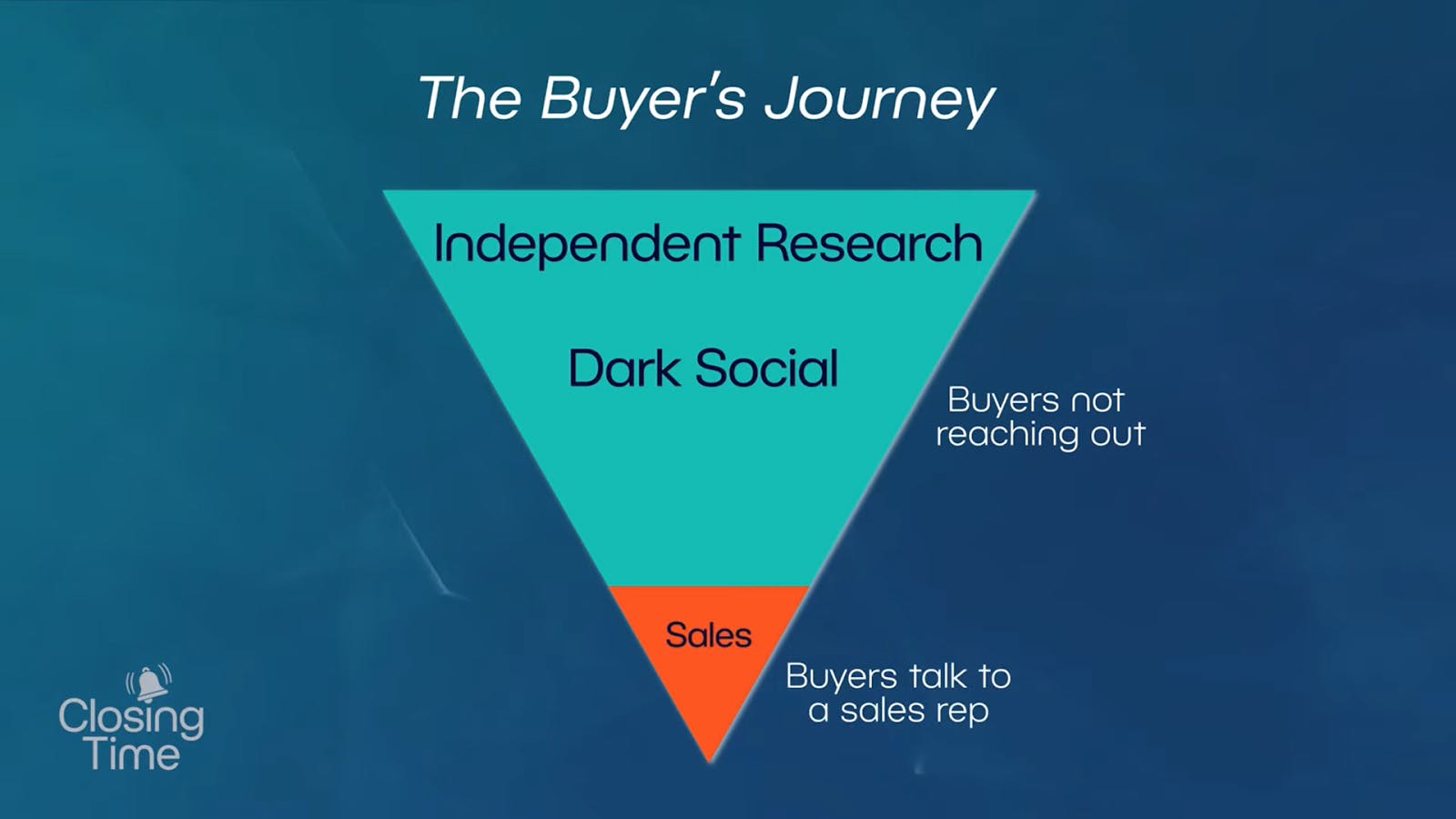 Analyze interactions with consumers
The next step is to analyze customer interactions and survey buyers to understand where they get information about products and what platforms they use to discover ideas and learn about new solutions. If you can access a private community, you can gather more information about its members, their job titles, industry, goals, interests, purchasing habits, and geographical locations. It will help you create the ideal buyer profile. Then you can evaluate the collected information and identify the recurring patterns or shared characteristics.
Compared to the data we could gather by simply examining people's open social interactions, this generally tends to be a distinct set of information. This is because people are likelier to talk openly about their hidden desires and interests in private conversations. For example, dark shares make up nearly half of all mobile social shares in the fashion industry.
Convert them into customers
If you want to create demand, your goal is to educate and inform your potential customers about the changes in your industry. Salespeople and marketing specialists can take advantage of dark social if they stay patient, avoid overselling, and participate in online discussions. When you are an active member of the discussions, people will already recognize you because of your involvement in the community and participation in regular conversations. It's even better if you can build your brand in a particular field.
Your task is to respond to questions, offer resources, and turn into an information aggregator. People do not want to spend time conducting independent research, so they would turn to you for answers. Now you can schedule a demo or discuss best practices or features of your product.
In a nutshell, a successful dark social strategy requires creating or joining a private community involving experts and evangelists and encouraging them to start conversations. Then they can spread your message to other leaders in your industry. It is crucial to refrain from any sales talk as people in private communities want to share knowledge and learn new ideas, so any advertisements would be irrelevant. Finally, you need to draw potential buyers' attention to make them act.
How to measure dark social results?
Tracking engagement on dark social is often challenging, but several methods can help you solve this problem.
Simplify sharing your content. You can introduce a wider range of sharing choices, such as Slack and WhatsApp sharing links. Thus, you can identify users who prefer using dark social channels to send posts and videos to their friends.
Incorporate unique UTM codes into links on various platforms. Utilizing UTMs on different channels allows Google to monitor links and the locations they are shared from.
Add a section with the "How did you learn about us" field to your contact form. 
You can only keep up with the changing consumers' buying habits by transforming your go-to-market strategy. Take a risk and try implementing a dark social strategy. Create a safe environment where users can interact and exchange information. Dark social may be challenging to monitor, but it bears fruit in the long run once you become the consumers' preferred brand and your community starts to generate leads, comments, and sales on its own.