Nowadays, digital marketing is no longer a niche area but a vital part of marketing activities aimed at engaging potential customers, driving traffic, and successfully communicating with clients. Digital marketing differs from traditional marketing as it lets marketers analyze the effectiveness of campaigns using various methods and channels. For example, digital marketers can monitor the type of content viewed, frequency and duration of views, visits converting to purchases, and top-performing content.
A company in any industry can benefit from using digital marketing to connect with customers online through search engine optimization, paid advertising, email marketing, or social media platforms. With digital marketing tactics, business owners can attract a broader customer base than they would ever be able to reach through word of mouth or traditional methods. Moreover, digital marketing allows businesses to target the right audience at the right time by applying cost-effective, scalable, and quantifiable techniques.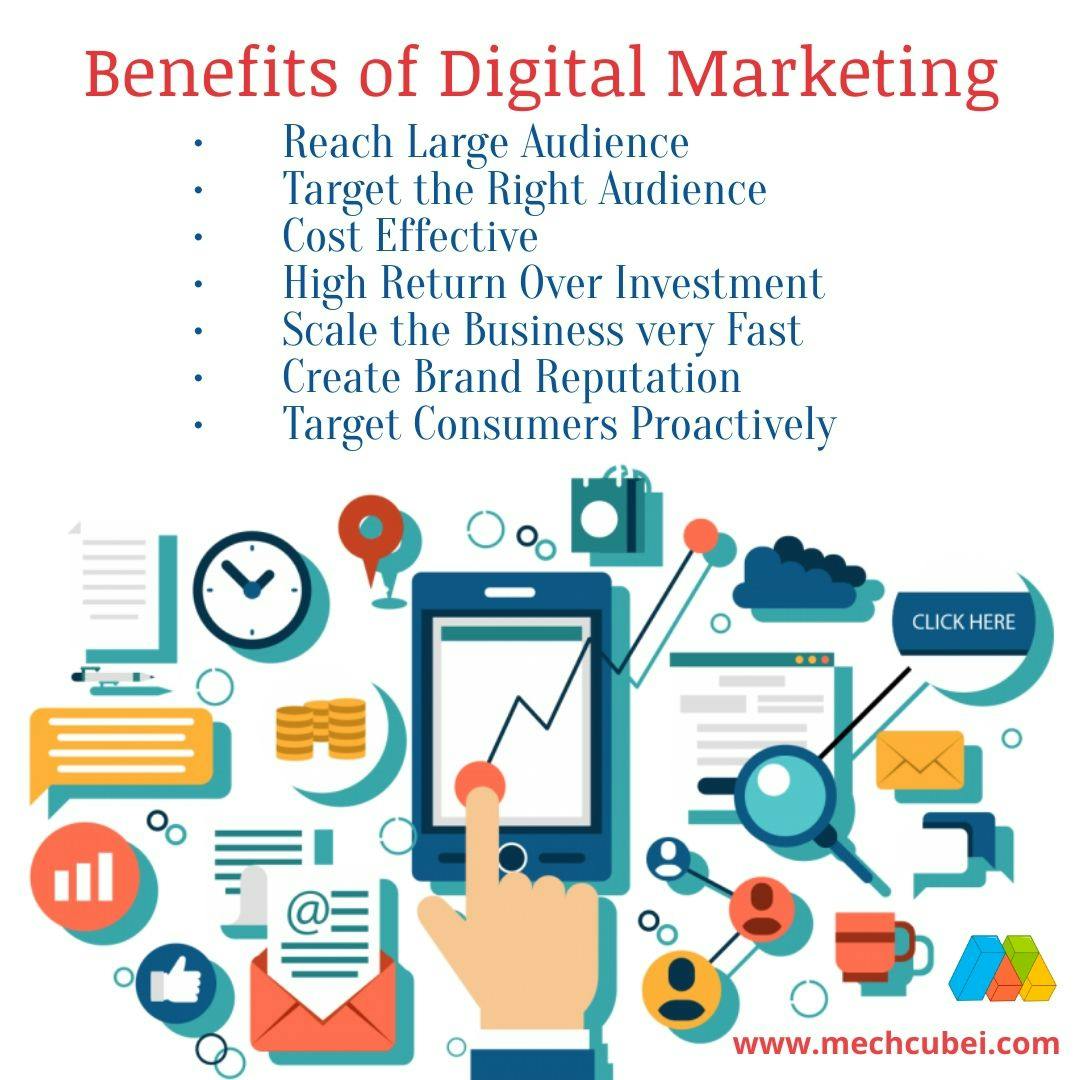 What is a digital marketer?
Digital marketer is a specialist responsible for generating leads, promoting products and services, and driving brand awareness through all of the company's available digital channels, both free and paid. The channels include the company's websites, social media such as Facebook, Instagram, and YouTube, the company's blog and email, mobile applications like TikTok, search engine rankings, and online display advertising. Furthermore, a digital marketer is in charge of tracking key performance indicators for each channel to develop strategies for increasing performance across these platforms. One of the primary metrics used to assess the success of a digital marketing strategy is conversion.
The main goal of a digital marketer is to ensure that the target audience can easily find a website. Specifically, an expert can help attract relevant visitors to the website by optimizing its structure and content for search engines and using online advertising. Therefore, a professional should possess a wide range of skills, including data analysis, search engine optimization and marketing, writing and editing, basic design skills, and project management competencies. Depending on the company's size and requirements, a digital marketer can work across multiple areas or specialize in several.
Digital marketer has been a relatively new position in marketing in the last twenty years. Thus, the main challenges faced by professionals are understanding all of the devices and gadgets used by consumers, catching the customers' attention despite the increasing number of digital content and channels, and analyzing and utilizing the growing amount of big data.
As consumers interact with devices in different ways and for various purposes, a digital marketer should identify consumer habits and motivations and monitor what content works best for the target audience. As a result, digital marketers can help customers receive personalized and relevant communications, build brand trust and demonstrate that the company recognizes their preferences.
What does a digital marketer do?
Now we will describe some typical day-to-day responsibilities of a digital marketer. To measure a company's performance across all channels, a specialist usually focuses on a distinct KPI or set of KPIs for each one. In small companies, a digital marketer may be in charge of tracking the performance of several digital marketing strategies at once. On the contrary, a professional is responsible for one or two digital channels in larger organizations. Depending on their marketing mix, some companies have in-house digital marketers, while others prefer to outsource by hiring marketing consultants or cooperating with agencies. Let us consider ten critical aspects of a digital marketer's job.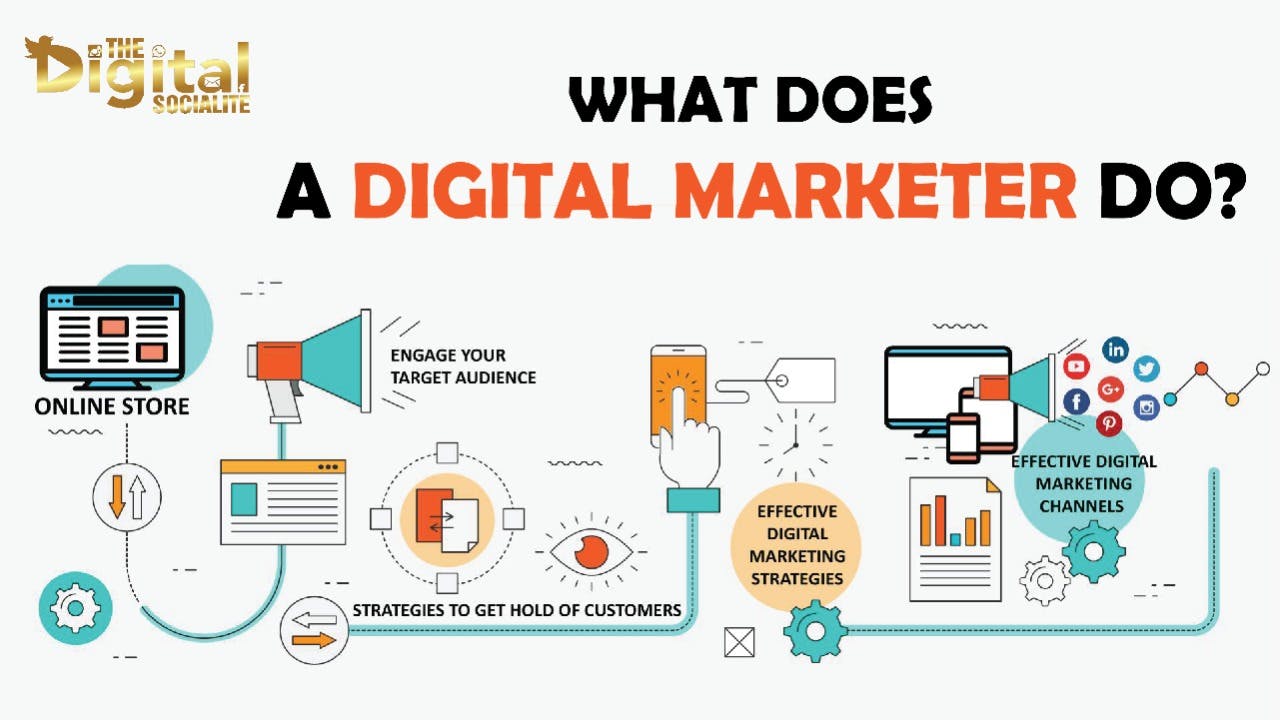 Content marketing
A digital marketer is responsible for developing and implementing a content strategy to increase traffic and search rankings and ensure that the company reaches its business objectives. A specialist regularly monitors the company's blogging calendar and distributes the publications and videos aligned with a content strategy.
This role involves collaborating with other departments to make sure that promotional content is available on each digital channel to complement the products and services the company releases. Furthermore, a digital marketer tracks several crucial KPIs, including overall blog traffic, the average time users spend on the website, and the number of YouTube subscribers.
Social media management
An employee establishes a schedule for the company's written and visual content and, in some cases, creates posts for social media to promote products and services. A specialist manages the brand's online presence using Facebook, Twitter, Google My Business, and other social networking tools. The main goal of a social media manager is to engage a target audience and provide important updates about new product launches, essential news about the company, and other information.
Digital marketer often works with a content marketing specialist, SEO department, and other team members to ensure consistency of the digital marketing strategy. In addition, a specialist monitors crucial metrics, such as follows, impressions and shares of posts on social networks.
Search engine optimization
One of the primary responsibilities of a digital marketer is to increase the company's visibility in relevant search results to attract more leads and drive sales. A person uses a wide range of approaches to SEO and collaborates with content creators to ensure that the website performs well in Google and reaches the target market. The role involves optimizing website structure and monitoring organic traffic to measure the effectiveness of SEO efforts. Additionally, digital marketer conducts keyword research, keeps track of Google algorithm updates, and provides performance reports.
Search engine marketing
Digital marketers' responsibilities include keyword research, creating advertisements, targeting the number of prospects and clicks within a fixed marketing budget, managing bids, and testing advertising campaigns. A specialist's role involves optimizing the landing pages of paid SEM campaigns, tracking, reporting and analyzing PPC campaigns, and researching and evaluating competitors' advertising links. The goal of a digital marketer is to achieve maximum ROI by gathering and analyzing data, and discovering trends and new opportunities. In addition, a specialist manages the marketing budget, estimates monthly costs, and conducts in-depth website analysis.
Marketing automation
A professional designs and implements automated email marketing campaigns and flows. An employee helps choose and manage the software that enables the team to understand client behavior and track company growth better. Digital marketer also develops A/B split tests of marketing resources to improve campaign performance, builds automation maps, maintains customer segment databases, and plots sales funnel conversions.
Beyond that, a digital marketer focuses on measuring and interpreting statistics to identify weaknesses and fine-tune business workflows and processes. For example, a specialist analyzes the company's KPIs, such as email open rate, lead generation rate, and campaign click-through rate.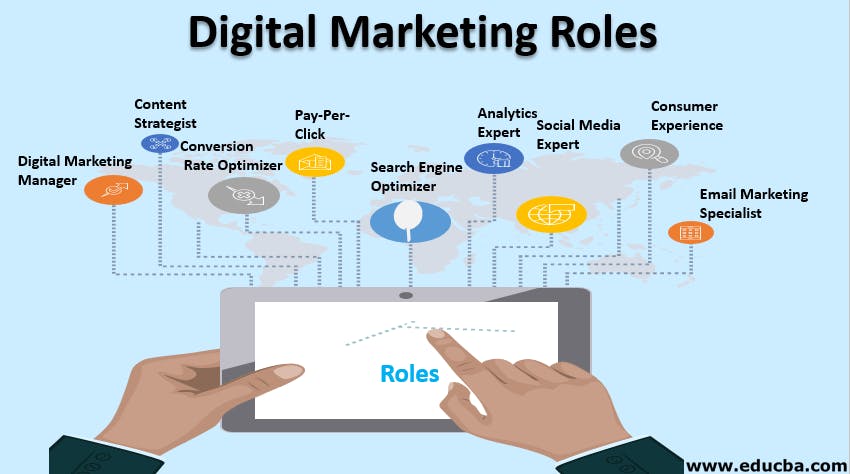 Copywriting
Digital marketer creates articles, press releases, video scripts, or other content for the company's marketing channels, including websites, blogs, and social media. A professional collaborates with SEM and sales departments to produce better advertising copy and ensure brand consistency. A specialist's task is to understand the requirements of a target audience and tailor the content to the brand's tone of voice and sales funnel stages. A digital marketer is also in charge of identifying new topics and ways of presenting information, searching for visual elements to complement the written content, researching keywords, and proofreading articles for quality.
Inbound marketing
Inbound marketer produces valuable content and provides solutions to existing customer problems. The responsibilities of a digital marketer include attracting potential customers and moving them through the conversion funnel by creating blog posts, webinars, ebooks, whitepapers, infographics, and other pieces of content. Besides, this person is in charge of developing, managing, and implementing multi-channel marketing campaigns. The role involves performing customer, competitor, and product research and measuring the performance KPIs and metrics.
Online PR
Digital marketer is often involved in securing online coverage with digital publications, blogs, newspapers, podcasts, and other platforms. Public relations aims to raise awareness about the company and demonstrate expertise in certain areas. There are several techniques that digital marketers usually use to get the most out of PR efforts. These methods include social media outreach to journalists and encouraging customers to leave reviews and comments on the company's website or blog. 
Email marketing
Email marketing is one of the best ways to communicate with the audience and maintain relationships with existing customers. A digital marketer's task is to inform the subscribers about significant updates, increase their engagement with the brand, and promote content and discounts. Moreover, marketers use emails to drive customers to the company's website and reach out to potential clients with a highly targeted marketing campaign. The emails can be of various types, including newsletters for blog subscribers, customer welcome emails, transactional emails, lead nurturing emails, etc.
Analytics and reporting
An employee is responsible for implementing tools and strategies to collect valuable insights from the gathered data. A specialist should consider business objectives and develop the most effective methods of data collection and analysis. Digital marketer determines the metrics, KPIs, and relevant data sources, such as customer feedback and the company's operations. Additional duties include identifying and evaluating new digital technologies with web analytics tools to improve marketing campaigns. Finally, a person collaborates with the data analytics team and presents research outcomes to senior executives.
Thus, each digital marketing campaign takes into account the flaws of the previous one to better target the correct demographic in the future. Digital marketers combine all of the above-mentioned approaches with traditional marketing methods to deliver the best possible result. Professionals also manage customer relationships across various digital channels, such as email, social media, and blogs, to identify consumer needs and expectations. The information concerning customers' requirements and priorities helps the company create consistent and effective communication and improve brand loyalty.
Digital marketer skills
The position requires a diverse set of skills and experience that varies from in-depth knowledge of social media platforms to project management. We will discuss the most essential hard and soft skills required for a digital marketer's role.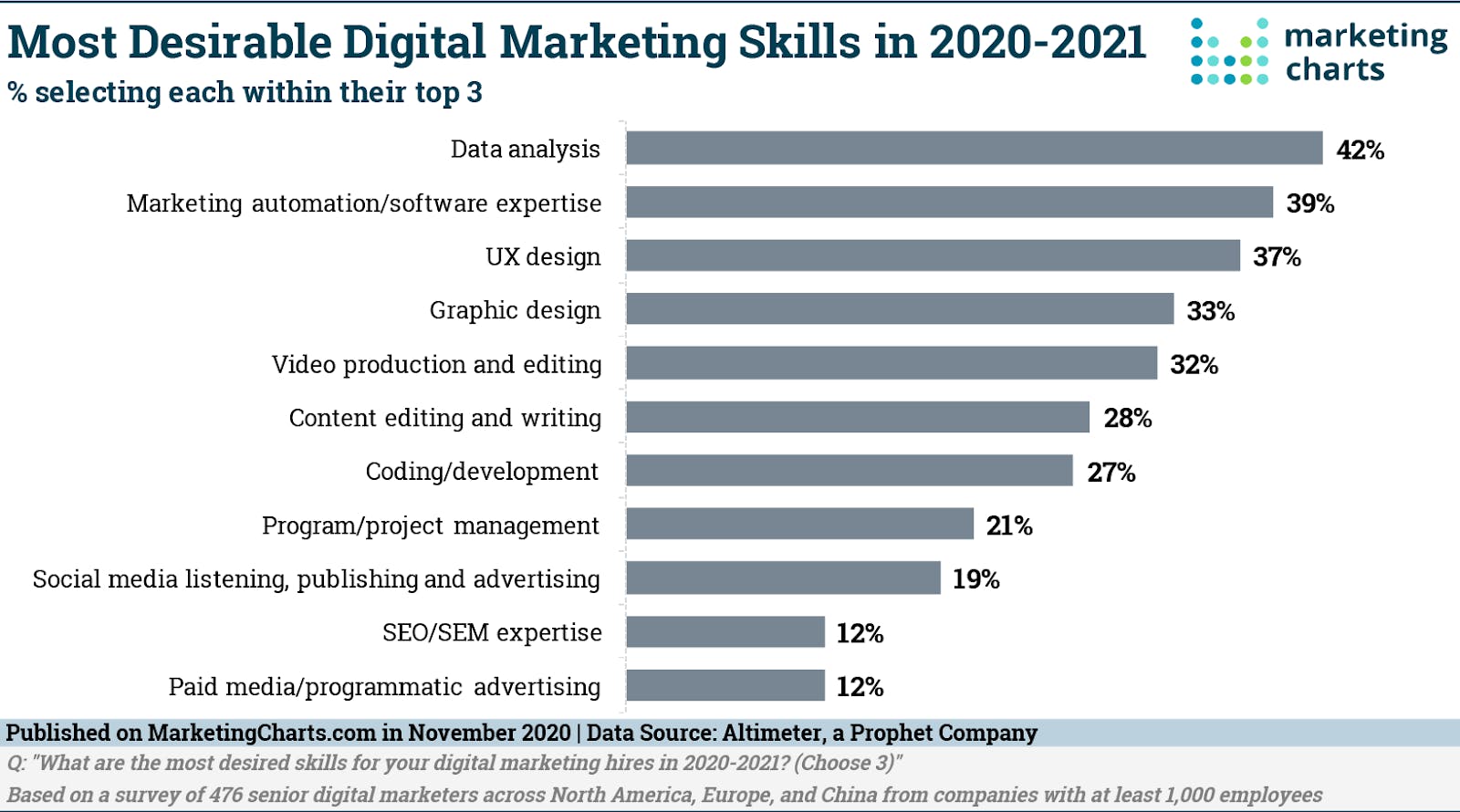 Content writing and SEO 
As a digital marketer's responsibilities often include attracting potential customers to the company's website or social media platforms, writing and search engine optimization skills are a must. Relevant articles are an essential tool for SEO and overall marketing strategy. Good content helps engage customers, increase sales and raise the company's online visibility. A specialist should be able to create various types of written content, including blog articles, social media posts, and landing page copy. Besides that, a digital marketer should possess excellent editing and visual storytelling skills to drive traffic to the website.
Understanding social media best practices
Digital marketers are often in charge of managing a company's social media pages and interacting with subscribers. For this reason, a professional should have a deep understanding of the main features of the most popular social media platforms, such as Facebook, Instagram, Twitter, YouTube, LinkedIn, Snapchat, and TikTok. A specialist needs to identify the target audience of each platform and publish content that resonates with different customer segments. The additional digital marketer skills include social listening, using hashtags, and community management.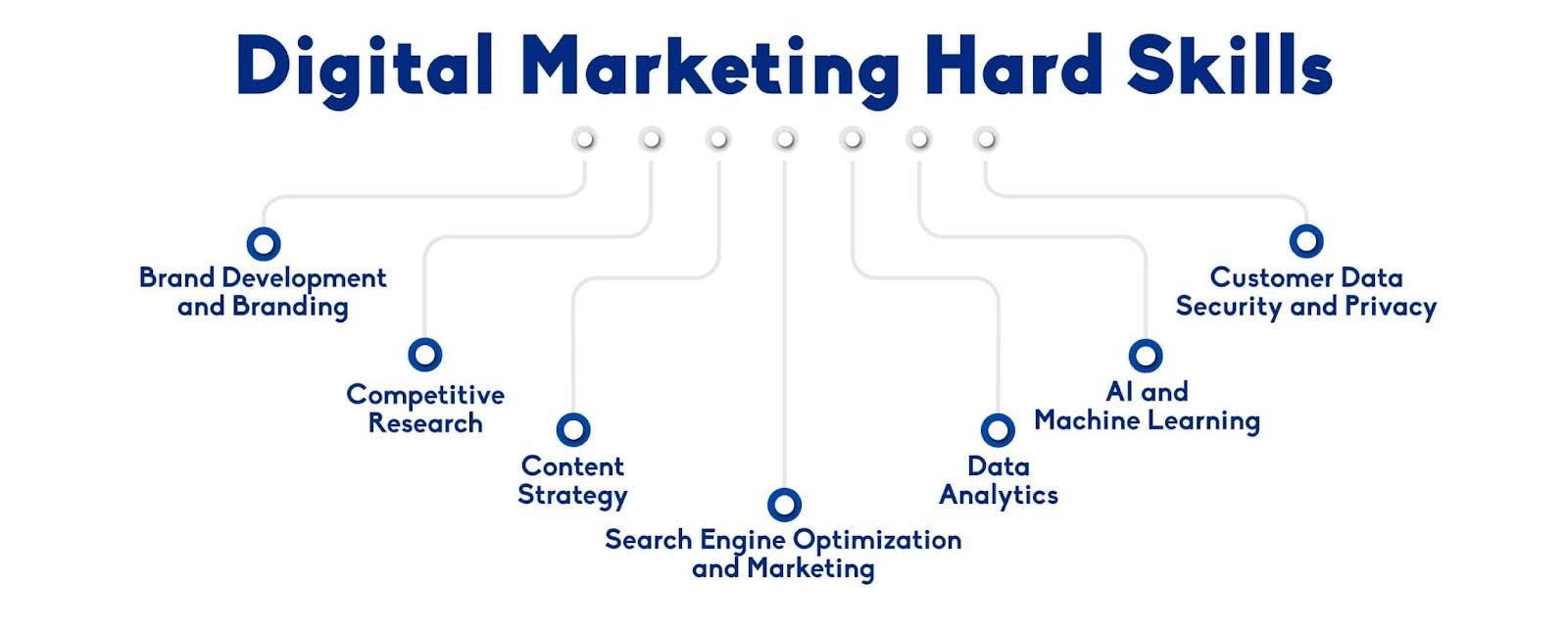 Analytical skills
To evaluate the success of the marketing efforts, a specialist should be able to work with data analysis and interpret the results. Digital marketers use Google Analytics and other data tracking tools to understand the target audience better and improve campaigns. The most valuable data for a digital marketer is detailed information about traffic sources, audience demographics, the devices customers use to view the website, the most appealing keywords, and the most popular times of the day.
PPC and social media advertising
As companies often have a limited amount of money for pay-per-click advertising, a digital marketer needs to know how to manage the budget effectively to achieve great results. The required skills include direct advertising through Google Ads and similar platforms, publishing sponsored posts, and placing advertisements on social media networks and other pages on the web.
Basic design skills
In addition to written content, digital marketers frequently create visuals for all company's platforms. While large organizations usually have a specialized team that includes graphic designers and UI/UX designers, smaller companies may not. For this reason, a digital marketer should possess basic design skills to be able to select, edit and create images, infographics, and videos for a company's social media pages, emails, and website. Therefore, one of the most crucial skills is the ability to summarize, structure, and present information in a graphical form.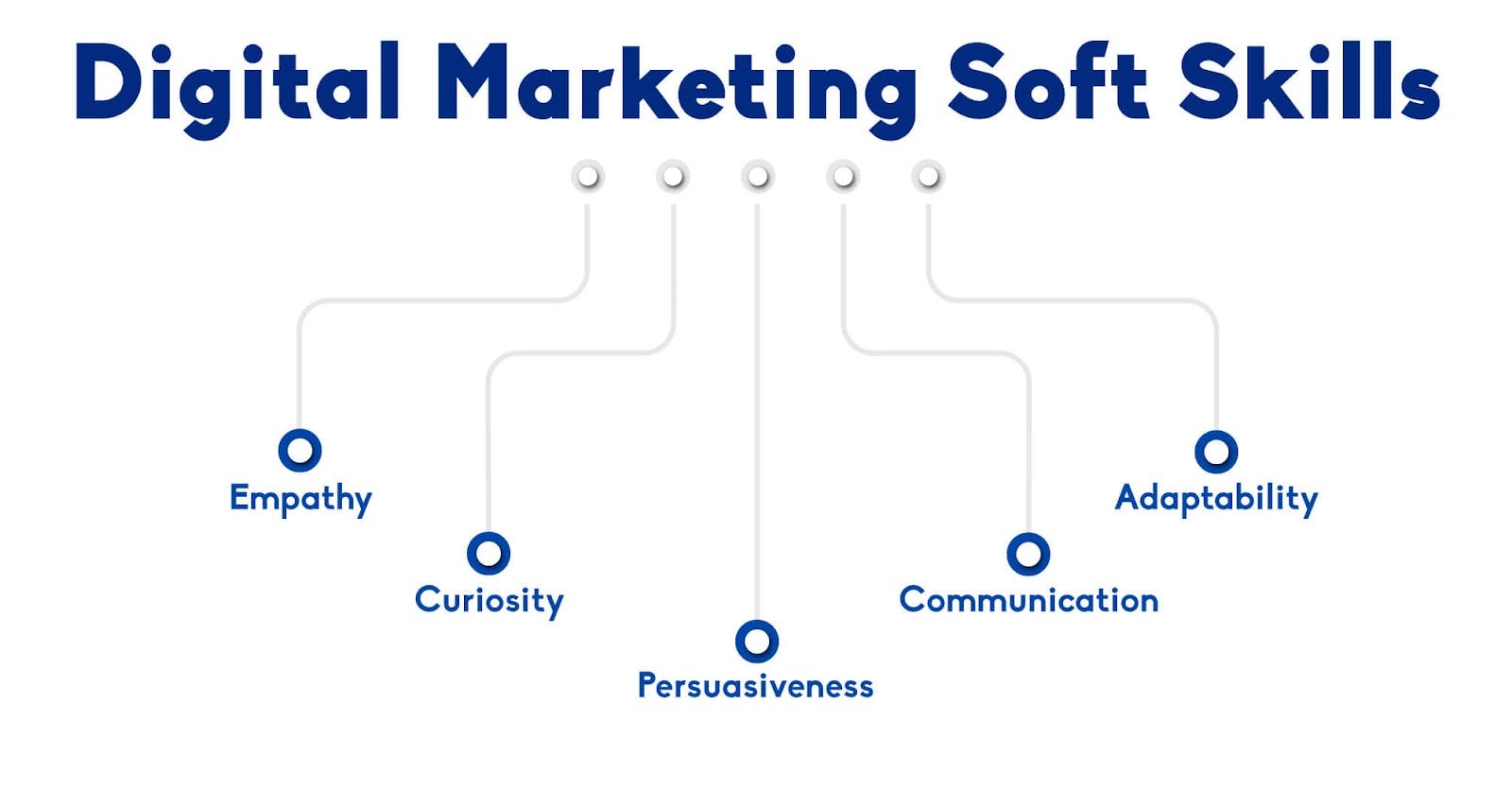 Project management
Digital marketers often manage projects consisting of multiple stages across different platforms with multiple deliverables. The projects may also involve many people, so this requires leadership skills, a high level of organization, and excellent time-management skills. Plus, digital marketers often rely on specific tools that allow for automating routine processes, sticking to a schedule, and performing tasks on time. Moreover, a digital marketer's job requires careful planning, a forward-thinking approach, and staying on top of emerging trends.
Communication skills
Every digital marketing specialist requires strong communication skills to build better customer relationships and share ideas with the team. A professional should master the art of persuasion to create relevant, clear, and concise messaging and develop a memorable brand identity. Moreover, good communication skills often help find new ways to engage with potential customers and convert them into buyers.
How to hire a digital marketer?
Once you have learned about the skills and responsibilities of a digital marketer's job, it is time to identify the main points for consideration when looking for a digital marketer.
Test the analytical skills of the candidates. A significant part of the digital marketer's job is developing a go-to-market strategy based on numerical data. A good candidate should be able to find statistical information, interpret it, determine primary KPIs and make a plan to improve performance. You need to ensure that a person can calculate the conversion rate from the web page, measure customer satisfaction, or conduct market research. The other essential analytical skills for a digital marketer you need to check are critical thinking, creativity, and problem-solving.
Pay attention to writing skills. Even if you have a dedicated team of copywriters and content editors, a digital marketer needs to be an excellent writer to do their job well. A specialist should be able to update a piece of website copy to correct mistakes, write social media captions and create content that ranks high in SERPs. You can google the names of the candidates and check their previous publications. If a person has a website or blog, it will be a significant benefit. To gain a sense of their personal brand, look at their Facebook, Twitter, and LinkedIn pages. Analyze the content they publish, the communities they have formed, and the level of engagement they generate.
Check the knowledge of SEO basics. Every digital marketer should have a fundamental understanding of SEO. A candidate needs to know how to perform basic keyword research, keyword optimization, on-page ranking factors, and how to differentiate between white hat and black hat SEO. In addition, a specialist should be familiar with common SEO tools, such as Ahrefs, Moz, and Screaming Frog.
Focus on communication skills. A digital marketer should be a great communicator, so a person should be comfortable with delivering messages to customers through different channels. Furthermore, a professional should be able to collaborate with business owners, company departments, and contractors. You can ask for testimonials and recommendations from previous clients and check reviews on a LinkedIn page. A series of interviews can help understand whether a person has the required skills and fits into the company's culture.
A digital marketer is one of the most crucial team members in a company. A skilled professional in your team guarantees that your target customers will easily find your website, products, and services. However, looking for the right person for your business might take some time. Thus, the main point is to understand what kind of digital marketer you need, a narrow specialist or a generalist. Then you need to define clear business objectives, make a list of required skills, and you will definitely find the best candidate for this position.