Copywriting is one of the earliest types of advertising and marketing and one of the most challenging forms of content production. It is an art that leverages an audience's emotions while subtly promoting the offering. An ambitious goal for every brand is to inspire the audience to take action with nothing but properly selected words. A renowned writer, David Ogilvy, once stated: "A good advertisement is one which sells the product without drawing attention to itself."
Marketing experts are skilled at using certain characteristics and elements of their writing to persuade potential customers to make a purchase. Good copy shares many aspects of excellent writing: it is clear, well-structured, and engages the reader. Great copywriting establishes trust, builds relationships, and motivates people to speak, share, and buy products.
However, in the business world, it should also generate click-throughs, enhance a website's position in search results and sell. At the same time, it should be written in a natural and conversational tone. So, let us understand how to distinguish good copywriting from lousy one. We will also discuss the rules and best practices that can be useful in creating an excellent article, blog post, advertisement, or any other form of content marketing.
What's unique about good copywriting?
One of the largest challenges for companies is to create a copy that encourages people to fill out online forms or complete other actions that lead to achieving your business goals. Good copywriting should attract customers' attention, arouse and stimulate interest, and persuade them to purchase a product or service (take a look at our article on the AIDA model to learn more about these steps). Understanding the distinctive characteristics of outstanding articles, landing pages, emails, and other texts that appeal to readers is the first step to creating an effective copy. So, let us discuss the features of excellent copywriting in greater depth.
Memorability
One of the primary purposes of advertising copy is to attract and hold the reader's attention. Moreover, it should distinguish the brand from competitors. Thus, an excellent copy is relevant to the audience and engaging. Copywriters can achieve this by using catchy and concise headlines, adding pictures, and highlighting crucial terms. The compelling copy can also include jokes or memorable features, such as a slogan.
Clarity
A good copy is easy to read and understand. It uses simple language and avoids complex words. When customers are ready to purchase, they already know what they need. Therefore, people want to get information that describes a product or service in basic terms and explains how it can benefit them and what they may receive. The use of overly generic words, complicated phrases, and acronyms can arouse mistrust and confusion.
Value
It is crucial to explain how your brand brings value and uniquely meets customer demand compared to the competition. An excellent copy should contain detailed information about your offering and its competitive advantages. Furthermore, it should focus on the benefits instead of the features. While reading your article, email, or blog post, customers should feel you are addressing their needs instead of your own. 
Education
Copy should educate consumers on how an offering can improve their lives. It should identify readers' problems and offer solutions. For example, a blog article or how-to guide can describe new product uses that people are unfamiliar with. Advertising content that includes details about the product's application, pricing, and additional services successfully increases demand and boosts sales. 
Call to action
The purpose of a first-rate copy is to motivate consumers to take specific steps, so it should contain a clear call to action. An article or other form of content should include links to extra sources that lead to your website, allow you to learn more about the product, or talk to a dedicated sales professional. A copy should direct readers toward a particular point of contact.
Now, we will consider the examples of brand copy that is still captivating and relevant even though some advertisements were created many years ago.
Copywriting examples
Let us learn what makes the following examples unique, why they work, and how you can apply these practices to your business. 
Oatly
Oatly is a Swedish food firm that produces oat-based dairy substitutes. After its success in Europe, the company decided to enter the US market in 2016. The product launch was planned to appeal to a rising segment of ecologically concerned and lactose-intolerant consumers ready to pay more for high-quality goods.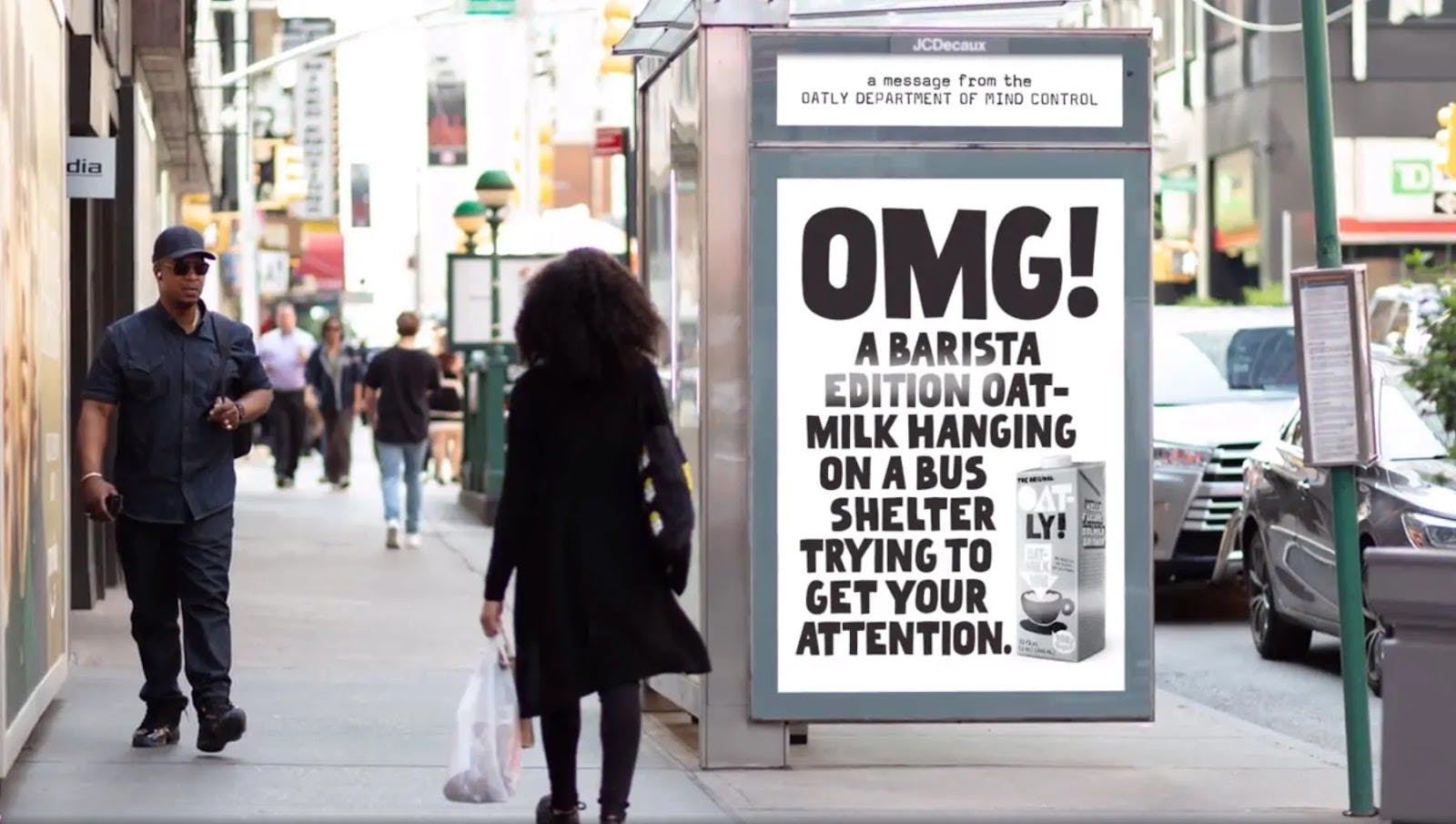 The company moved away from traditional marketing and created humorous outdoor posters instead of generic advertisements. The launch campaign included three posters with provocative statements. The first advertisement stated: "Look! A poster trying to get the attention of someone who might be interested in a barista edition oat milk." The second poster contained the phrase: "Look! A poster trying to do the same thing as that poster." Finally, the third one wrote: "Look! A poster trying to provide additional support for the previous two posters."
Why it works:
A writer employed self-referential humor and demonstrated honesty towards consumers.
With this straightforward approach, a business avoided the salesy aspect of marketing.
The copy speaks directly to the reader, arouses curiosity, and evokes positive emotions.
Kiwi Shoe Polish
Kiwi is a popular brand of shoe polish created in Australia in 1906 by William Ramsay. Since it was used by both the British and American Armies in World War I, it has become the dominant shoe polish in many countries.
In 2018, the company launched a print campaign called "Lincoln, Hemingway, Earhart, Ali". It featured the actual shoes of well-known historical personalities and described their stories. It is a great example of long-form copywriting that received an honorable award at the Cannes Lions Festival of Creativity.
Why it works:
This example portrays the lives of outstanding personalities. It creates positive associations between a brand and historical figures in the consumers' minds.
The stories are engaging as they are presented from an unusual perspective that tells famous people's biographies by describing their shoes.
This form of educational content leverages storytelling and evokes strong emotions.
First Round Capital
First Round Capital is A US-based venture capital company that focuses on financing technology startups at the seed stage. The firm has supported over 300 businesses, including market leaders in various industries like Square, Uber, Notion, and Roblox.
The company's advertising aims to empathize with the audience and make people feel understood. Each section of the firm's website aims to inspire the readers and demonstrate examples of successful startups that started from scratch. Moreover, the copy uses plain language to create an emotional connection with the reader. For example, the Companies website section states: "The one thing each of our companies has in common — we met them when they were just a couple of people with an idea and a slide deck."
Why it works:
The company uses compelling language and conveys they are here to help and provide the necessary support.
Copy appeals to the audience's emotions and addresses their problems by highlighting their fears, uncertainty, and vulnerability.
The warm tone of voice and conversational manner make you feel like you are talking to a close friend.
Cards Against Humanity
Cards Against Humanity is a party game that requires players to fill empty spaces with offensive or politically incorrect words written on playing cards. Although their copy is very provocative, it appeals to target customers. For example, the company's confirmation email states: "Dearest customer, Thank you for spending your money all over our website."
The brand voice is quite distinguishable, although it may seem aggressive or slightly insulting. However, this is a unique feature of the company's marketing. Their goal is to engage the intended audience instead of appealing to everyone.
Why it works:
Their unique and memorable copy enables the brand to stand out from the competition.
They make fun of both the readers and themselves. It makes people smile and establishes a strong connection with the audience.
The company's copywriting is an extension of its brand personality. It is cohesive and gives consumers an idea of what they will receive after completing the purchase.
Innocent Drinks
Innocent Drinks produces juice and smoothies offered in food stores and cafes. Every week, the business sells more than two million drinks. More than 90% of Innocent belongs to The Coca-Cola Company.
The brand's copy demonstrates that straightforward language may be equally persuasive as a more detailed text. Their copywriting is clear, simple, and gets straight to the point. Moreover, it perfectly aligns with their philosophy, offering, branding, and design.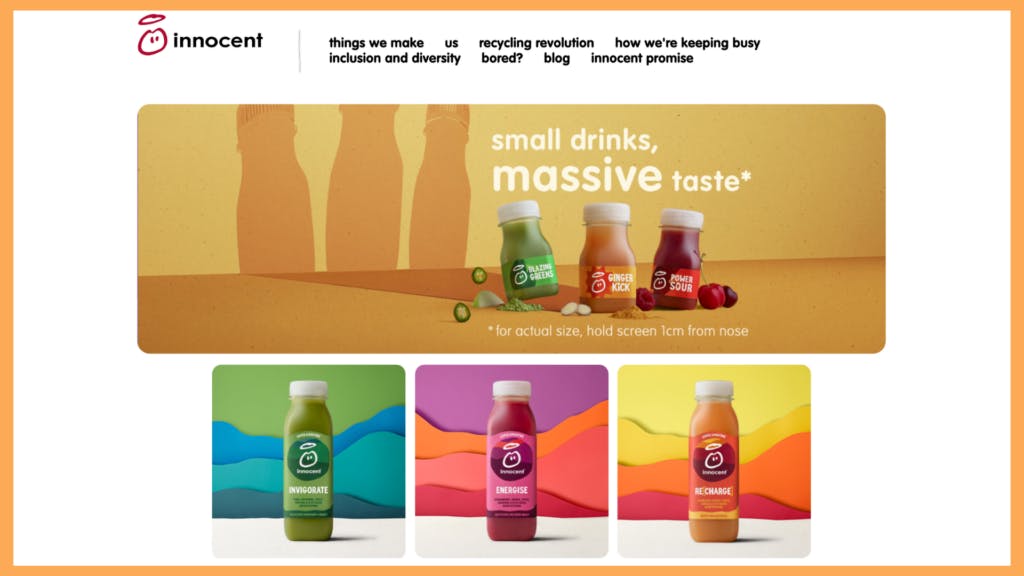 For example, the main page of a brand's website states: "Hello! We're innocent. We might make little drinks, but we have big dreams to make the world a better, healthier place to live. That's why we're on a mission to be carbon neutral by 2025, give 10% of our profits to charity, and pack our drinks full of good stuff from Mother Nature."
Why it works:
The brand avoids complicated terms. It uses informal language that persuades the reader.
The copy is straightforward, which demonstrates honesty and sincerity.
Innocent Drinks' copywriting, branding, and design work as a whole and make a good impression of a customer-friendly and caring brand.
Ricola
Ricola is a Swiss company that produces breath mints, cough drops, and tea bags. The firm distributes products to 45 countries in Europe, Asia, and North America.
In 2014, the company launched a series of advertisements showing how a misplaced cough might distort the meaning of a sentence. The advertisements demonstrated a product and funny copy. Instead of attempting to convince the reader that Ricola produces the best cough drops, the company combined a memorable text with a picture of a recognizable product package.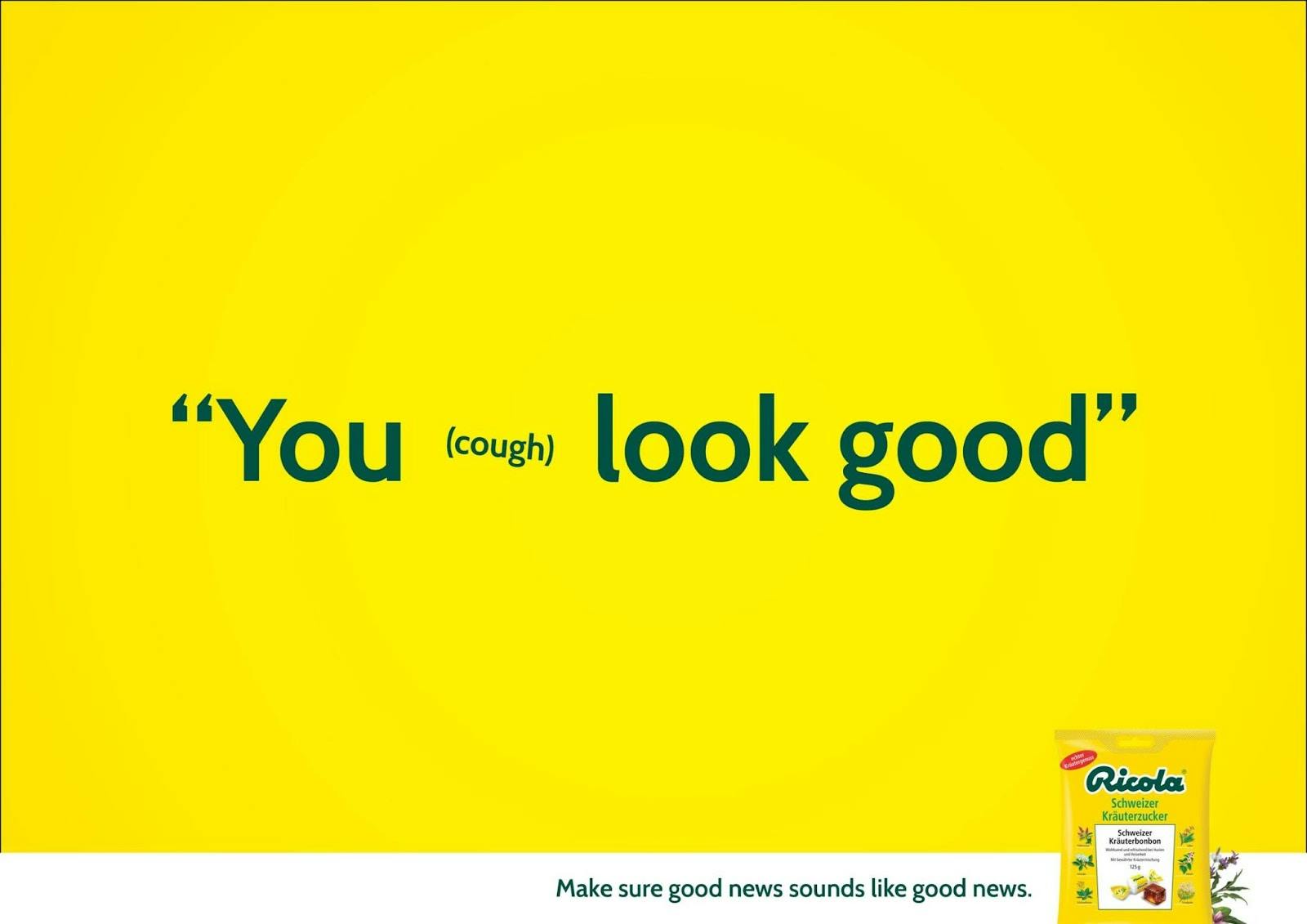 Why it works:
The copy is humorous and distinguishes the company from the competitors that often use boring and technical language.
The slightly edgy tone makes the advertisement memorable and attracts attention.
The text is simple and relatable.
RXBar
RXBar is a protein bar produced by Kellogg's company. According to the brand, its bars are made with "real ingredients" that customers can find in their kitchen. The company claims that they source the ingredients responsibly. The majority of the components are from the United States.
The brand highlights transparency and simplicity in its copy. RXBar states that customers always know what they are getting. The brand puts this information on its packaging for consumers concerned about their diet. 
Why it works:
The brand breaks the rules and emphasizes features instead of benefits on product packaging. However, it attracts buyers who are tired of difficult-to-pronounce components.
The copy on their website contains short sentences that often consist of one word. The information is simple and to the point.
Their tone of voice is excited and energetic and resonates with sports lovers, who are RXBar's target audience.
Apple
Apple is a world-famous company that needs no introduction. Its copywriting matches its innovative products, clean design, and simple packaging. Their writing is fluid and convincing because of the rhythm, rhyme, and repetition.
For example, the authors may repeat a term inside the same phrase to underline a point they want the reader to remember: "Pro cameras. Pro display. Pro performance." Apple also frequently uses compound sentences, combining two distinct messages into one: "Studio quality mics. For high-quality conversations." In addition, the company often focuses on highlighting one key concept that summarizes everything about its offering.
Why it works:
Because of the short attention spans, consumers will stop reading if you don't immediately grab their interest. Apple achieves this by concentrating on the message they want its audience to grasp.
Rhyme highlights and makes crucial ideas simple to remember.
Contradictions and wordplay surprise the readers and impress them while making a strong statement.
Dropbox
A San Francisco-based firm, Dropbox, is a popular file hosting and storage platform. It began offering cloud storage in 2007 and is currently valued at around $10 billion. Now, the company has over 700 million registered customers in 180 countries and strives to create a more enlightened way of working.
Dropbox uses a helpful, friendly, compassionate tone of voice and demonstrates empathy toward users. Here is an example of their copy: "Even if your computer has a meltdown or your phone goes for a swim, your stuff is always safe in Dropbox and can be restored in a snap. Dropbox is like a time machine that lets you undo mistakes and even undelete files you accidentally trash."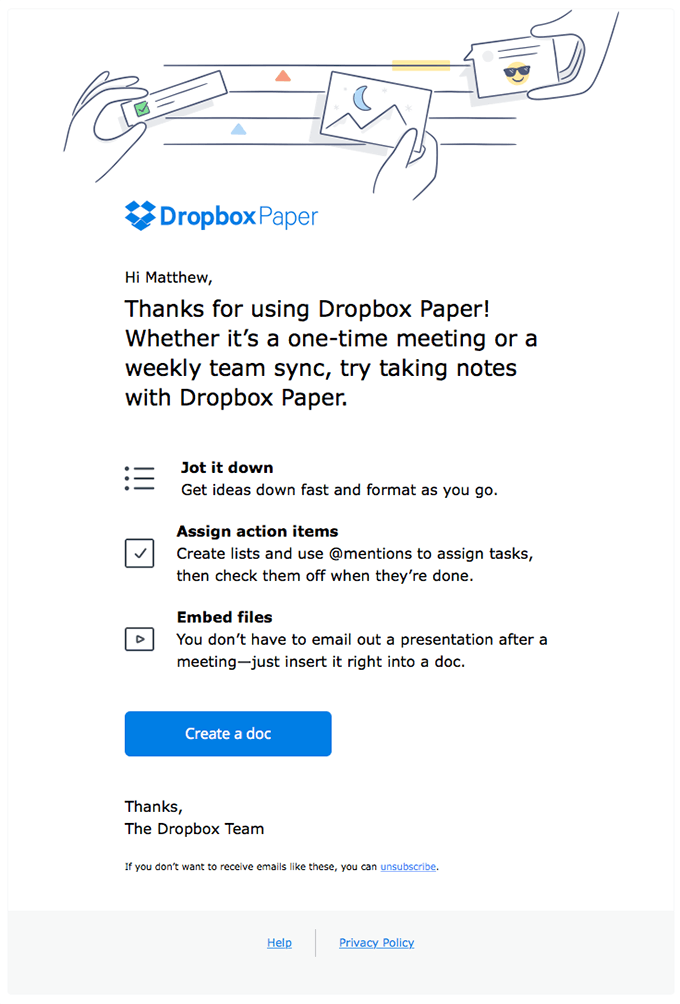 In addition, the company often includes simple illustrations and animations in its copy to explain how its product functions and how it can benefit customers.
Why it works:
Dropbox's content is organized, clear, user-friendly, and easy to read.
The copy demonstrates that the company understands customers' problems and is ready to help.
Pictures and animations help readers navigate the text and better remember the information.
Under Armour
Under Armour is an American sportswear manufacturer. It was established in 1996 by renowned football player Kevin Plank. Today, the company operates worldwide, offers cutting-edge products for professional athletes, and provides uniforms for American teams.
As a manufacturer of athletic clothing, Under Armour knows that its target market is people trying to achieve outstanding results in games, sports, or hobbies. Therefore, the company's copy inspires people to achieve better results every day. Instead of trying to sell their apparel, their social media posts inform the audience that the brand provides everything they need to succeed.
Why it works:
The brand connects with the audience by looking at things from their perspective. They analyze what motivates athletes to keep training and reflect it in their copy. For example, Under Armour often uses the slogan "I will": "I will change the game", "I will never quit", and "I will crush my personal best".
In their emails, Under Armour employs a simple approach with little information but a very clear call to action. 
Their copy makes customers feel like they are part of a team and inspire them to achieve their goals.
Lush
Lush is a British cosmetics company founded in 1995. The brand is famous for inventing bath bombs and offering innovative products to fight animal testing. Currently, there are 106 stores in the UK and 951 throughout 52 different countries.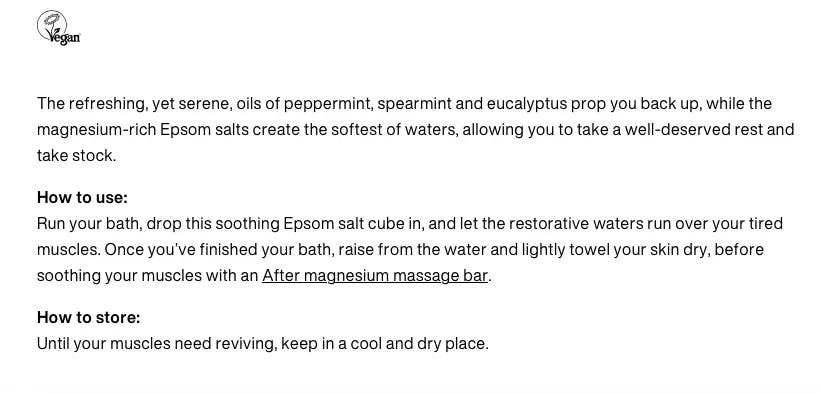 In its copy, the brand uses vibrant language to describe the experience of using its bathroom products. Lush tells a story about using its salt bath bombs rather than just listing the ingredients. In addition, it includes a well-placed CTA that can convince readers to purchase the company's products.
Why it works:
The brand uses bright imagery in its copy to evoke pleasant emotions and encourage people to buy its offerings.
A clear call to action motivates people to take a step and follow the link to the product's page. 
The text provides instructions and educates customers on using and storing the products.
Calm
Calm is a subscription-based application for meditation. It is intended for people who want to manage stress, maintain a healthy state of mind, get more rest, and concentrate attention. The app was developed in 2012 and now has over 100 million downloads and 700,000 5-star ratings.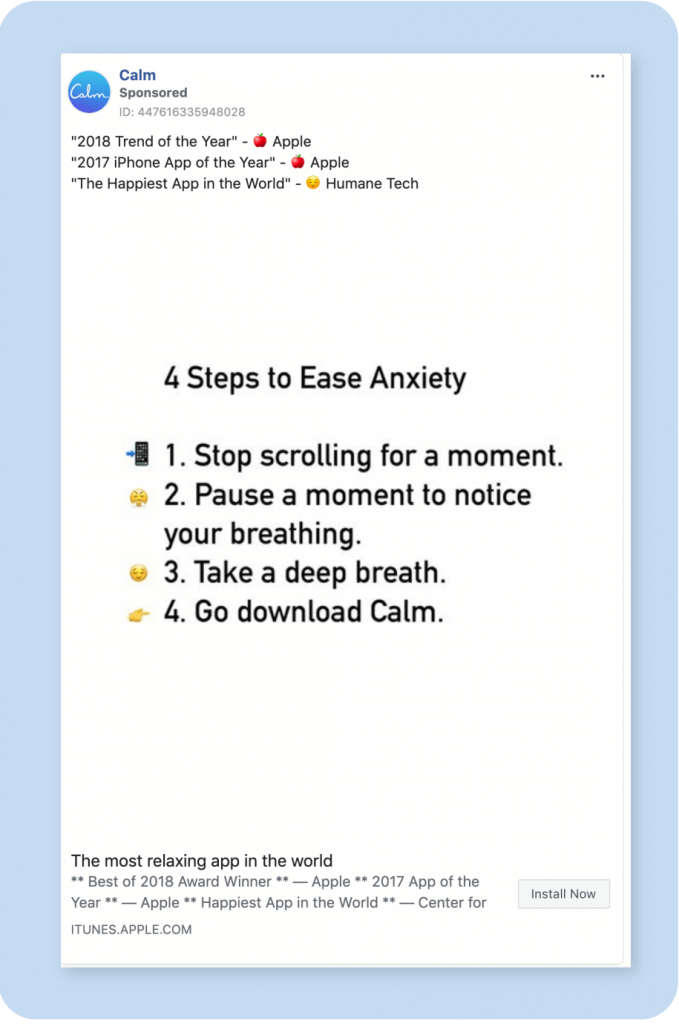 This Calm Facebook advertisement guides readers through a very brief meditation before they even understand it. What is more, the text takes advantage of social proof by emphasizing awards and accolades that the business has won.
Why it works:
The copy provides value and immediately demonstrates how customers can benefit from the product.
It offers simple step-by-step instructions in a conversational tone without any complicated description.
The text contains a clear call to action: "Go download Calm".
We have described some examples of good copywriting. Now, we will give you some tips to improve your marketing materials and make your copy more creative, unique, and persuasive. 
Rules for writing copy that works
Let us discover why the above-mentioned examples attract customers' attention and learn how to write copy that converts.
Conduct detailed market research. A thorough understanding of your topic and target audience would allow you to create compelling content. First, you need to uncover your customers' needs. The second step is to formulate a product's unique selling point. Finally, you should match the benefits of your product with the target market's demands.
Use your target audience's language. Always try to be conversational. Use simpler and shorter words to get straight to the point. Your text should be easy to grasp and leave no room for misunderstanding. 
Empathize with your reader. Use humor where necessary, a friendly attitude, and demonstrate that you appreciate readers and care about their problems. You can make your brand more memorable by surprising people and evoking strong emotions.
Demonstrate the brand's personality. Copy represents your business, so your texts should highlight the characteristics distinguishing a company from its competitors. It should align with other elements, such as color palette, packaging, or logo.
Make your CTA effective. Your copywriting's ultimate purpose is to persuade readers to respond to your call to action. CTA should provide a solution to your audience's problems. Instead of using "Buy now" or "Click here", you can add "Get your free guide" or "Start earning now".
By analyzing the examples from this article, you can notice that each business uses unique marketing strategies and approaches to encourage readers to take action. Moreover, every piece of copy has a certain function, whether to inform readers, make them laugh, or surprise them. Thus, there is no one-size-fits-all approach to writing. However, you can use the suggested tips and techniques and create your original copywriting masterpiece.