Every company, no matter large or small, depends on lead generation. It is impossible to operate a business without a consistent stream of revenue. At the same time, a highly competitive business environment makes it challenging to sell products and services. In addition, potential customers may not even be aware of the company's existence. Thus, businesses require lead generation to increase visibility and trust and evoke people's interest in products and services.
Lead generation allows companies to target ideal clients and gather crucial information about their wants and needs. As a result, it helps businesses improve products to satisfy customers' requirements better. Moreover, a solid lead generation strategy focuses not only on customer acquisition but also takes into account client retention and nurturing. In this article, we will discuss the best methods and techniques for online lead generation to attract interested customers and build brand awareness. But first, let us define the specific terms related to the lead generation process.
What is a lead?
A lead is a person or business that has demonstrated interest in your company's products or services and can turn into a potential customer in the future. Leads express interest when interacting with a brand and leave contact details like email addresses, phone numbers, or social media links. Companies acquire leads through advertising, online and offline events, direct mail, and other marketing initiatives. In other words, a lead is a consumer who is starting to show signs of buying intent and provided consent for the company to contact him regarding a specific product or service.
The other definition of a lead describes it as contact or demographic information of a consumer who needs a particular product. In addition, the term's meaning can vary depending on the company. For example, some businesses consider leads as a contact already identified as potential client, while other organizations define a lead as any interaction with the sales team. Marketo, a marketing automation software provider, describes a lead as a qualified prospect who starts to demonstrate buying behavior. However, other companies distinguish between the concepts of "lead" and "prospect".
Leads vs prospects
A lead is a person who is interested in a product or service, but a sales team has not established whether this individual meets the criteria of the buyer persona. In contrast, a prospect is a qualified contact and a potential buyer for a product or service who fits the set of an ideal customer's parameters. A lead is at the top of the sales funnel, whereas a prospect moves to the middle of the funnel.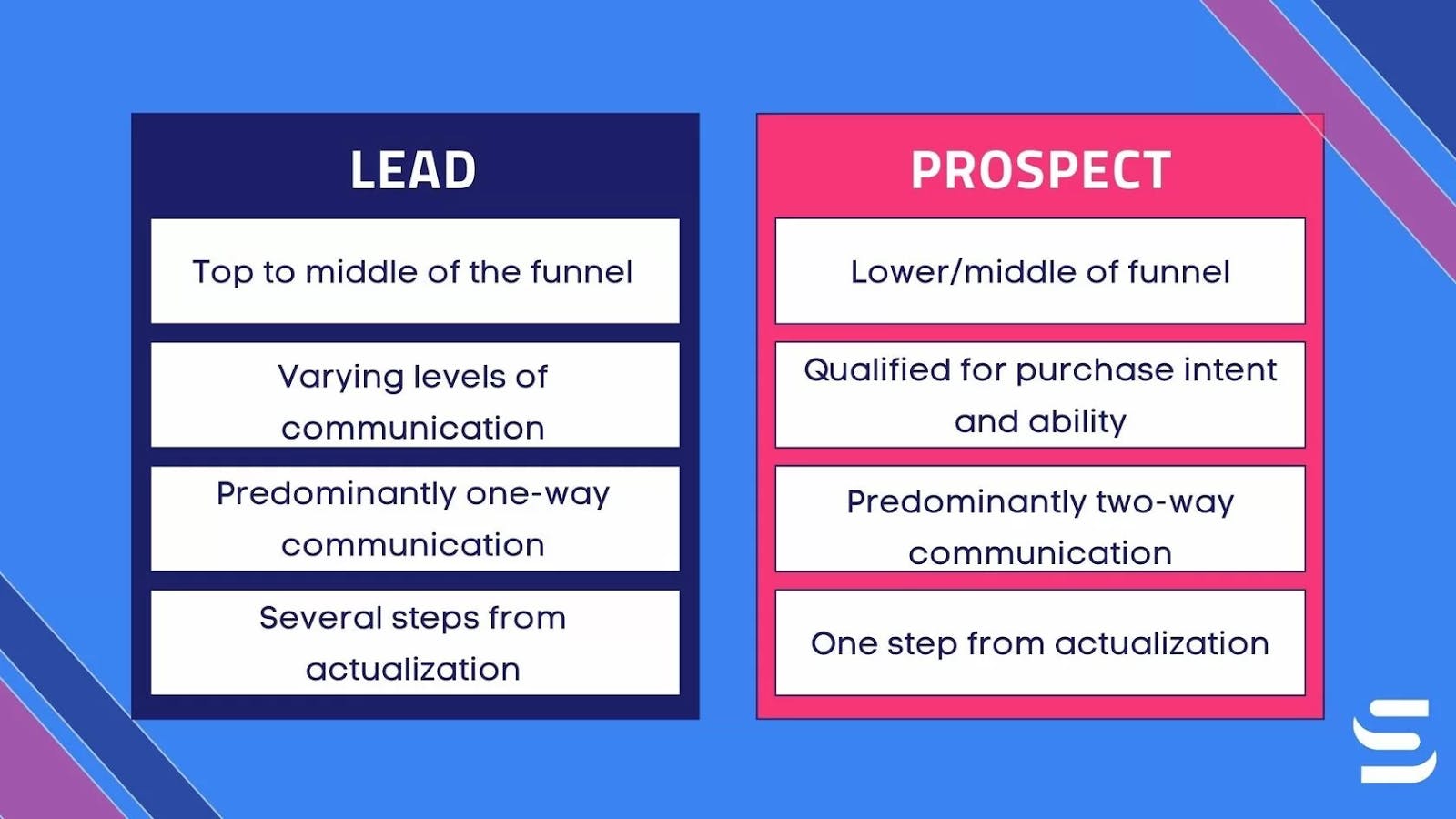 The sales team uses the lead qualification process to determine whether a company's products and services satisfy a potential customer's needs and whether a person is likely to become a prospect. This process is an essential component of the sales strategy as not every person who shows interest in a good or service will buy it.
The lead qualification process is typically the following. First, the marketing team collects the lead's personal information, such as website visits and newsletter subscriptions, to understand whether a potential client fits the ideal customer profile. Then sales representatives contact an individual and learn about the person's budget, authority, needs, and timeline. Lastly, the sales team analyzes gathered information, decides whether a lead is a good fit for a company's products, and, if yes, the lead turns into a prospect. Thus, the prospect differs from a lead by the level of involvement and two-way communication with a company.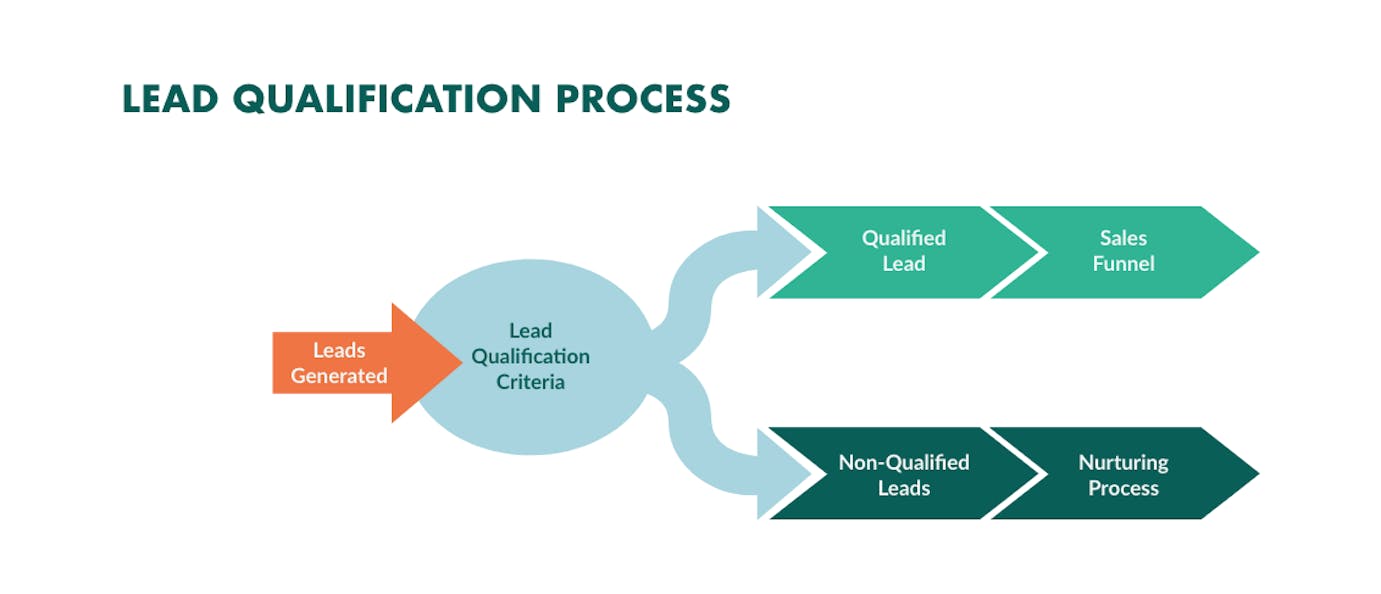 Leads vs contacts
Contacts are specific individuals a company communicates with to establish a business relationship. Contacts can include current or former clients and qualified opportunities. Therefore, anyone who actively answers your calls and emails can qualify as a contact.
Once a person interacts with the content and speaks with the sales team, a lead becomes a contact. For example, your company participates in the conference and collects 100 emails from interested visitors who want to discuss the product with your team or receive a demo. Half of these people proceed to schedule a demo or have an in-depth conversation with the sales staff. Thus, these 50 leads are now your contacts.
Leads vs opportunities
An opportunity refers to a qualified prospect with a good chance of becoming a client. A lead can turn into an opportunity when it gets to the point where the person is talking to a sales representative about a potential purchase in the near future. Additionally, the term describes the possibility of upselling or cross-selling to existing customers.
Opportunities are often the final stage of the sales funnel or customer journey before a person turns into a company's client. They usually have the following characteristics: a defined timeline for purchase, identified budget, direct involvement of the decision-maker, or awareness about the solution. Moreover, the potential buyer should be ready to take the next step, and the purchase becomes urgent because of the person's motivation or external events. As opportunities are more likely to buy products than potential customers, sales representatives consider them the most valuable type.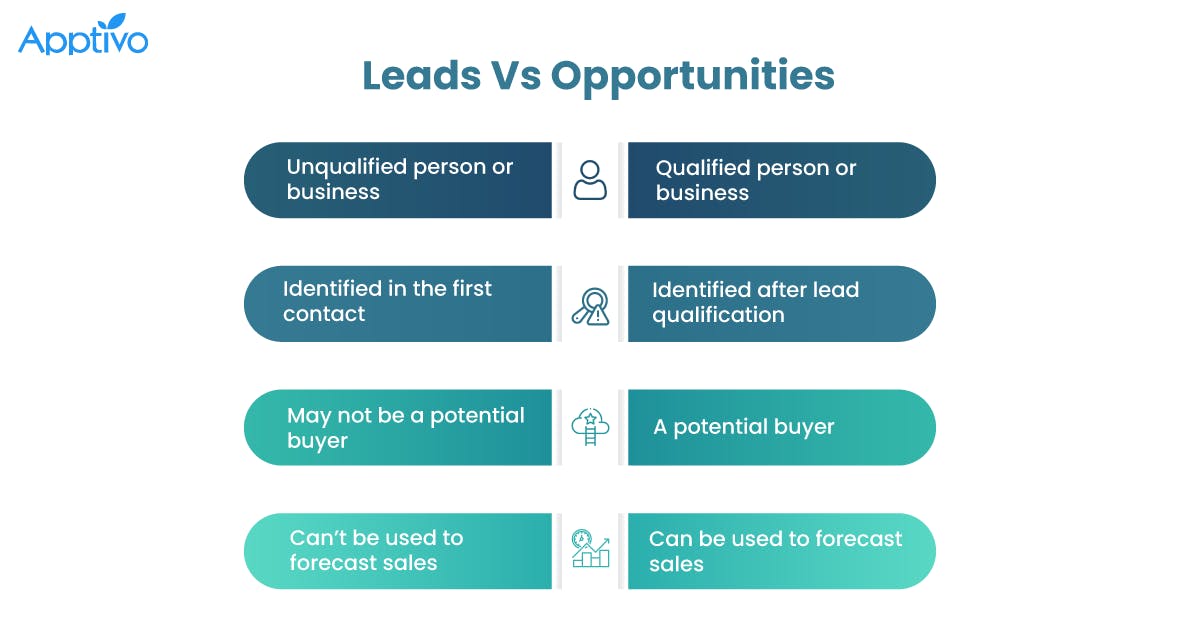 Now we will describe the most effective approaches to generating leads online. 
How to generate leads online?
Before making a purchase, potential clients usually pass through four stages: awareness, interest, consideration, intent, and evaluation. Your leads are at the second stage, so you need to create interest in the products you are selling. If your objectives are to find more leads online, increase website traffic and attract more buyers for your products and services, you need to consider the strategies we list below. 
Provide valuable content 
The first step to generating online leads is to audit the website and create relevant content that caters to the needs of potential customers. You should focus on writing informative and useful articles that help consumers solve their problems. This content will not only build brand awareness and customer loyalty but also increase your website's visibility in search engines. You can use many forms of content within the lead generation strategy: blog articles, whitepapers, educational videos, illustrated summaries, research studies, guides, interactive infographics, and e-books.
First, you must understand your target audience to create content that fits their customer needs. Think of your potential customer's pain points, challenges, wants, and interests when developing the topics for blog posts and videos. Once you have created the articles, include call-to-action, add images and promote the content across various marketing channels, such as social media. Finally, monitor the performance of your content and make updates if needed.
Optimize your website 
The next step is to optimize your website for search engines. Website optimization will increase your company's visibility on the Internet and improve the chances that your site will appear in search results. To optimize your website, you need to evaluate and revise your written content to ensure that it contains relevant short and long tail keywords and phrases. Furthermore, you should analyze the website's performance, navigation, front-end and back-end SEO, UI, and UX. Finally, make sure your website has a responsive design, as mobile-friendliness and page load speed have a major impact on SEO.
Use PPC advertising
Pay-per-click advertising is one of the most accessible and affordable methods of online lead generation. There is a variety of platforms that you can use for this purpose: Google, Facebook, LinkedIn, YouTube, or Microsoft ad platforms. The principle of operation is straightforward. You pay a fee every time a user clicks on your online advertisement. Consumers see these ads before the organic search results when they look for particular products and services. The cost of a click depends on the targeted phrases and keywords, so you can target precise phrases related to your business.
Establish a social media presence
Social media is one of the most effective channels to generate online leads. People often check a company's social media platforms and read reviews when considering buying a particular product. Therefore, determine which channels your target market uses the most. Pay attention to consumer feedback, answer questions, provide recommendations concerning your product or service, and encourage existing customers to leave reviews about their experience to demonstrate your professionalism and value. Try to establish as many connections with your potential customers as you can. Your network will grow as you make more contacts.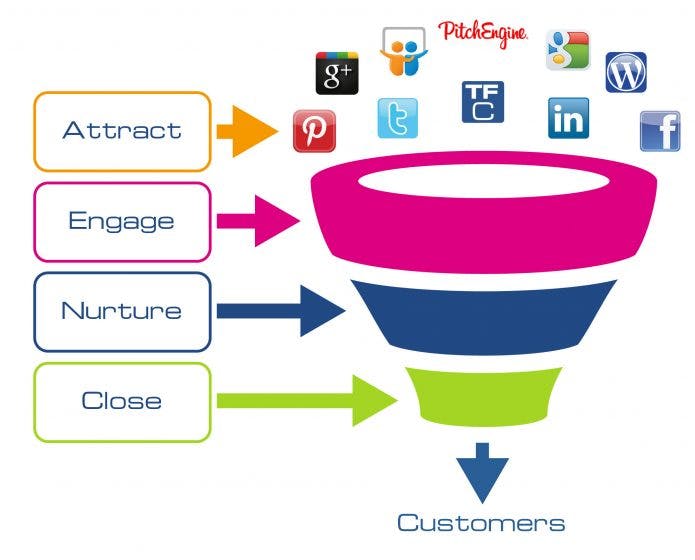 Then it is time to optimize your social media profiles on Facebook, LinkedIn, and Twitter. You need to review the social media pages and ensure that the information in your posts is up-to-date. Check whether you have a high-quality profile picture, tag your business account, and include relevant hashtags in the publications. Add an attention-grabbing headline and a summary that describes your business to your LinkedIn page. 
Host an online event
You can host an online workshop or webinar and share your knowledge on relevant topics to attract more potential customers for your business. The duration of a webinar can vary from fifteen minutes to hours and can cover a wide range of subjects. Hosting a webinar is an excellent opportunity to build a reputation as a thought leader in your industry and present yourself as a specialist who may be contacted for advice. Include a Q&A session in the final part of the webinar and offer participants to get in touch with you later. You can also send a follow-up email with a link to your website after the online event.
Send automated emails
Email marketing is a powerful strategy for online lead generation and lead nurturing. Automated emails are affordable, incredibly customizable, and can help you deliver relevant messages to the desired audience at the right time. Set up a marketing automation program or create a schedule to send personalized emails at critical points of the purchasing process. Include information about the products, address your leads' pain points, explain product value, and describe specific features. With timely and highly-targeted emails, you will persuade potential customers that your offer is the best solution to their problems available in the market.
Collaborate on comarketing with other businesses 
You can partner with other businesses to promote your products if their audience intersects with yours. If your brand satisfies the needs of a different audience, this will be a perfect chance to build awareness and improve your reputation. One of the most popular types of partnership is social media collaboration. It can include sponsored social media content, gifting your product to influencers, social media takeovers, or encouraging celebrities to become your brand ambassadors. Keep in mind that you need to establish a clear goal of collaboration and define key performance indicators, such as the number of leads you will attract.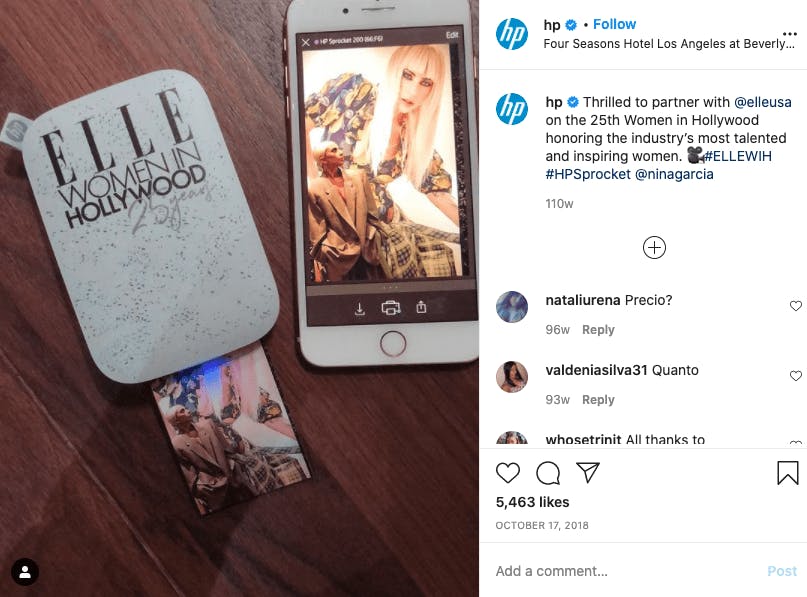 Finally, you can search for online leads in your personal network and send them a message to establish the connection. If you need assistance in the lead generation process, you can hire an expert who can help you tackle the challenges. We will discuss different types of lead generation specialists below.
Who can help you generate online leads?
Further, we will describe the responsibilities and skills of digital marketing specialists who might help your business create or improve the online lead generation process.
Marketing consultant. A specialist can help you not only generate leads but also nurture them through the buying cycle. The typical responsibilities of a marketing consultant include developing marketing campaigns, auditing clients' websites and social media presence, performing A/B testing to increase the efficiency of website copy and design, and analyzing the performance of digital marketing campaigns. In addition, an expert can assist you in setting up PPC advertising, email automation, and website optimization.
Content strategist. The primary responsibility of the content strategist is to strategize and produce content for branded websites. An expert develops a content strategy based on the client's business objectives, conducts content audits, creates and distributes content across the web and social media platforms with the help of copywriters and editors, and brainstorms ways to engage the target audience online.
PPC specialist. A professional manages PPC campaigns in terms of planning, design, and implementation and analyzes their performance. A specialist also monitors SEO trends, improves landing page design, and conducts keyword research. PPC expert is also responsible for creating ad copy, managing the budget, and identifying conversion rate optimization opportunities that can lead to better campaign results.
Online lead generation can be quite challenging and time-consuming, but the results are worth it. Keep nurturing your leads by establishing long-term relationships, and they become your loyal customers.